Decorative wall paint: most common types and techniques
Our concept of decorative painting dates back to the Renaissance. A cultural movement that emerged in Western Europe during the 15th and 16th centuries, thus forming the beginning of the Modern Age.
However, the true origin of decorative wall painting goes back a long, long time. When the first civilisations, as a way of communicating and/or leaving a record of an event, made different marks and drawings in the caves they inhabited.
A method of decoration that has evolved along with the human being, polishing and perfecting itself until reaching what it is today. In this article, we are going to deal with the most well-known types and techniques of a painting that has as many styles as there are cultures in the world.
What is decorative painting?
Decorative painting is a type of paint used to transform the appearance of a surface, whatever its size, or object. The purpose is to beautify the appearance of the existing substrate and, in some cases, to enhance the strength and durability of the coating to which it is applied.
A material that can be used on surfaces exposed to impacts, such as furniture, tables, chairs, floors, etc., but also on non-trafficable surfaces. In this sense, walls are undoubtedly one of the surfaces where decorative paint is most often used as a coating. Both in interior spaces of homes and businesses and, why not, outdoors. It should be said that the latter area of application is less common, as not all paints are suitable for outdoor applications as they are not resistant to sunlight, water and other weather conditions.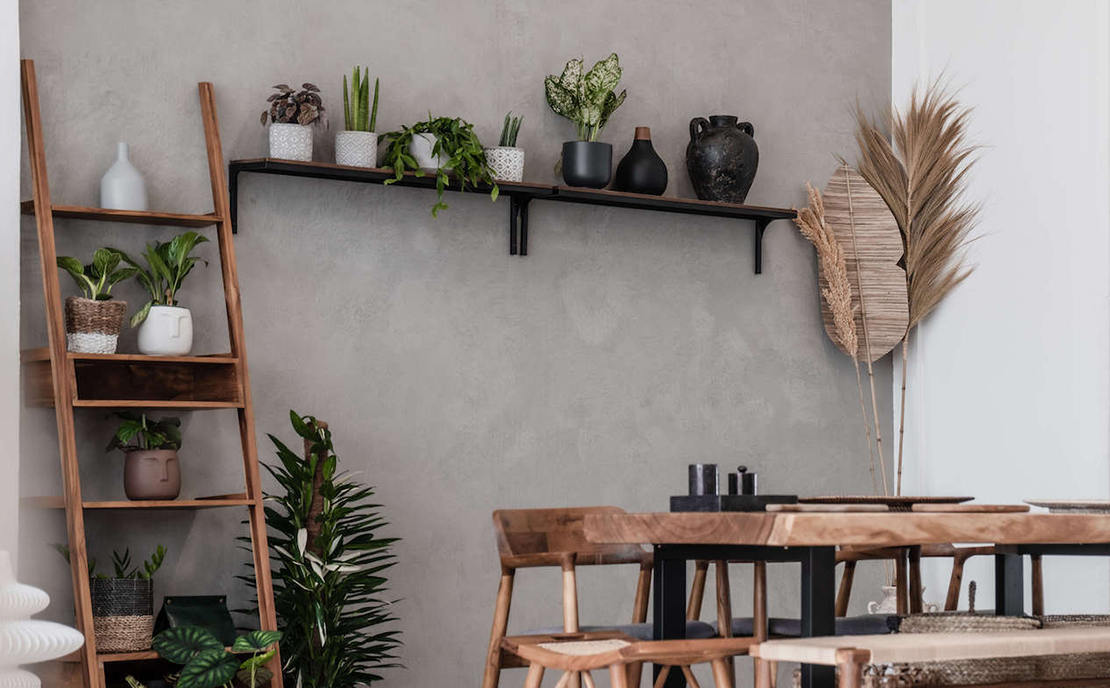 Where to apply decorative painting
Decorative painting allows a wide range of styles, designs and textures to be covered. It is therefore improbable to repeat the same finishes, as there will always be a nuance that will make the difference between one surface and another. The technique chosen, the colour of the paint and the way the product is applied - each has its own particular procedure - are factors that will distinguish the final finishes.
Although walls are usually the preferred area to use this technique, the benefits of using this paint extend to ceilings, floors and furniture. In all of them, the use of this product is not limited to giving colour to the surface, but gives it personality and style through the texture created.
A decoration technique, with a special incidence in interiors, which has become a protagonist in the renovation of rooms, living rooms, kitchens, bathrooms and large commercial premises. It has gone from being a paint for purely professional use to gaining popularity among individuals who wish to give their homes a second life.
Advantages of decorative wall painting
Each decorative painting has its own specific benefits. Some can be used on exteriors as well as interiors, others are capable of creating metallic or rust finishes, some have waterproof properties, etc. For this reason, it is necessary to evaluate beforehand what the needs of each coating are. Obviously, a bathroom wall, exposed day after day to humidity, is not the same as a bedroom wall. These factors will be discussed later on.
For now, and in a generic way, we will detail the main advantages that these types of paint share.
Wide variety of effects and colours
Paint allows you to create a multitude of combinations by being able to play with colours, effects and textures. From more conventional proposals to more daring proposals to highlight a specific element in the room and draw attention to it. Contrasts that are becoming increasingly fashionable.
Versatility of application
In the same way that the creations are practically infinite, it can be applied to numerous surfaces and rooms. Walls, floors, ceilings, furniture, etc. Indoors and outdoors.
Quick and easy to apply
Unlike other coatings that require the removal of existing coatings, decorative paint is applied on top, completely hiding what is underneath. No building work, no rubble. This is as quick as it is easy to apply, so why complicate things when there are so many advantages?
Protect the new coating
Many paints do not only have a decorative function, but also help to reinforce the wall or floor. They protect the new coating from wear and tear, scratches, impacts, etc.
Possibility of waterproof and anti-slip finishes
As if the advantages seen so far were not enough, it is worth highlighting the waterproof and non-slip finishes that some paints offer. Two increasingly decisive factors in favour of this technique.
They are very durable
If applied correctly and used properly, they can be very durable and do not require the surface to be recoated with another coat of paint in a short period of time.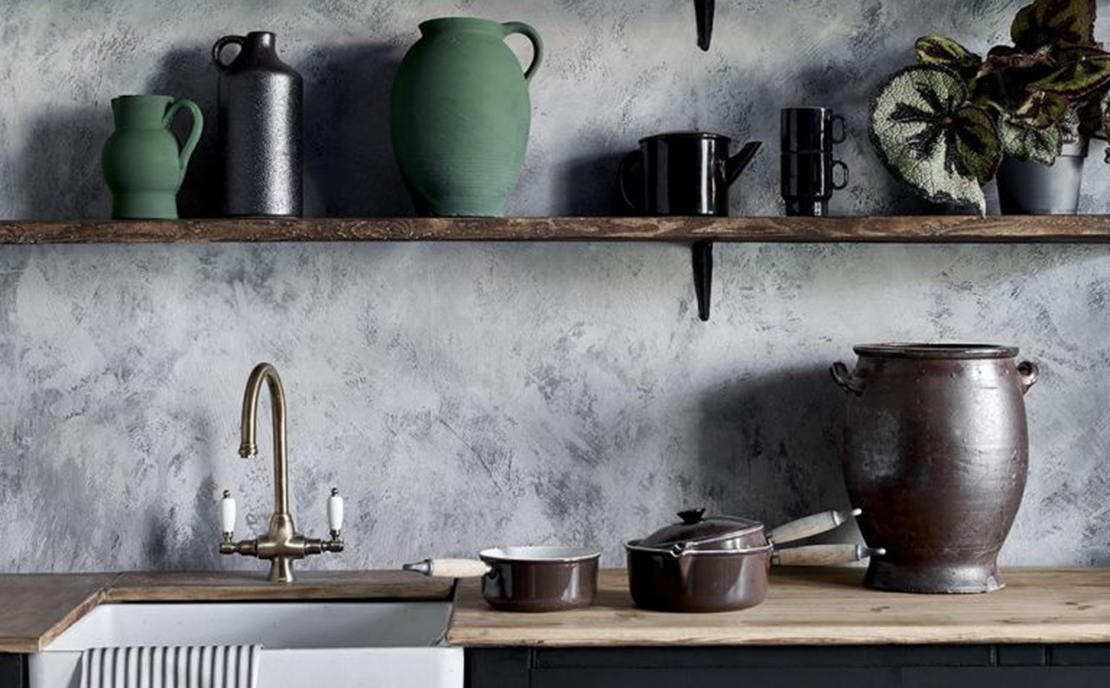 Factors in choosing decorative painting
Which decorative painting to choose? The answer is very simple. The most suitable for the surface where it is to be applied. That is the most valuable advice. Focusing only on the finish or colour is a mistake, because each substrate needs its own particular properties.
Let's take a look at the most important factors to take into account when choosing one paint or another:
1. Material to be coated with the decorative painting
We have just said it. Not all paints are suitable for the same substrate. Because it is simply not the same to coat wood as it is to coat a plasterboard wall, for example. So you need to find out before buying one or the other.
2. Differentiating between walkable and non-walkable surfaces
Coating floors is more complex in the long term than walls, as the former require a paint that is much more resistant to wear and tear due to abrasion, impact, etc., as is also the case with furniture. The same applies to furniture.
Similarly, the room to be painted must also be assessed. Bathrooms and kitchens need paints with waterproof properties, for example. Washable, damp-proof, etc. products.
3. Outdoor resistance
Just as the material and the surface pattern are substantial factors, so is the resistance in exterior spaces. Some decorative paints are resistant to sunlight, rain and wind. But not all of them.
4. Quality of decorative painting
It seems obvious, and it is. But many times, because we try to save money, the final result will end up being more expensive than we thought it would be. Quality is not a factor to be taken lightly.
5. Decorative finish
What exactly are you looking for? A decorative paint with a glossy finish? More satin? Or metallic and rust effects perhaps? Every paint has the ability to warrant one decorative finish or another.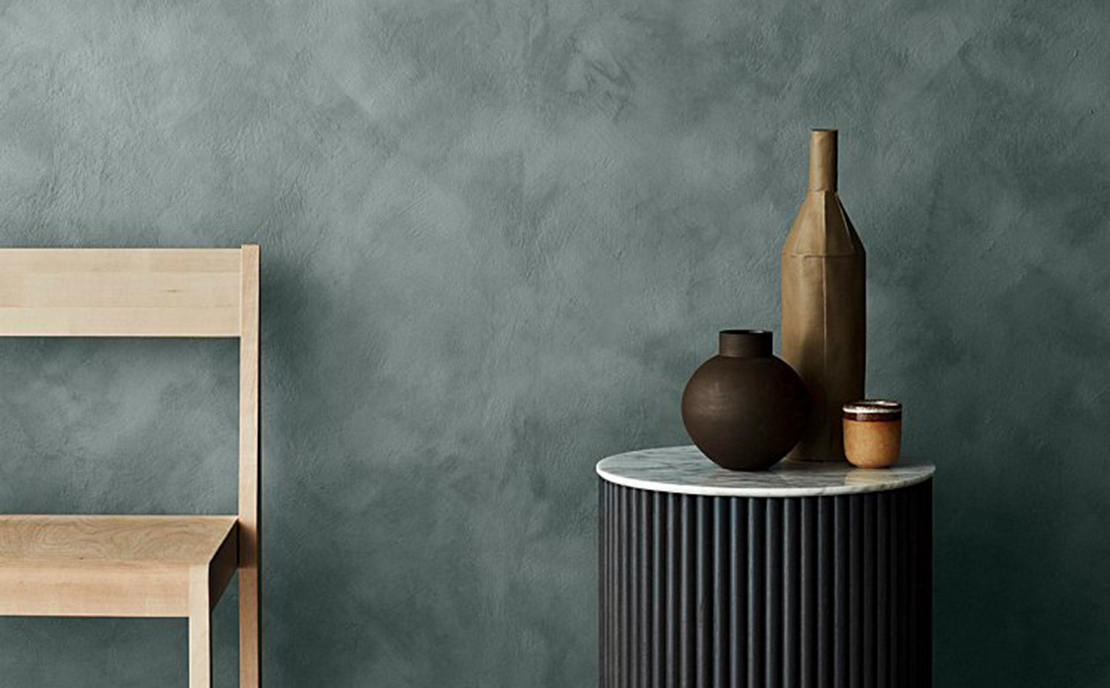 Types of decorative wall painting
There is a wide range of paints for decorating walls depending on the use and features you are looking for. In the list we have compiled, we have taken into account the most frequently used paints for renovating rooms in the home.
1. Plastic or latex paint
Plastic or latex paint is the most common paint for interior walls. Although it is true that, depending on its composition, it can sometimes also be used on exteriors.
It is characterised by being a water-based paint, which avoids the often unpleasant odours of solvent-based paints. In this sense, it guarantees water resistance. It is also very easy to apply, can be washed and dries very quickly. On the other hand, it is not recommended for untreated wood surfaces.
A plastic or latex paint that is further divided into acrylic and vinyl and offers three types of finishes: matt, satin and gloss.
- Matt plastic paint: more opaque and duller finish. It costs a little more to wash but it is perfect for walls with very noticeable visible damage or that are many years old.
- Satin plastic paint: halfway between the matt finish and the gloss finish. Highly recommended for walls with bright or intense colours, as it enhances their tone.
- Plastic gloss paint: more reflective finish. It is very easy to clean with water, so it is an ideal decorative paint for rooms such as bathrooms and kitchens. It will be necessary, however, to sand the wall beforehand.
1.1 Acrylic paint
Paint with superior resistance, both for interior and exterior use. It ensures greater waterproofing power on walls and is also perfectly resistant to mould and the sun's rays. It has excellent adhesion on many materials, with the exception of untreated wooden surfaces.
1.2 Vinyl paint
The versatility of vinyl plastic paint is greater, as is its flexibility. It also has a virtually imperceptible odour and is easy to apply.
2. Synthetic enamel paint
Paint made of solvent-based synthetic resins. Therefore, in contrast to plastic paint, it is much more durable and resistant. It also preserves the gloss of the surface very well, even in exterior spaces because it is more resistant to water and humidity. The finishes it offers are smoother. It is mainly used on wooden or metal walls, although its field of application is much wider.
However, it requires a longer drying time and special care must be taken with the intrinsic fumes of this decorative wall paint. These gases can be harmful and can even cause dizziness if the space is not properly ventilated.
3. Acrylic enamel paint
Its name leaves no room for mystery. Paint formulated with acrylic resins, catalysts and pigments. Completely soluble in water and odourless, so it is not necessary to be as rigorous with the ventilation of the room as with synthetic enamel paints. They are very often used in artistic decoration.
4. Primer paints
Pre-coating that serves as a base for decorative paint. The purpose of the primer is to consolidate the substrate and to facilitate the subsequent absorption of the paint used to decorate and finish the wall. Adherence improves exponentially, minimises imperfections and at the same time reduces the cost of finishing paint.
5. Varnishes
Varnishes are used to protect any type of paint as well as to give them shine or colour. They are usually made with a polyurethane base. They are noted for their waterproof properties, durability and resistance to abrasion.
5. Mineral or silicate paint
Thanks to their high covering power and water vapour permeability, mineral or silicate paints are mainly suitable for walls with moisture problems.
Decorative paint based on inorganic mineral pigments and insoluble silicates. In appearance, they resemble lime paint but are of higher quality and more resistant. As they are made from renewable raw materials, they can be classified as ecological paints.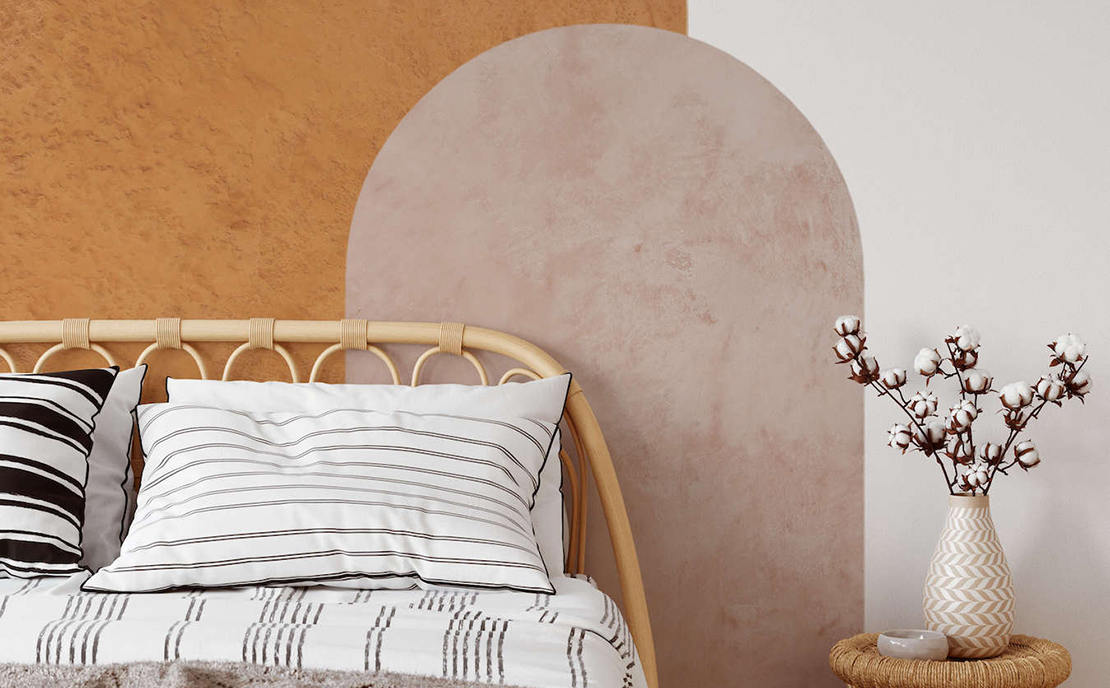 Decorative painting techniques for walls
Paintings are one of the most widely used resources to decorate walls, thanks to the plurality of effects that can be achieved. There are numerous decorative painting techniques for walls from which to choose the one that best suits the demands and needs. The following are the main ones.
Florentine earth
The particularity of the Florentine earth decorative technique lies in the special resins of its composition. These resins are available in various colours and are responsible for the characteristic finish when they are spread on the walls. Apart from the wide range of colours available, Florentine earths stand out for their good hardness and resistance, as well as being easily washable.
Florentine earths are, in short, a stucco with a shaded and aged effect that imitates Renaissance-style walls. A very specialised decorative painting technique for walls, with soft textures and small reliefs. Although its application is diverse, white is generally used on coloured backgrounds or previously mixed natural dyes.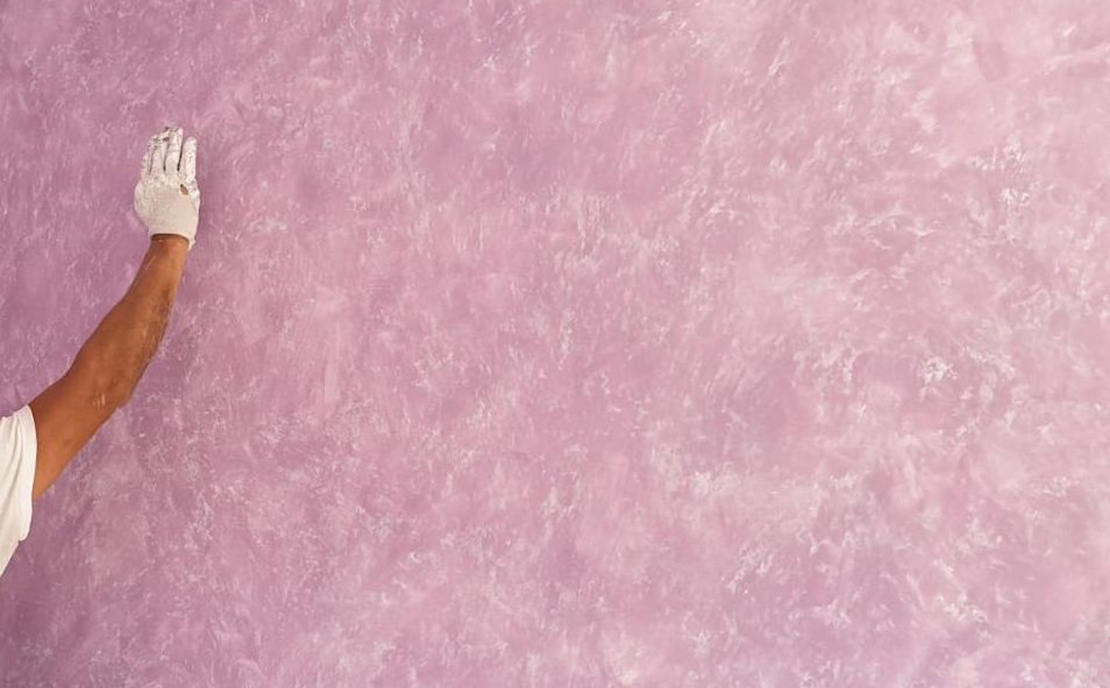 Venetian stucco
Venetian stucco is another of the most primary and important decorative painting techniques for walls. Originally from Venice, it is an aesthetic effect resulting from the use of a paste made from marble dust, lime, pigments and plaster whose finish is very similar to marble because of its unique shine.
Among its most interesting benefits are its resistance to humidity and its breathability. A highly durable paint that enhances the value of the space and also has the added value of being composed of natural elements.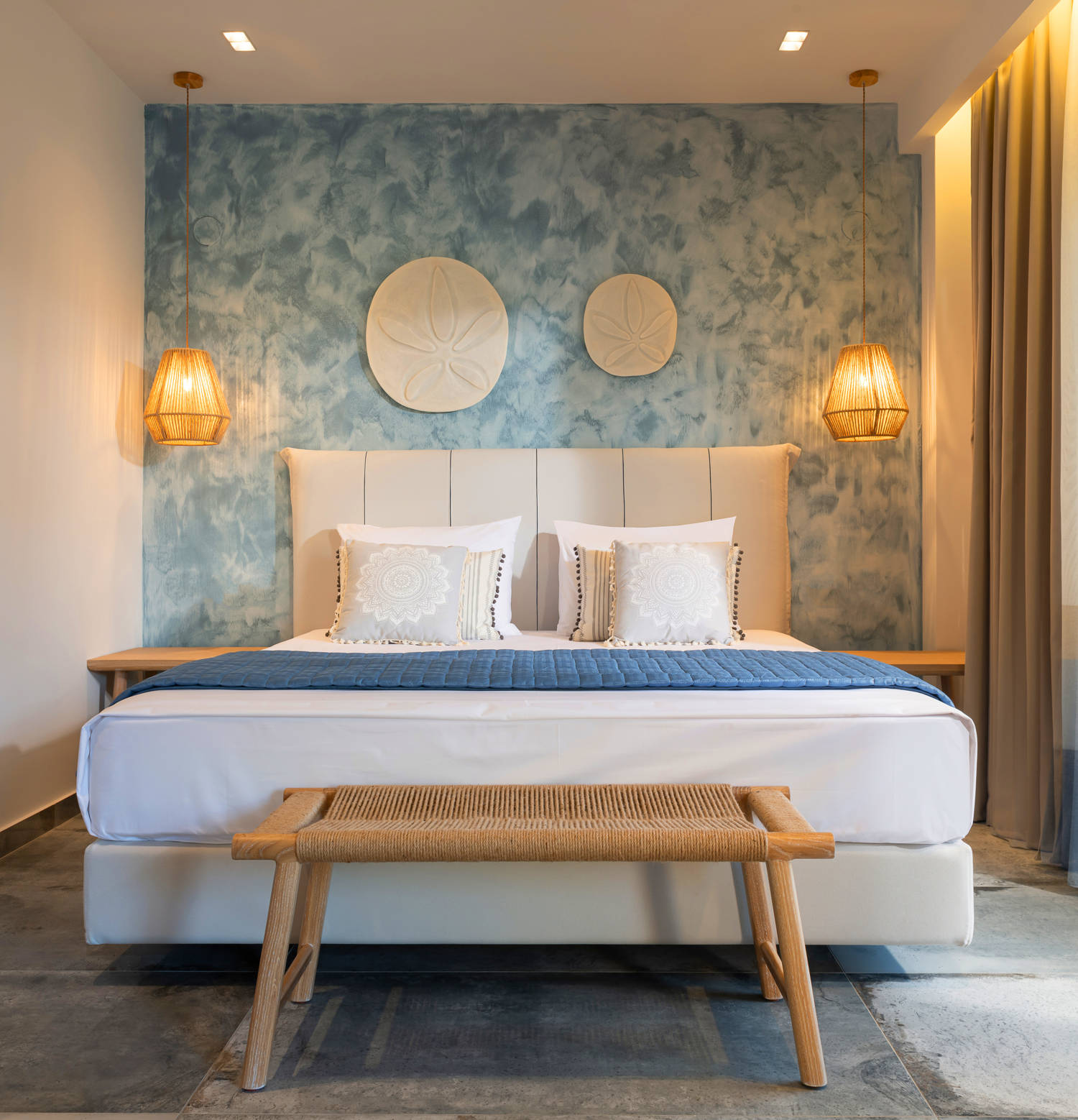 Sponge technique
Another of the most popular decorative painting techniques for walls is the sponging technique. It consists of repeatedly tapping the surface with a sponge until the desired finish is achieved. The wider the pores, the better the effect.
A finish that adds depth and volume to the room and is very easy and economical. Ideal for large surfaces where the contrast is more striking. We recommend using a natural sponge for a more elaborate effect.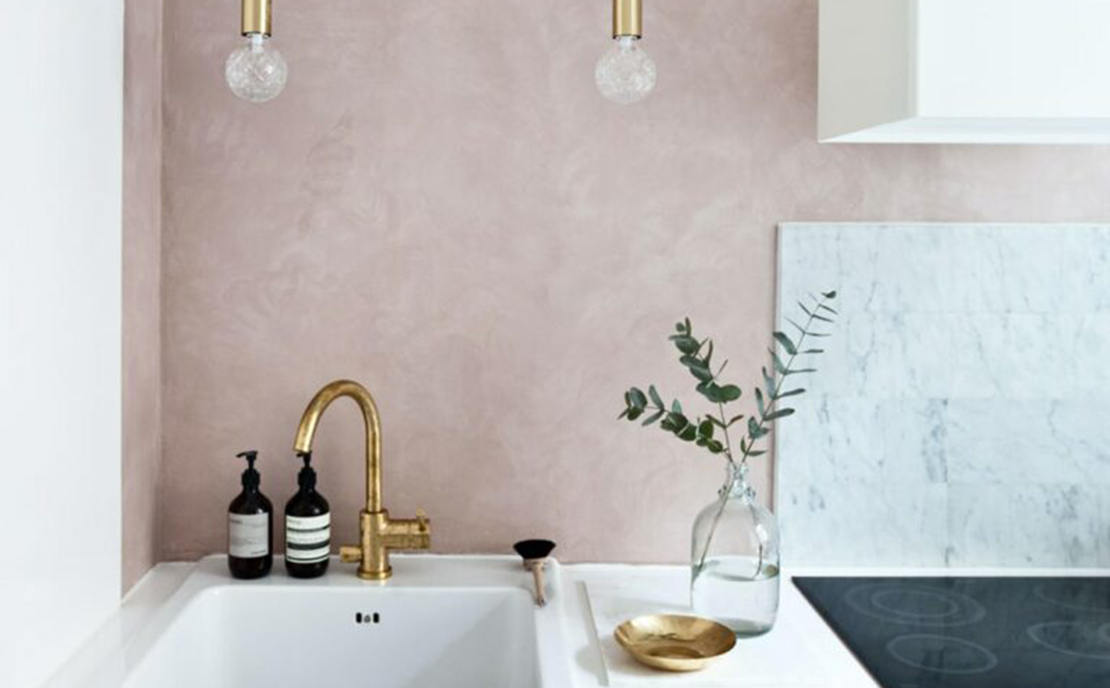 Rust effect paint
The rust finish is an aesthetic resource that reigns supreme in interior decoration, especially on walls. A rustic look that, despite symbolising the passage of time, the natural ageing of things, is very pleasing. Using a paint is the most convenient, quickest and cheapest way to achieve this finish. A decorative technique for walls that is not limited to the home, but is also the protagonist of fashionable shop windows, top restaurants, luxury hotels and even vehicles.
At Topciment we have developed a rust effect paint that sets no limits to creativity. A product with many nuances that can be used on interior walls as well as on building facades, thanks to its weather resistance. A paint that includes metallic particles of copper, bronze, iron and brass and can also be used as metallic paint. Its versatility knows no bounds. It is compatible with a multitude of substrates: microcement, concrete, brick, ceramic, metal, plaster, plasterboard, paper, etc. What are you waiting for?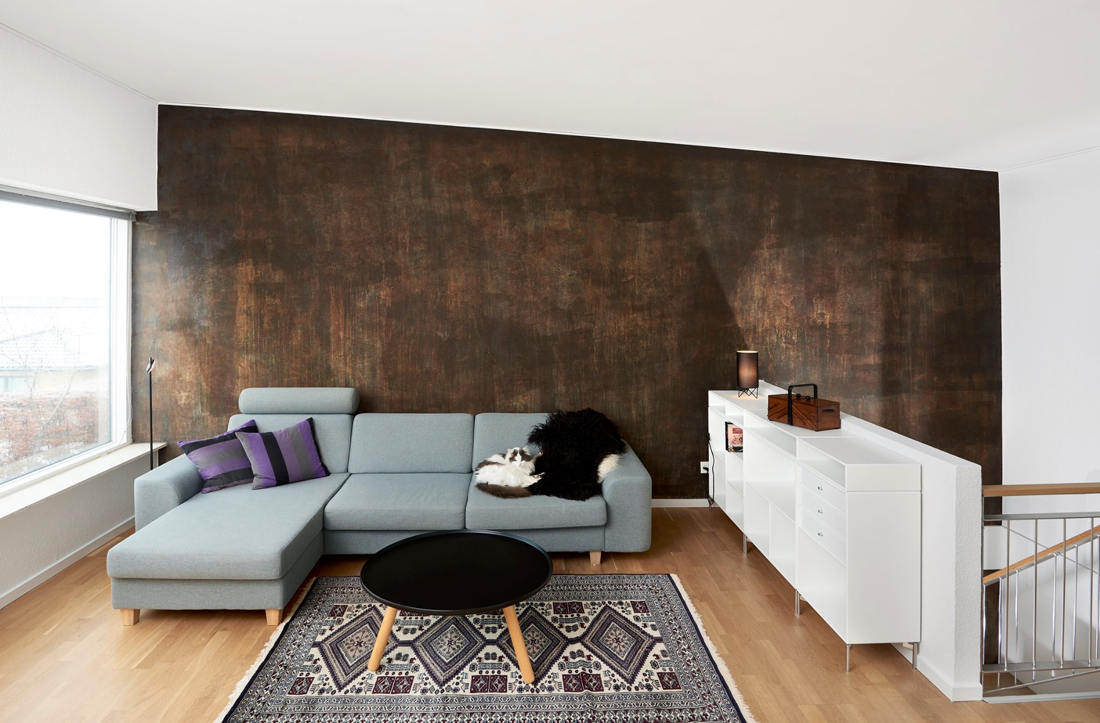 Decorative rollers
Decorative rollers are not a new decorative painting technique for walls, but they have come back into fashion in recent years. Thanks to these embossed rubber rollers with a variety of different patterns, all kinds of decorative effects can be easily created on the wall. The result is similar to wallpaper, with the obvious differences.
You simply stain the roller with the paint of your choice and gradually mark the roller pattern on the wall. This produces a repeating pattern that completes the surface of the entire wall.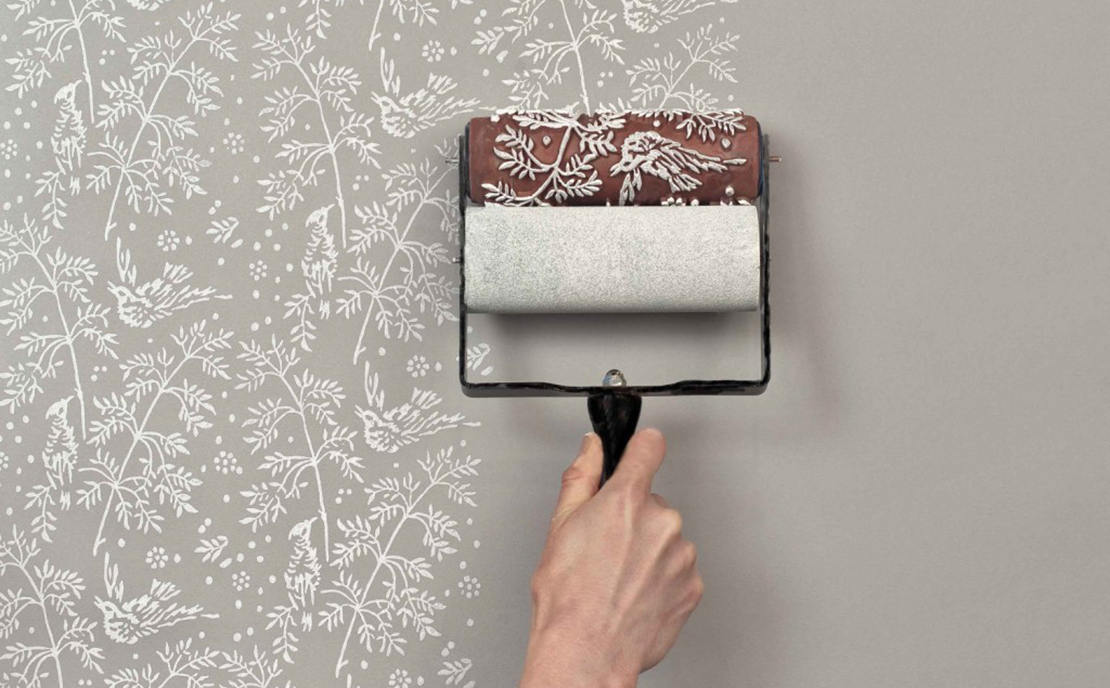 Glazes
Glazes are very thin layers of paint, transparent or semi-transparent in colour, which allow the layer underneath to show through. A decorative painting technique for walls that has been used for centuries to highlight or reduce their temperature and make them more opaque or glossy.
At Topciment, we have glazes with metal and glitter effect that can be applied not only on walls, but also on floors and even furniture. Very resistant patinas that allow incalculable combinations to embellish all kinds of surfaces.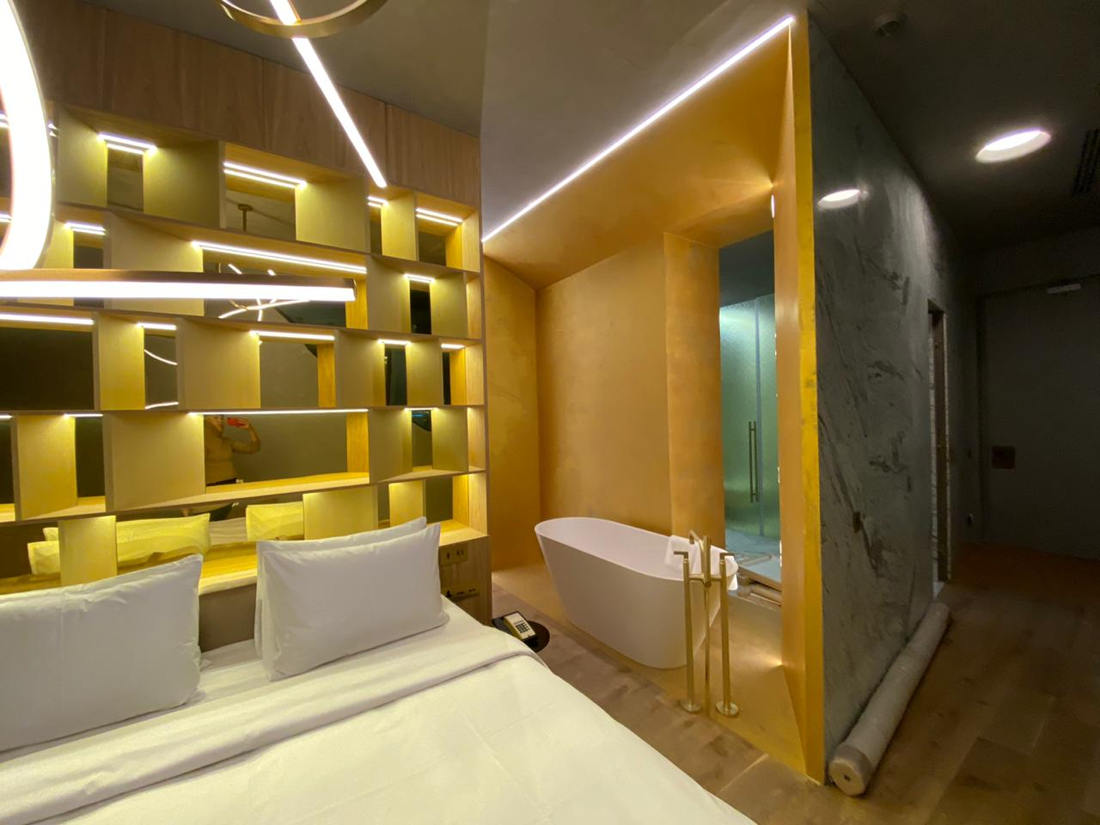 Trendy decorative painting styles
With decorative paints, you can emulate the appearance of some materials that are much more expensive. Depending on the creativity of each individual, you can create one atmosphere or another to renovate the space and make it stand out from the rest of the rooms. You can opt for a more traditional decoration or for one that breaks with everything that has been established and makes an impact at first sight.
It is all a question of fashion, or not. What is clear is that with this decorative technique great changes can be achieved quickly. Below we are going to analyse the most popular styles in interior decoration. From the most classic to the most modern.
Classic or Nordic style
Classic does not have to be at odds with avant-garde. In fact, minimalist or Scandinavian-influenced decoration is one of the most popular trends. Going for light colours such as white or beige for the walls and combining it with wooden furniture or parquet floors is always elegant.
Classic and Nordic styles are defined by soft and uniform finishes, avoiding extravagance at all costs. An elegant, timeless and comfortable atmosphere that is very easy to achieve with a decorative wall paint.
Gradient style for an accent wall
The gradient style is a peculiar way of painting walls because they visually look as if they have been left half-done. A technique in which different shades of the same colour are usually used and the effect is spectacular. It is one of the favourite styles to achieve what is called an accent wall, which will stand out from the rest.
The wall to be painted must be divided into three parts. First, paint the entire surface with the lightest colour. Then use the colour in between until you reach the line you have drawn. With the help of a brush, while the paint is still wet, blend the line or border. Then, paint the lower part of the line with the darker shade and, as before, blend the edges with a brush until the lines are no longer visible.
Vintage style
The vintage style is one of the most popular and eye-catching ways to add character to a space. And one of the most accessible options to achieve this is to renovate the wall with a decorative paint that offers this finish. Browns are the most common colours for this type of paint, which quickly achieve a natural ageing effect on the walls. As natural as life itself.
Topciment, manufacturer of quality decorative coatings
For more than 15 years, we have been developing all types of coatings. Among them, we manufacture different quality decorative paintings for floors and walls depending on the finish you are looking for. Visit our website and discover the advantages of each of the options we offer to professionals.
Subscribe to our newsletter
Receive in your email tips for the application and care of microcement, the latest trends and news about Topciment products.