Stamped concrete in interiors: main uses and how to use it
Stamped concrete is one of the decorative materials that can be used to best advantage. Not only because of the diversity of textures and finishes it can imitate, but also because of its high mechanical and chemical resistance, as well as its versatility in terms of uses.
Although it is a decorative technique mainly applied outdoors, there are people who choose to use stamped concrete inside the home. A less frequent but equally valid practice that aims to give a distinctive touch to the home. And it is certainly a success.
A decorative and functional system that lately, although to a lesser extent, is also being transferred to the commercial sphere, where it can be seen in shopping centres and restaurants. Unique finishes that fuse aesthetic beauty with incredible performance, delighting architects, interior designers and private individuals.
Below we are going to analyse in detail everything you need to know about stamped concrete in interiors. We will look in depth at what this technique consists of, how it is used and how it is applied in interior spaces, what the most notable benefits are and how much it costs per square metre, among many other questions.
But what is stamped concrete for interior?
Indoor stamped concrete is a vertical paving or facing made of fresh concrete to which a special stamping and texturing treatment is applied. This process is the result of applying a coloured mortar in situ and then stamping moulds of different shapes, patterns and reliefs on the surface.
A decorative but also very practical resource thanks to its extraordinary durability. Regardless of whether it is laid on floors or walls, it is perfectly suited to the aesthetic and structural purposes of both. It creates continuous surfaces with a long service life, slip-resistant textures and high resistance to abrasion and heavy traffic, among many other virtues.
Stamped concrete for interiors is an exceptional alternative to replace finishes of noble materials such as wood, brick or stone in a fast, effective and much more economical way. At the same time, its maintenance is much less demanding than its counterparts.
Depending on the finish to be given to the printed concrete, as it is also called, one type of varnish or another will be applied. The choice of resin is not trivial, as it will directly affect the durability of this material in the interior of the home or commercial premises. There are many different resins: acrylic, water-based, solvent-based, epoxy, methacrylate... The latter being of the highest quality. At Topciment® we have a wide range of sealers for your stamped concrete.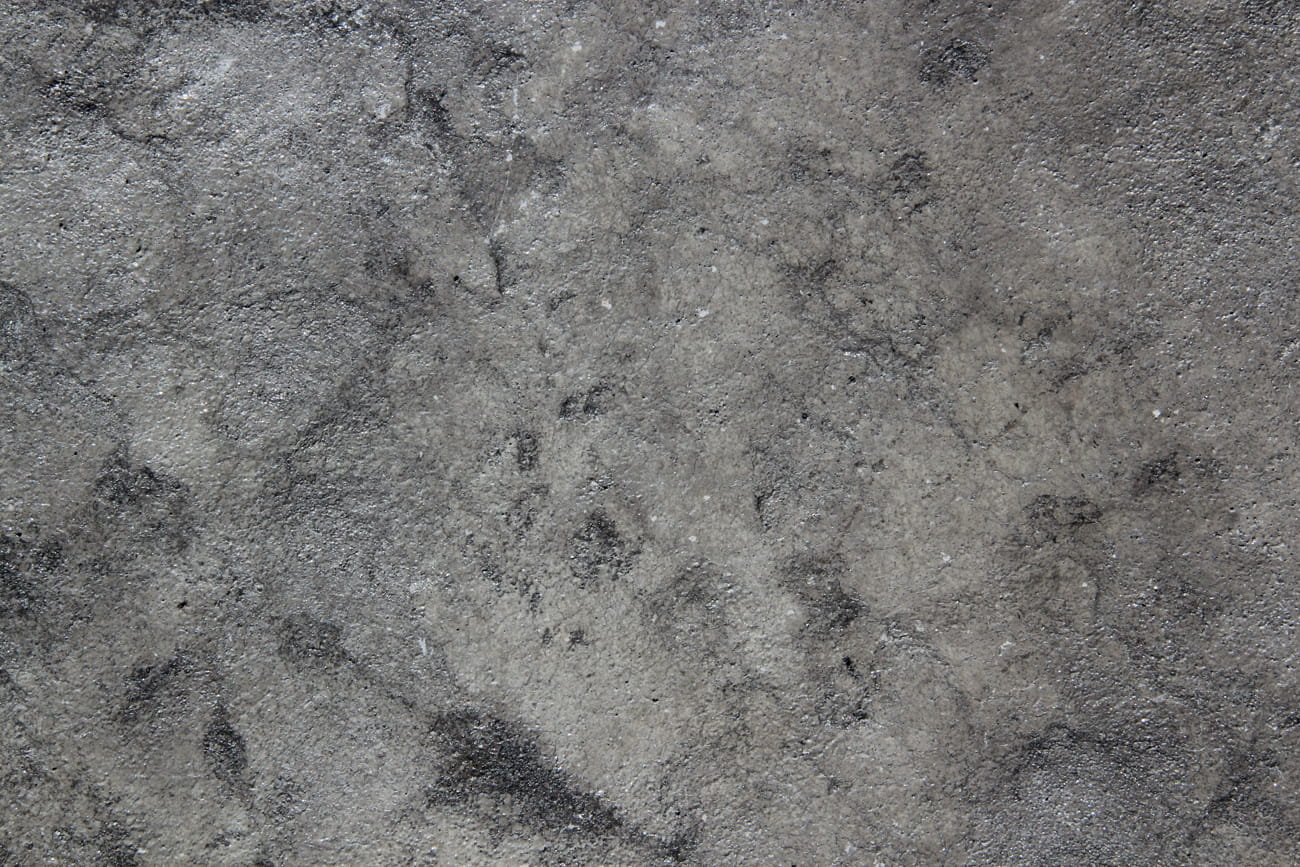 The advantages of stamped concrete in interiors
Stamped concrete in interior is becoming increasingly popular. Although this area of use is unconventional compared to the exterior, its finishes are unique. An attractive and modern appearance is achieved over many years without overloading the space.
A solution that allows any type of design to be incorporated visually without detracting from its attributes, which remain intact. A computation of benefits that makes it no mere coincidence that this material is gaining more and more followers to be applied in the interior of the home and commercial premises.
High quality flooring and walls that fit like a glove to any environment and location. Below we are going to see some of the most outstanding benefits that make opting for stamped concrete in interiors an absolute success.
Hardness
Indoor stamped concrete is synonymous with solid and consistent surfaces. Its high tolerance to impacts and blows means that it does not crack or crack easily and remains in optimum condition over the years.
Its hardness means that the surfaces on which it is used will remain in perfect condition, as on the day it was applied, maintaining the textures, colours and effects of its finishes without any variation or alteration.
Resistance to wear and tear
A hardness closely related to its magnificent mechanical performance. No need to worry about wear due to abrasion, friction or heavy traffic. It is one of the most resistant materials in this respect.
Decorative versatility
No matter what finish you are looking for, interior offers decorative versatility like few other materials. This is thanks to the vast number of geometric patterns and colours available. You get a unique and sophisticated look.
High impermeability
Stamped concrete does not deteriorate or corrode when exposed to water. It is a material that is highly resistant to water, even rain, and to ambient humidity. This makes it ideal for interior areas of the home. Also, as it is varnished, it does not filter liquids, preventing water or other chemical agents from damaging the surface.
Ease of maintenance
In order to safeguard the beauty and to ensure that the vigour of the colour remains intact, stamped concrete in interiors requires periodic maintenance like any other material. However, it is much less demanding as the maintenance work is not at all exhaustive. It will only be necessary to clean the dirt, which does not accumulate excessively as in other coatings that do have joints, as well as renewing the varnish layer every 2 years.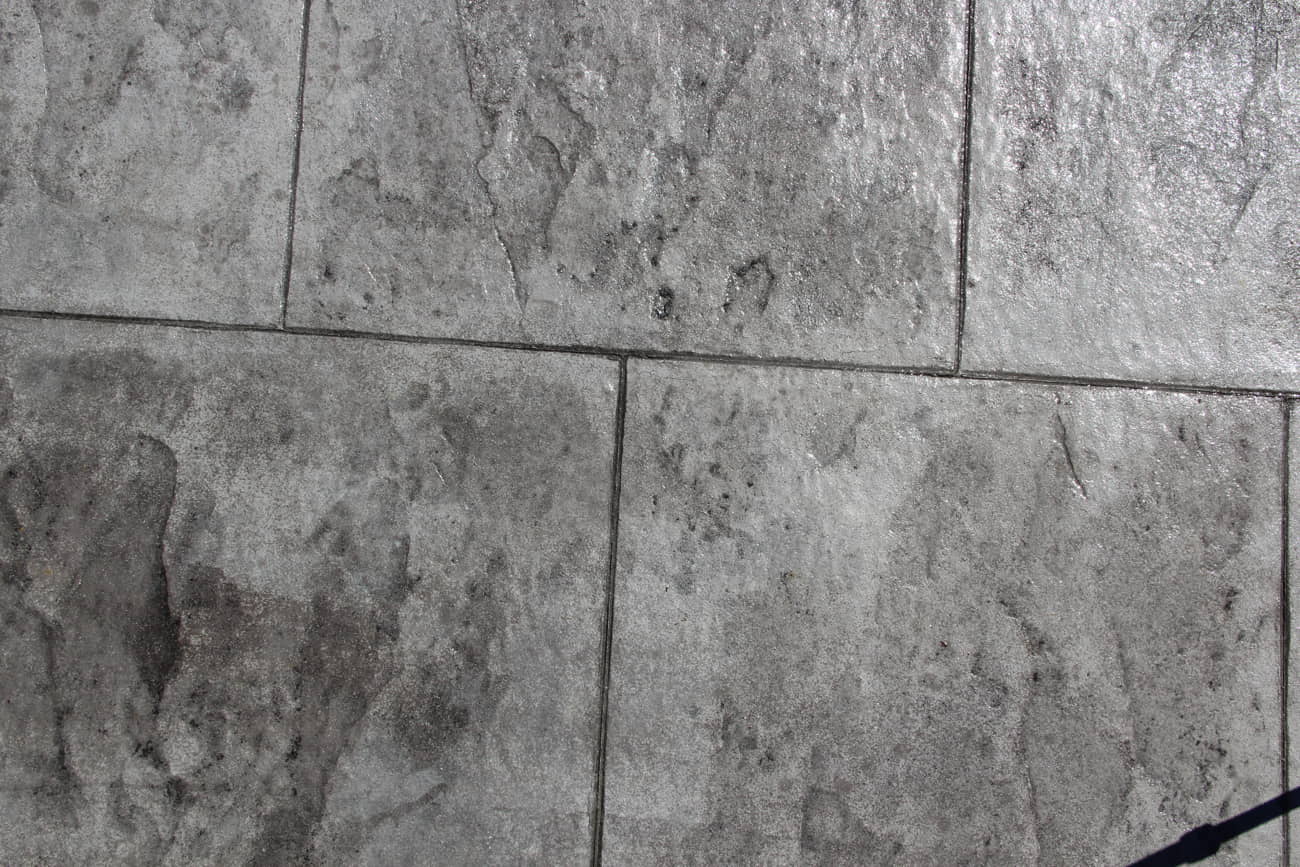 Speed of execution
Compared to other construction materials, such as traditional paving stones, the application of stamped concrete in interiors is much simpler and much faster. It should also be noted that by reducing execution times, cost savings can be made.
Multiple designs
Thanks to the large number of moulds that exist and can be applied to it, interior allows numerous patterns with very different effects to be created. Cobblestones, bricks, tiles, wood imitation... We have more than a hundred patterns to print any design and shape you can imagine.
Longer life than other materials
Stamped concrete in interior is a material that has practically the longest useful life in the entire construction materials sector, lasting in the best conditions without the need to repair or even replace it.
Great value for money
This material is a construction resource that is quite economical compared to the materials it imitates, such as wood, for example. However, it also guarantees unique qualities, which is why it is one of the most widely used materials that ensures high performance.
Colours of interior stamped concrete : increasing decorative options
Stamped concrete in interiors can be combined in a wide range of colours to suit the tastes of anyone who wants to use it on any surface.
This continuous coating offers a wide range of decorative possibilities, with a choice of colours ranging from white, black, grey, beige and beige to blue, red and green.
These colours are obtained from pigments that are highly resistant to water and the sun's rays, maintaining the shades for longer. Its quality and hardness allow it to resist without fading, even when this material is used in situations where it is constantly exposed to any threat.
At Topciment® we have a collection of colours consisting of four different lines within the Arcocem® line, our high-quality mortar pigments that also resist the most aggressive cleaning products.
Our colourants allow you to create surfaces to your liking with great decorative and technical guarantees. It doesn't matter whether the colour you want is silver, black, green, brown or blue, because in any case it will look as good as the first day for an unlimited period of time.
Why choose stamped concrete in interiors?
When looking for the ideal material to carry out a new construction or renovation of any room or space, stamped concrete in interiors is a material with great features and a great quality-price ratio.
Decoratively speaking, it allows you to create your own patterns and figures so that each surface it covers is exclusive. This combines perfectly with the durability and strength of these areas.
Stamped concrete has become a material widely used in any type of project due to all the implicit advantages that help to highlight the beauty of the rooms in which it is applied, thanks to the luminosity it provides and the wide range of colours in which it is available, which makes it a material that is much more adaptable to people's aesthetic pretensions if we compare it to others such as tiles.
In short, this covering combines robustness and an outstanding quality in its decorative finishes that will be preserved from the moment of application.
Interior stamped concrete floors: beauty and resistance
A stamped concrete floor in the interior of a house is unusual because it is not a comfortable floor. Can it be laid? Of course! But there are a number of considerations to take into account. As it is a floor that is printed, the resulting surface is very rough and although less dirt and dust accumulates than in an exterior, cleaning cannot be carried out in the same way. We have to be more meticulous, as we cannot use a pressure washer, which is much quicker, as we do outdoors.
Also, it is not a floor that allows you to walk on it without shoes as most people do in their homes on parquet or marble floors, for example.
This is quite the opposite of the situation in restaurants or shopping centres, which are used in a completely different way and where it is more appropriate to install a stamped concrete floor inside. A surface that can be renewed in a short time and transformed into a resistant, comfortable and beautiful area for customers.
Stamped concrete for interior walls: raising your standards
On the other hand, it is more common to find stamped concrete on interior walls; this is what is known as vertical stamped concrete. In this area of application, in contrast to floors, it makes little difference whether it is in commercial premises, hotels or residential projects. In all installations, without exception, the benefits of this material reach their full potential.
A wide range of decorative alternatives without renouncing its resistance. The traditional patterns and finishes of façades and walls are a thing of the past. Vertical surfaces treated with this technique acquire absolute prominence and significantly revalue the space in which they are located. A compact and solid cladding that is protected against damp and cracks, that is easy to clean and even easier to maintain, and that allows unlimited combinations of all kinds of reliefs and textures.
Where to apply stamped concrete in interiors? Homes, businesses and more
Stamped concrete has properties that make it a great material to apply in any situation. So, no matter whether the spaces are homes or large warehouses, businesses, offices or restaurants, stamped concrete works perfectly in any location and will exceed the requirements of each space by far.
Stamped concrete inside the home
Stamped concrete is a material that, due to its characteristics, can also be applied in homes to improve people's quality of life. In addition to its resistance, we can add the luminosity that it provides by reflecting natural light and an unprecedented ease of cleaning that will make this type of tasks in the home much easier and that its finishes will be easy and quick to show off.
Stamped concrete inside hotels and restaurants
For example, other places where we find more and more of this type of surface coating are hotels and restaurants. In these, both in floors and interior walls, their floors and walls are coated to give a welcoming and resistant sensation at the same time that favours the comfort of the guests and the workers. This is a commitment to quality, creating original surfaces that are hard to forget.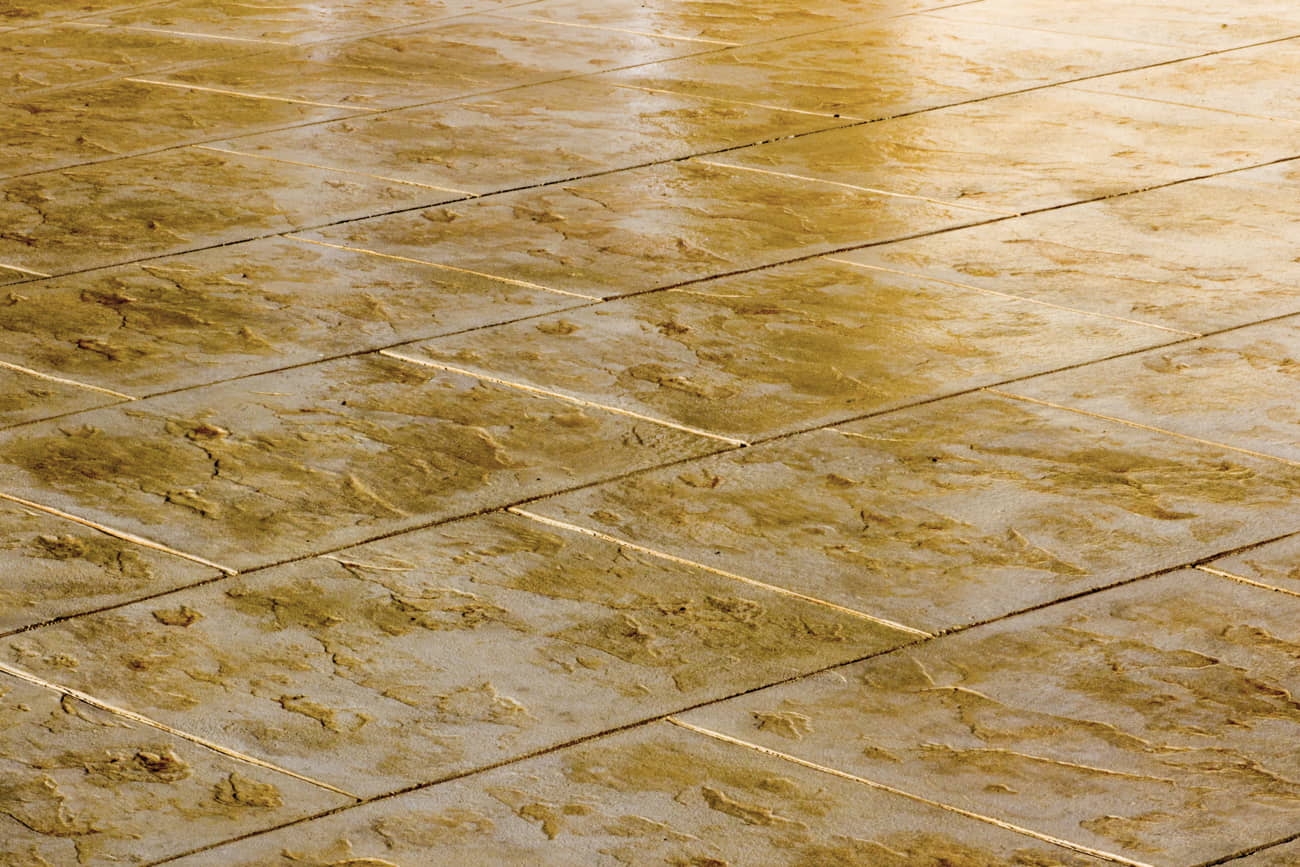 What is the price of interior stamped concrete?
The price of interior stamped concrete is affordable for both homeowners and business owners. A decorative finish that has emerged as an affordable option for people who want to add style to their spaces without the high cost of other materials such as stone or wood.
Considering all its benefits, coupled with the ability to offer identical but cheaper finishes than other materials, it is safe to say that stamped concrete in interiors is inexpensive. However, some factors can make this cost vary considerably.
The complexity of the work to be carried out, the square metres of the surface to be renovated, the type of stamped concrete mould or the varnish to be applied are just some of the many variables that need to be studied carefully and that will determine how much to pay for a finish with this material.
Approximately, the price of stamped concrete in interiors is between 60 and 100 euros. Our collaborating applicators analyse each individual case in order to adapt to the needs of each person and guarantee an individualised and competitive quote.
How to make stamped concrete indoors?
The application of stamped concrete indoors does not differ from the installation process outdoors. The step-by-step is identical, but we recommend using some products to the detriment of others in order to facilitate the execution of this decorative technique in closed spaces. For example, the release agent, which we always recommend using a liquid version such as our Desmocem® Liquid to avoid raising dust.
In any case, the procedure is still very fast. Below, we explain it in detail depending on the surface on which we want to lay interior stamped concrete: walls or floor.
Making interior stamped concrete on walls
As we have already mentioned, in an interior space, stamped concrete is mainly found on walls. Its most widespread use and whose application we will begin with below.
1. Prepare the wall
Check that the wall is completely clean and in good condition, without imperfections and with all parts well adhered. Place the fibreglass mesh to avoid the appearance of cracks over time. Clean with water and apply the corresponding primer.
2. Apply the mortar to the wall
Plaster the wall and apply two coats of mortar. It is very important that the material is aerated so that bubbles do not form, as well as respecting the expansion joints.
3. Sprinkle with the coloured hardener
Pigment the wall with the appropriate colour hardener to obtain the desired colour.
4. Apply the release agent to the wall
Apply the Desmocem® Liquid release agent to the wall using a long-haired roller and remove it later.
5. Stamping the chosen mould on the wall
Choose a mould compatible with vertical surfaces and stamp on the wall to consecutively fix the desired pattern and relief. What are you waiting for to see our Imacem® moulds?
6. Clean and seal the wall
Use a specific detergent to clean the impurities of the support such as our Ecoclean Pro or Ecoclean Construction. Allow 5 to 15 minutes for the product to work. Then rinse with water and allow the wall to dry. To finish the application of the interior stamped concrete on the walls, proceed to seal the surface. Use two coats of one of our Sealcem® varnishes.
Making interior stamped concrete on floors
Have you decided to apply stamped concrete indoors and more specifically on a floor? It is a more extensive process but, carried out by the right professionals, you will soon enjoy the result.
1. Preparation of the floor
First of all, the interior floor on which the stamped concrete is to be laid needs to be prepared. Therefore, first of all the surface must be cleaned very well, preferably with a specialised cleaner such as any of our Ecoclean range. Once the floor has been cleaned, the levels and slopes are prepared. It is important to place a polycret film and proceed to make the perimeter joints, before pouring the concrete.
2. Pouring the concrete
To an already hard material, polypropylene fibres are added to make the stamped concrete even more durable. This is possible with our product Fibratop. In addition, a steel mesh will be used on the perimeters that require it. Once these steps have been completed, the stamped concrete can be poured.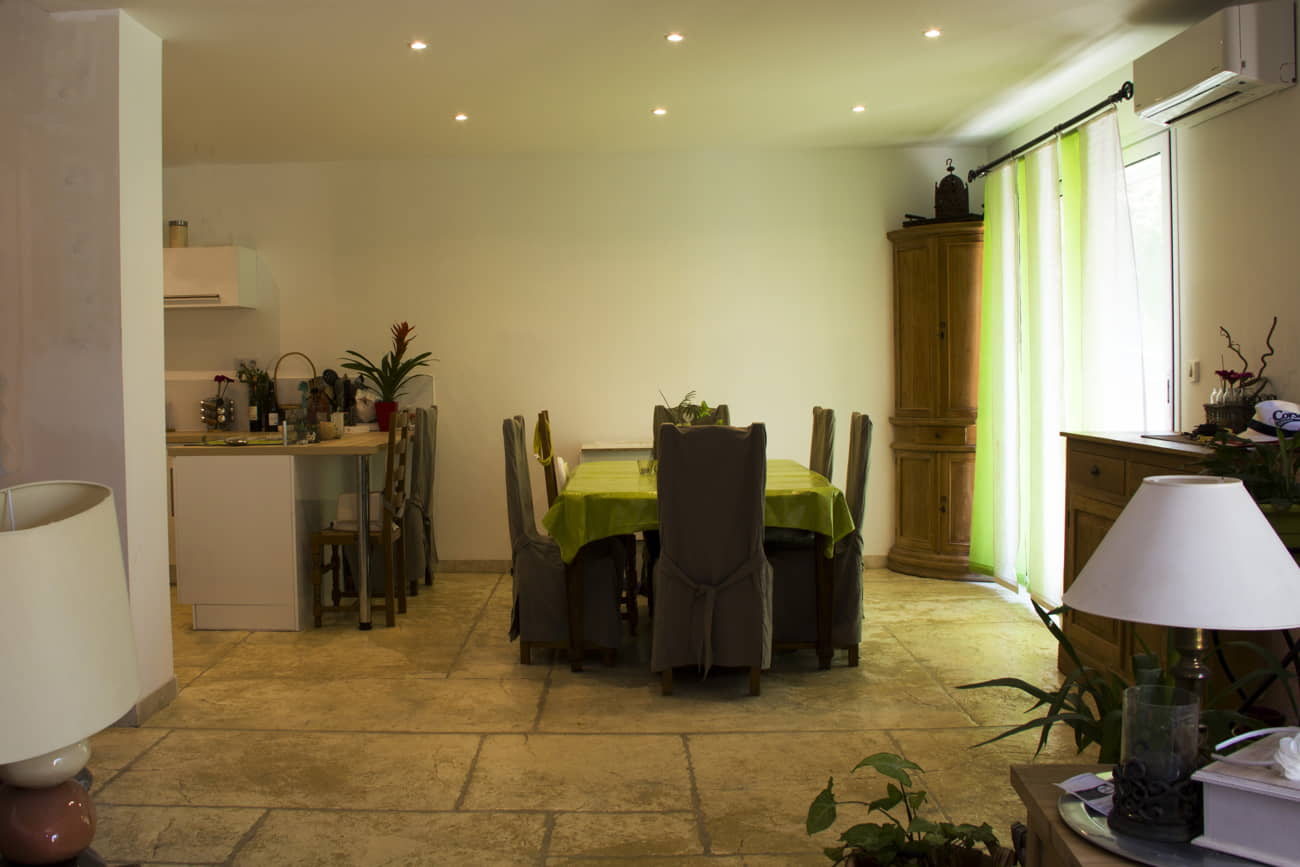 3. Trowelling the concrete
We take advantage of the fact that the material is still fresh to trowel it. This is essential, otherwise blisters may appear as a result of excess moisture.
4. Pigmenting the printed pavement
We colour the surface and this can be done in two ways. One, by sprinkling the Stonecem® Floor colour hardener or printed mortar. Or, secondly, it can also be mass coloured with Arcocem® Fast pigments that penetrate into the stamped concrete.
5. Floor smoothing
To avoid irregularities and to prevent possible porosities, we use a steel trowel to smooth the surface. The edges are smoothed with an edging trowel.
6. Applying the release agent
Before placing the mould that will give us the desired design, the release agent must be applied so that the first mould can be removed perfectly. Either Desmocem Powder® or Desmocem® Liquid can be applied, depending on the desired effect. However, as these are interior spaces, we will always recommend the latter for convenience.
7. Priming the mould on the flooring
It is time to choose patterns and textures. So, to achieve them, you have to choose one of the 150 printed moulds we have, Imacem®. Help yourself with a tamp and you will have your finishes in record time.
8. Protection and sealing
Finally, to protect our surfaces, we varnish with any of the products from the Sealcem® range which will help to seal the floor. It is recommended to recoat areas every two to three years
Have you decided to place stamped concrete inside your home or business and are looking for proven applicators? Are you a professional and would like to try our products for your future projects? Write to us without obligation and tell us how we can help you.
Subscribe to our newsletter
Receive in your email tips for the application and care of microcement, the latest trends and news about Topciment products.