Microcement in Ashburn - Fullcover for walls and floor reforms
The values on which our company is based are those that have brought us this far. An ideal mix of hard work, commitment and dedication to what we do. Because at the end of the day, if we didn't enjoy what we do, we wouldn't be able to do it so well.
We were founded in 2005 in Valencia (Spain). After more than fifteen years, this is still the main headquarters, the one that saw us emerge. And if there is something we want to preach, it is the fact of being faithful to our origins, of keeping the roots thanks to which we started this adventure.
In Valencia we have our main facilities where, in our own laboratory equipped with the most advanced machinery and technology, our chemists formulate our microcement. A formulation based on the most absolute vanguard and innovation, which is always based on the constant search for trends, changes in the environment, and current demand. Thanks to this commitment to be completely updated with what is happening around us, we can develop products that respond to all types of projects, so that, whatever the user is looking for, in Topciment® we have a solution that adapts to it.
Thanks to this, we have been awarded the seal of INNOVATIVE SME, which in effect recognizes the investment in R+D+I not only in our formulation, but also in the marketing of our products and, in general, of the services we offer.
What started in a small factory is now present in most countries. Japan, China, Singapore, Canada, Australia, Germany and many others choose us as a reference to distribute our materials. And if they choose us and we are more and more every day, it will be because what we are offering is really good.
And it is good. We can affirm it. And it can also be corroborated by the ISO 9001:2015 standard, which has been awarded to us after examining our products and verifying that, indeed, they have an absolute quality in their performance and results.
All this is far from being the result of chance. We have worked hard and we have also enjoyed the process. For all these reasons, we can say that our microcement in Ashburn is the best on the market. And the icing on the cake is our qualified expert technicians, experts fully equipped with the most advanced knowledge to pass on to users. Those who serve to help, guide and advise. Those who are there for you.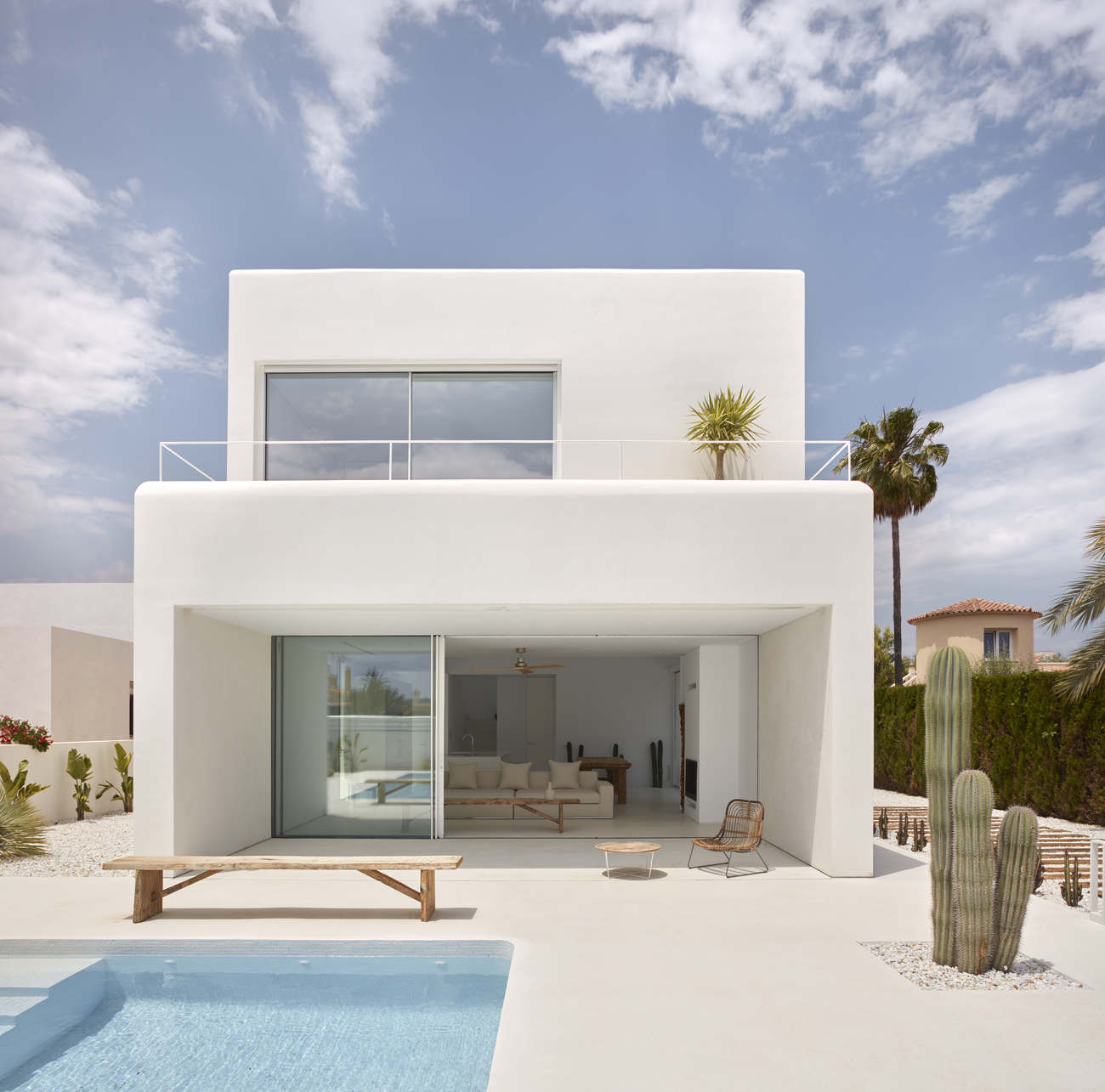 Our Microcement is more than a coating for spaces restoration
It gives you more than you ask for, without knowing it. It answers everything you're looking for and is the ideal choice for renovating any room in less than a blink of an eye. Everything you could ask for from a material, you get with our microcement in Ashburn.
No more fear of building work
One of the greatest advantages it has to offer: a renovation without construction work. It allows you to completely change the appearance of the rooms without having to remove the previous support. It is not magic, it is what our coating achieves. As simple as applying a layer on the material to be covered and letting it dry. Work, dust and licenses? No more.
A coating as light as a feather
From 1 mm to 3 mm to ensure adhesion like no other. Strength, hold and stability to the support without reducing the dimensions of the rooms that are coated. You will notice its presence by the change and beauty it brings to the spaces, but not by its thickness, as it is imperceptible.
Thin yes, but hard and resistant, much more so
Its minimal layer is a real fantasy, because with very little, it manages to provide spaces with maximum hardness and resistance. It avoids the appearance of cracks or fissures even in those places exposed to inclement weather, blows, abrasion or frequent transit of people, even vehicles. How can this be? Very easy, because of its purely industrial composition, based on cement, water and resins. The best of cementitious materials, with the aesthetics of the most decorative. Revolutionary above all.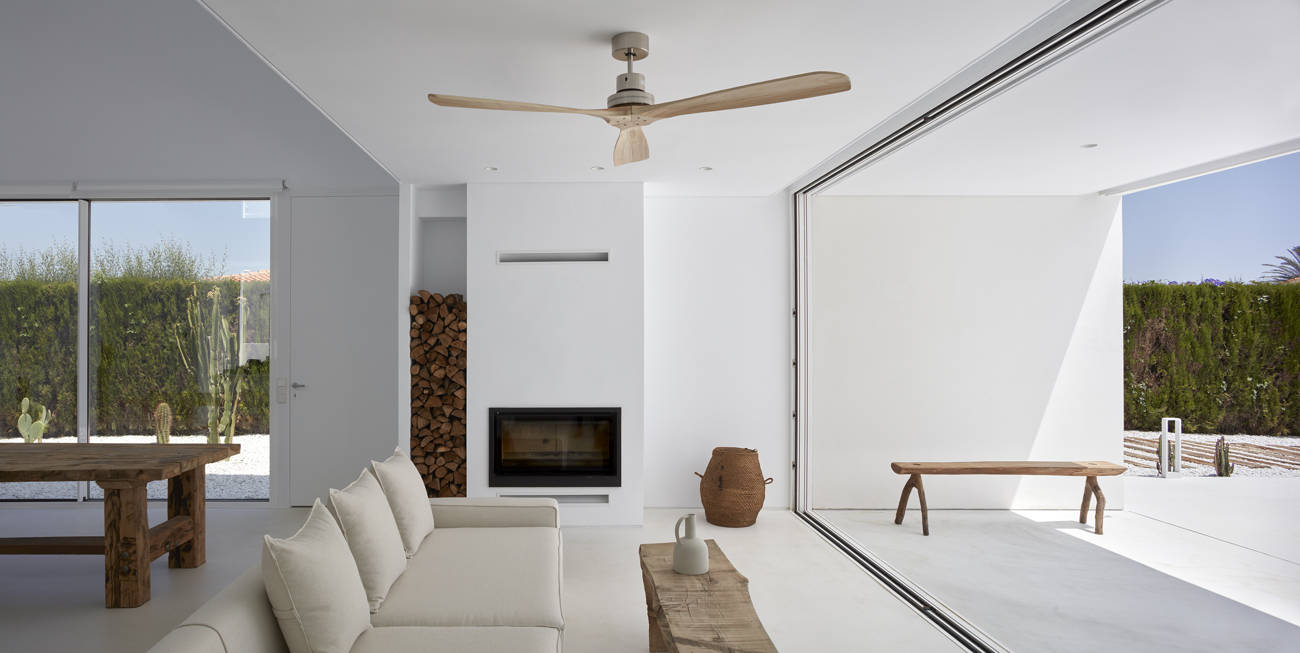 Indoors or outdoors, equally effective
And this is another good thing. It responds to all projects because no matter where it is installed, its properties are maintained just as well. It adheres to any type of support located indoors or outdoors. It responds functionally and provides a very special, unique and original finish and style.
You will say "yes" because it protects with it is waterproof & anti-slip
When it comes to renovation, we look for excellence, the best results but above all, the peace of mind of not having to do it for a long time. The waterproof property of our microcement allows damp spaces or those that often come into contact with water to look protected and beautiful. A protective film that prevents the infiltration of liquids into the interior, which avoids damage and the appearance of damp stains. It is also naturally anti-slip, which, when applied to horizontal surfaces such as floors, reduces slips and falls.
Creates continuity for magical spaces
If you've ever wondered what it would be like to experience true visual pleasure, now you can witness it for yourself. Continuity is the way to fully exploit the beauty of any room. The absence of joints allows spaces to be perceived in a single pass and therefore creates a much more pleasant and enjoyable feeling than when there are lines of interruption. Harmony to the eye, but also in terms of functionality and utilization. Much cleaner rooms in which there is no accumulation of bacterial residues due to the absence of these joints and also with a higher expressive value and stylistic richness. The continuity allows to perceive the spaces with a superior amplitude, because walls and floors are part of the same horizon, and this amplitude is transformed into greater luminosity. Exquisite places made to enjoy.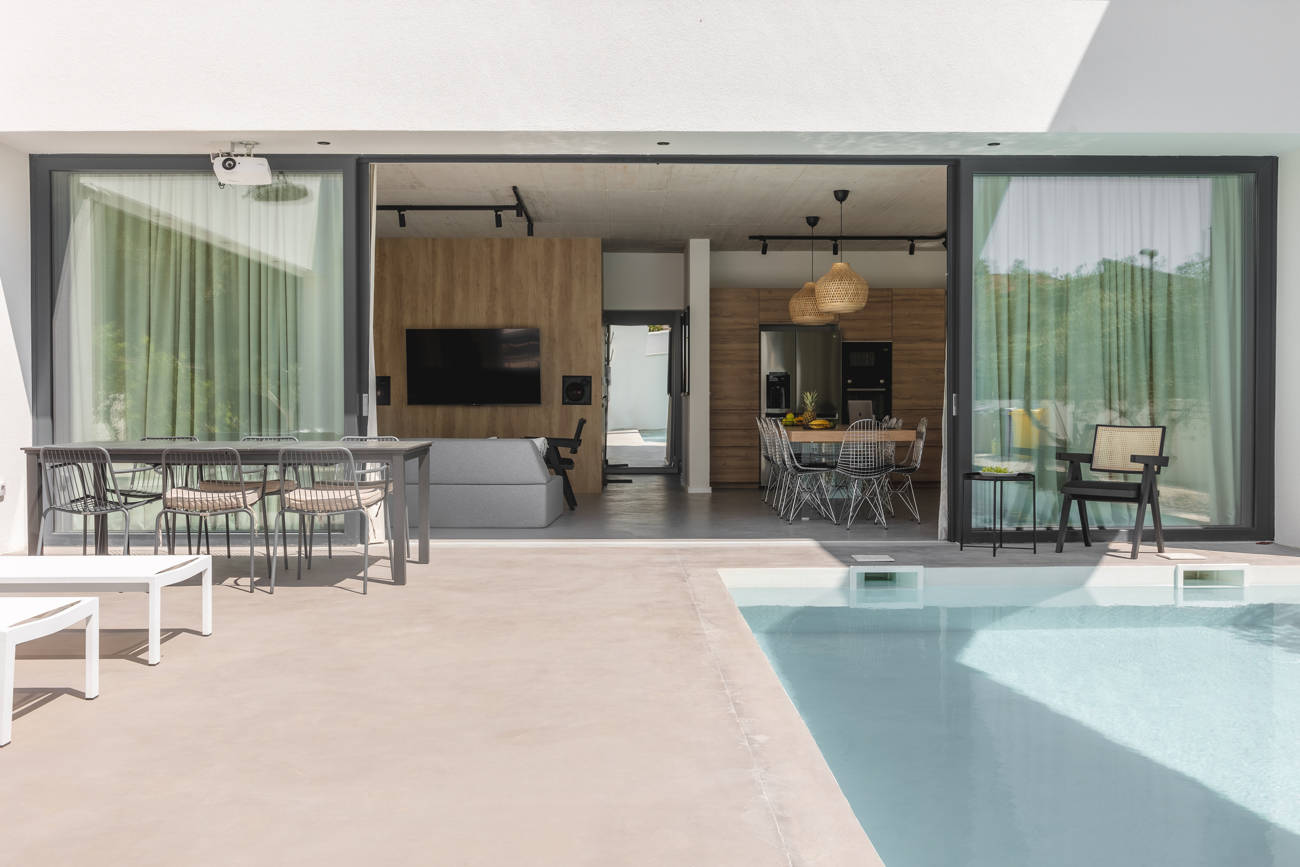 In gray, or in the color of your choice
With our microcement disappears the vague idea that all the coatings of cementitious or industrial character are grayish. Its finish is completely and absolutely customizable. Choose from the wide range that Topciment® offers you and create exclusive combinations on floors and walls with light, neutral or dark tones, depending on the decorative style you are looking for and the character you want to give to your rooms.
A Microcement in Ashburn company with the features you were searching for
Spanish quality comes to microcement in Ashburn to meet all the expectations and needs of each of the users. We manufacture only products designed to make life easier for individuals and professionals in the decoration or construction. Everything responds to something, and at Topciment® that is the basis of our success. Doing things in a rational way and always with a goal to achieve.
We are a company with a presence throughout Spain, in practically all of Europe and, increasingly, in the rest of the world. Our commitment is to offer the best materials, to market them quickly and efficiently and to offer a personalized technical service based on absolute quality, proximity and professionalism.
We have everything you need. We are leaders in the sector and now, we want to be your trusted reference. The one that guarantees you the most absolute success in the transformation of spaces. You will choose us because there is no one who gives you as much as we do.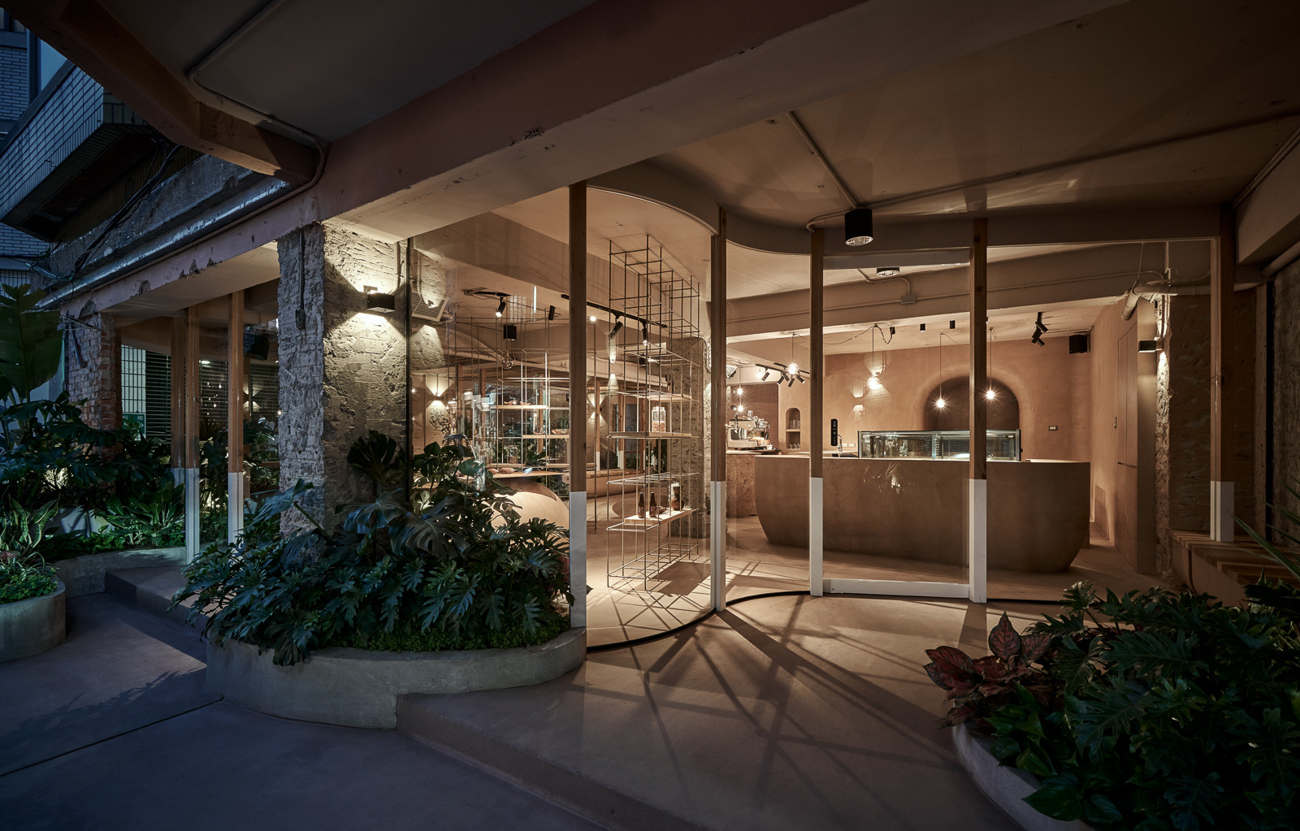 The advice you need
Without hesitation. Information and attention from fully qualified and up-to-date experts in the field. The most advanced knowledge, the most involved staff. Ready to serve you and to solve doubts, expand your knowledge or guide you in any part of the process. True professionals with whom we guarantee a completely personalized and free technical service. What you deserve.
Acknowledgments for our work
We have been recognized for two of the pillars on which Topciment® relies the most. Those most important, or rather, indispensable for us. Those without which we would not exist.
The recognition as an INNOVATIVE SME is an achievement that, in particular, means a lot to us. If we were to offer the same as the rest and limit ourselves to manufacturing and distribution, we could not be the benchmark we are. It was clear to us from the very first moment that everything we offered, from the very first minute, would be the latest, the most innovative, the crême de la crême of the sector. And, although we are committed to many aspects, innovation is something that undoubtedly guides us. Thanks to it, we can affirm that our products are adapted to the present day, that they respond to needs and demands, that they are what professionals and individuals need. Our investment in R+D+I is constant and unstoppable and we know for sure that we will continue to apply it in all our procedures.
On the other hand, the ISO 9001:2015 standard is based on exhaustive quality controls that audit our materials and, thanks to which, we obtain this seal that recognizes this nature. In this way, we can also demonstrate that in addition to being at the forefront, we respond with quality. With absolute performance and performance.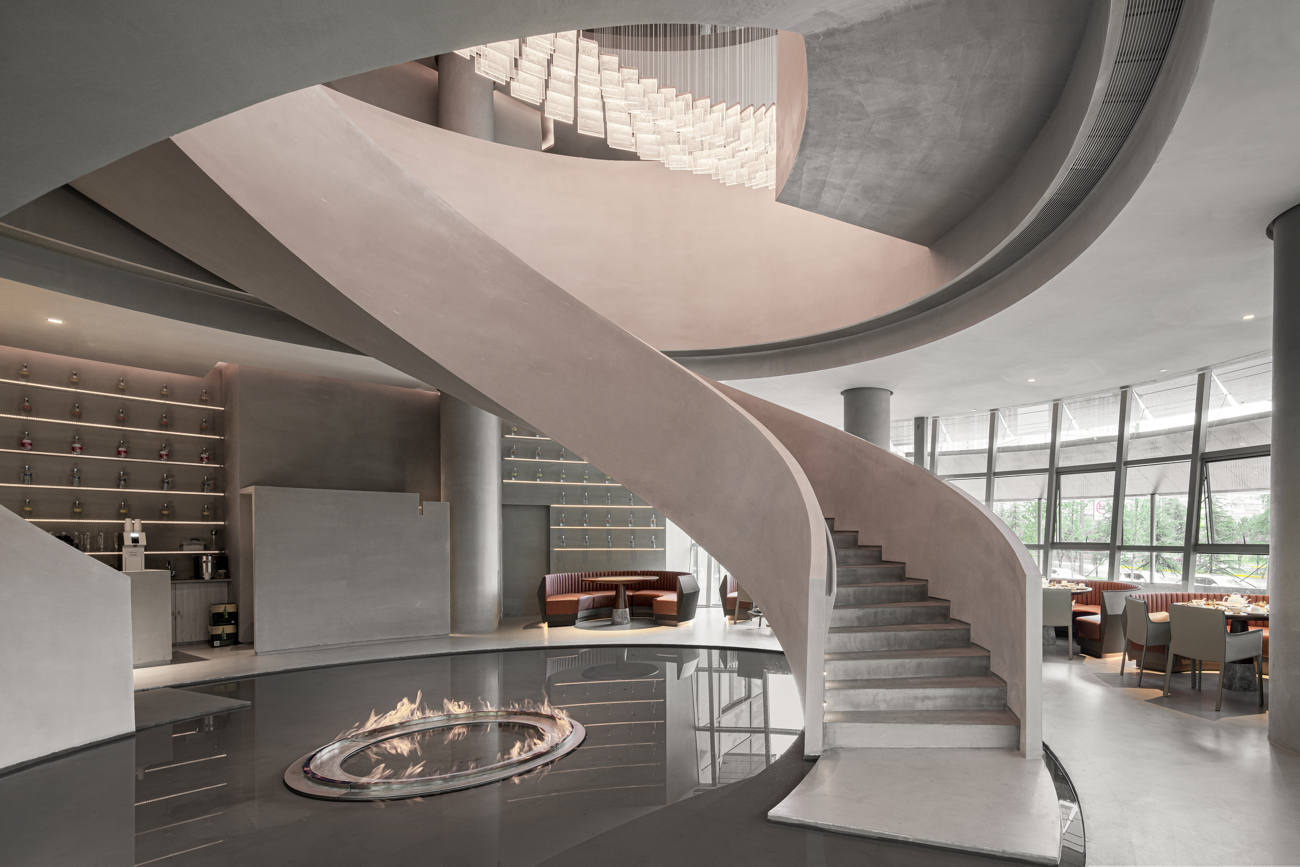 Our microcement in Ashburg for any kind of job both indoors & outdoors
So valid on any support and for all kinds of spaces. It is one of its most special features, the possibility of being installed anywhere, without changing its main properties.
Our microcement in Ashburg in interiors is a perfect choice to cover walls and floors of kitchens and bathrooms, and even to carry out a restoration of furniture. It is able to provide everything that no material has ever achieved before.
Bathrooms
Bathrooms should be given the care and pampering they deserve. Often, we forget that one of the rooms of any home is one of the most frequented every day. Keeping it nice and protected is an option more than easy, achievable and effective with our coating.
Covering walls and floors gives them a spatial continuity that enhances all the amplitude and luminosity in the bathrooms. The absence of joints allows you to save time in cleaning and dedicate it to other things that you really like to do. The coating of its shower trays, allows them to be non-slip in a natural way, and for basins or toilets, in frequent or continuous contact with water, avoids the appearance of humidity and any other type of damage.
Kitchens
To cook and enjoy at the same time. Floors and walls that enhance the beauty of this room. Countertops protected against temperature changes so common in kitchens and, especially, against abrasion and any other type of blow or impact. They will remain as new and attractive as from the first day.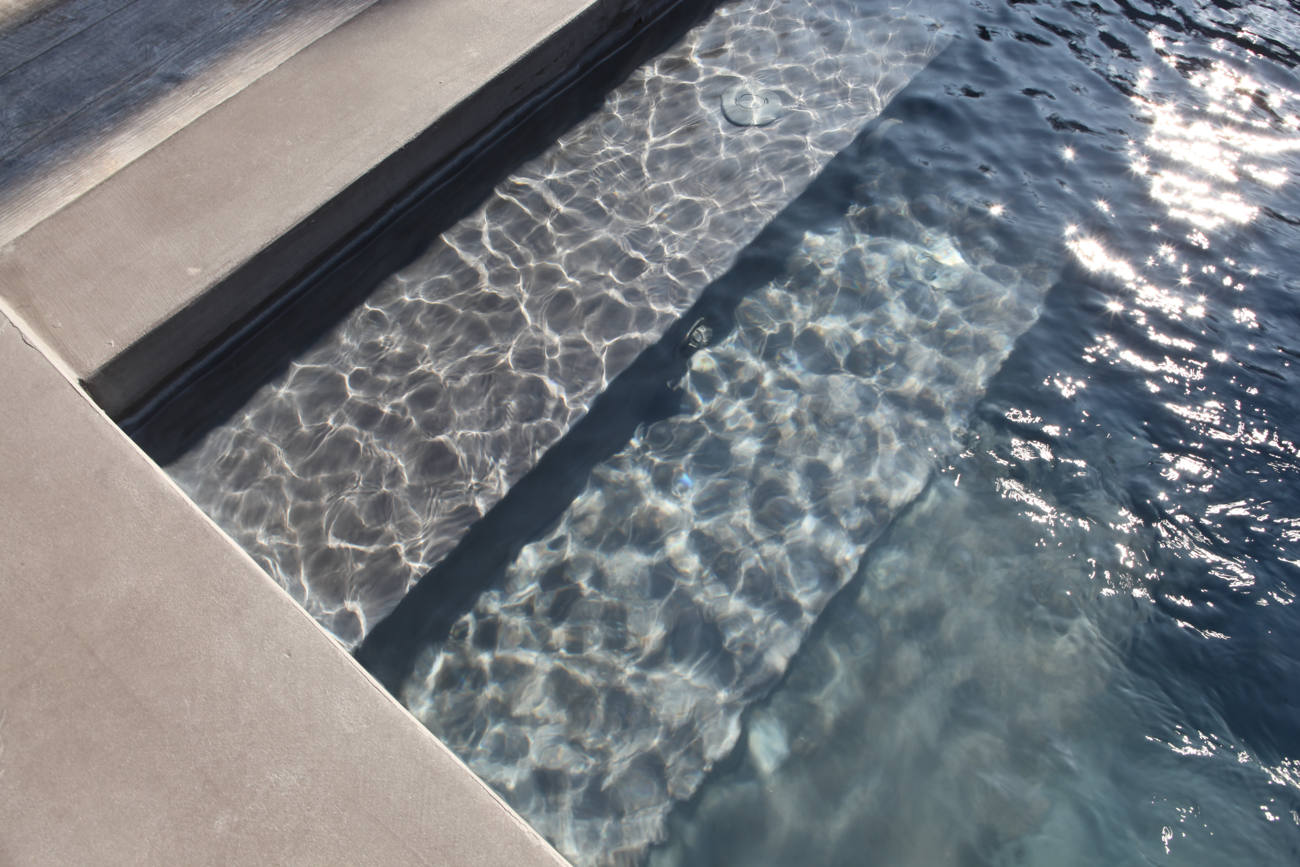 Terraces, facades, porches or pools
The most amazing exposure to the rest of the world there could be. Coating any type of surface located outdoors is only synonymous with success, tranquility and security for every tenant.
Protected against inclement weather such as rain, wind, hail and constant exposure to the sun's ultraviolet rays, they do not discolor or decontaminate surfaces. Intact and spotless, above all, and especially in those areas most exposed to constant traffic of vehicles and people. Blows or impacts, abrasion and constant use, nothing can alter its appearance. Without forgetting the great component and visual richness achieved by eliminating the lines that interrupt the harmony of the landscape, creating completely open spaces and much more modern.
Exquisite surfaces for enjoyment with our microcement in Ashburn
In either case, our microcement in Ashburn allows you to enjoy any type of room to the fullest. It exploits the functionality and characteristics of each of the surfaces, enhancing everything we are looking for when carrying out a decorative renovation.
Naturally non-slip and waterproof, so hard that it works especially well even on worn surfaces, much more exposed and punished than others and, in addition, beautiful. Very nice and with a unique decorative finish, customizable and in which you give it the character or personality that you have been looking for so long.
A world of novelties that are a luxury that you can achieve. Renew spaces more easily, quickly and cleanly and benefit from a host of advantages in which each of the rooms will catch you between their surfaces.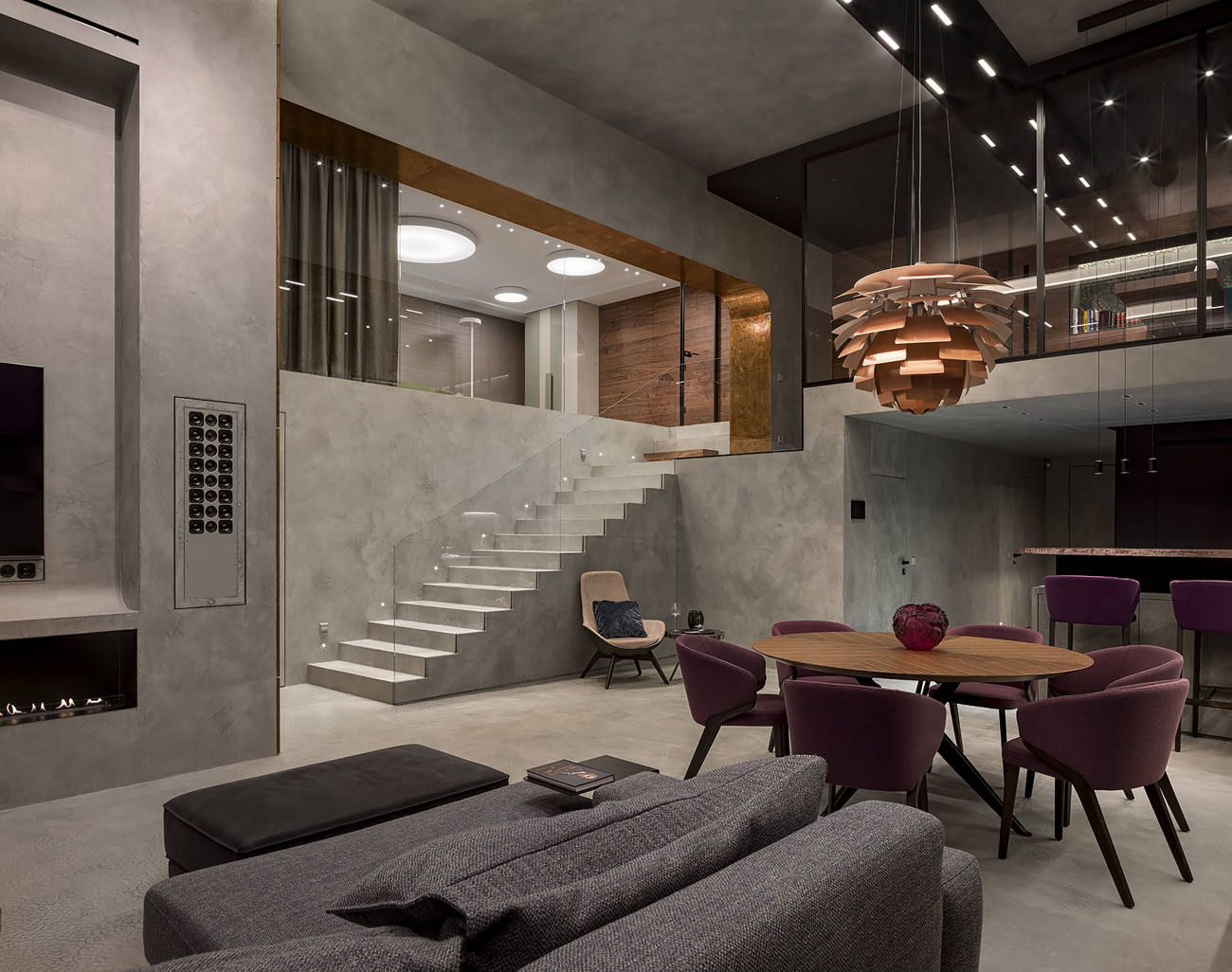 Create outstanding projects with our microcement in Ashburg products
We have a vast range of microcement in Ashburg products ready for you. We've thought about every need you might be involved in, every nature of the project, every specific feature. And so, we've provided the answer to everything you're looking for.
More and more construction and decoration professionals are choosing our materials for their renovation works. Transform any place in such a simple and easy way and also, which is trendy, accompanied by the most exquisite results and the top finishes. Choose from all the options we have and experience for yourself the success of using the Topciment® brand in all your projects.
Microbase
A preparation of the substrate to guarantee the most expert and professional result you can achieve. A product designed to be applied as a preparatory base on floors and walls, significantly enhancing the firmness and fastening of the coating to the existing material to be coated.
And if the intention is to achieve a rustic decorative effect dominated by medium or coarser grained textures, it is also valid as a finishing product, achieving a very competitive hardness and mechanical resistance.
Microdeck
Responds to interior floor covering projects. Pavements of kitchens, bathrooms and any room of houses or commercial uses. It is especially useful and optimal for covering shower trays where maximum non-stick properties are required.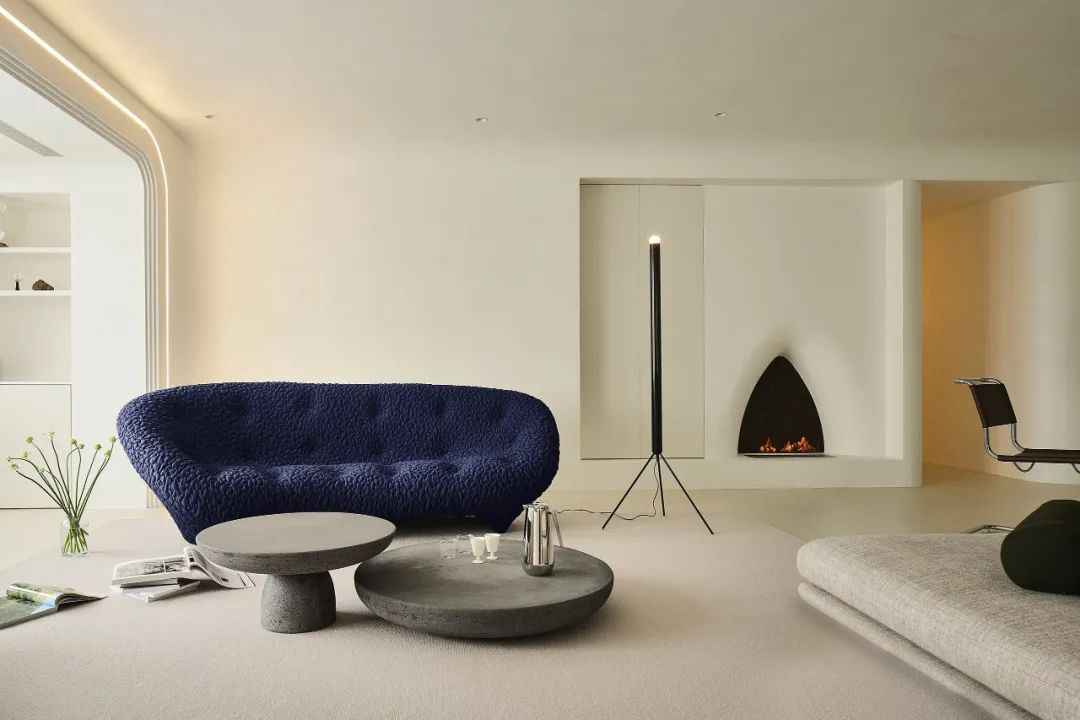 Microfino
Elegance on walls thanks to its granulation, which creates a smooth, soft and firm texture on interior vertical surfaces. Protection and resistance yes, but maximum lightness and sophisticated character with Microfino.
Microstone
Every microcement is equally valid indoors or outdoors, but we have researched, trained and created something very special. An exclusive option for exteriors that cares for and pampers the most exposed and worn surfaces of any room. It protects perfectly and highly against rain, humidity, hail and strong winds and remains absolutely intact to the fixation of the sun, even if it is continuous. Hardness and resistance that prepares floors and exterior walls for the frequent transit of people and vehicles as well as the most aggressive factors.
Effectto
An innovative product that optimizes the working time of the professional applicator. The only ready-to-use product that does not need to be previously formulated or mixed. This saves installation time while achieving high performance work for floor and wall projects as well as unrivalled design.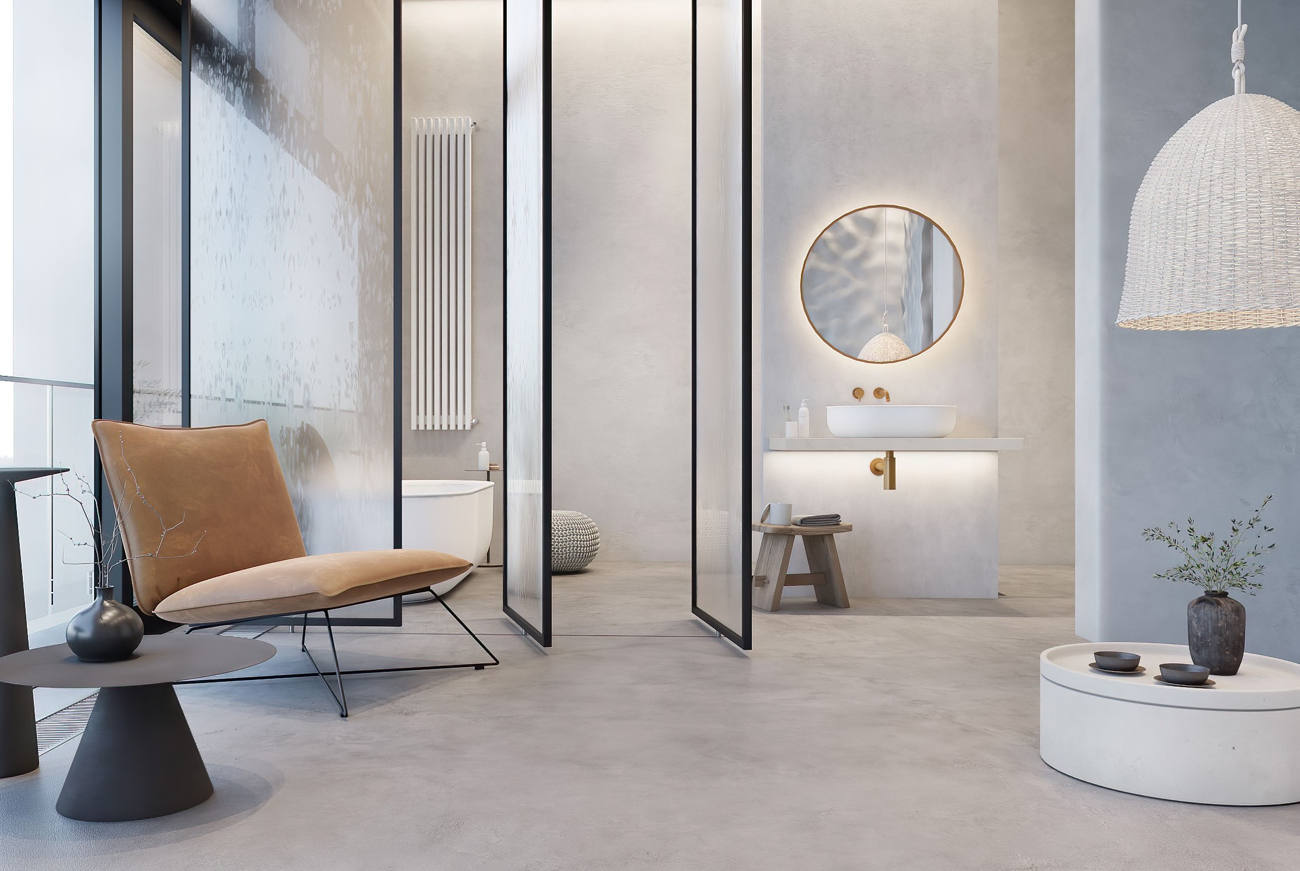 Industtrial
Endowed with epoxy resin for even greater hardness, strength and robustness. Microcement itself has an industrial character that few other materials can achieve, but the epoxy resin-based composition works especially well for surfaces where traffic is continuous. Shopping centers, industrial buildings, establishments, restaurants, hotels and their common areas and in general, all those places especially exposed to wear and tear or continuous use.
Atlanttic
Incredible resistance to immersion, specially designed for wet areas or areas located directly in water, such as spas, swimming pools or fountains. Providing each of these areas with superior protection against water contact and a premium impediment to water seepage into the interior.
Natture
The great decorative trend for any interior designer, the tadelakt or stucco effect, that which is achieved by applying Natture on interior walls and floors. A decorative finish characterized by a great naturalness that respects the original texture of the microcement while providing resistance and hardness on these surfaces.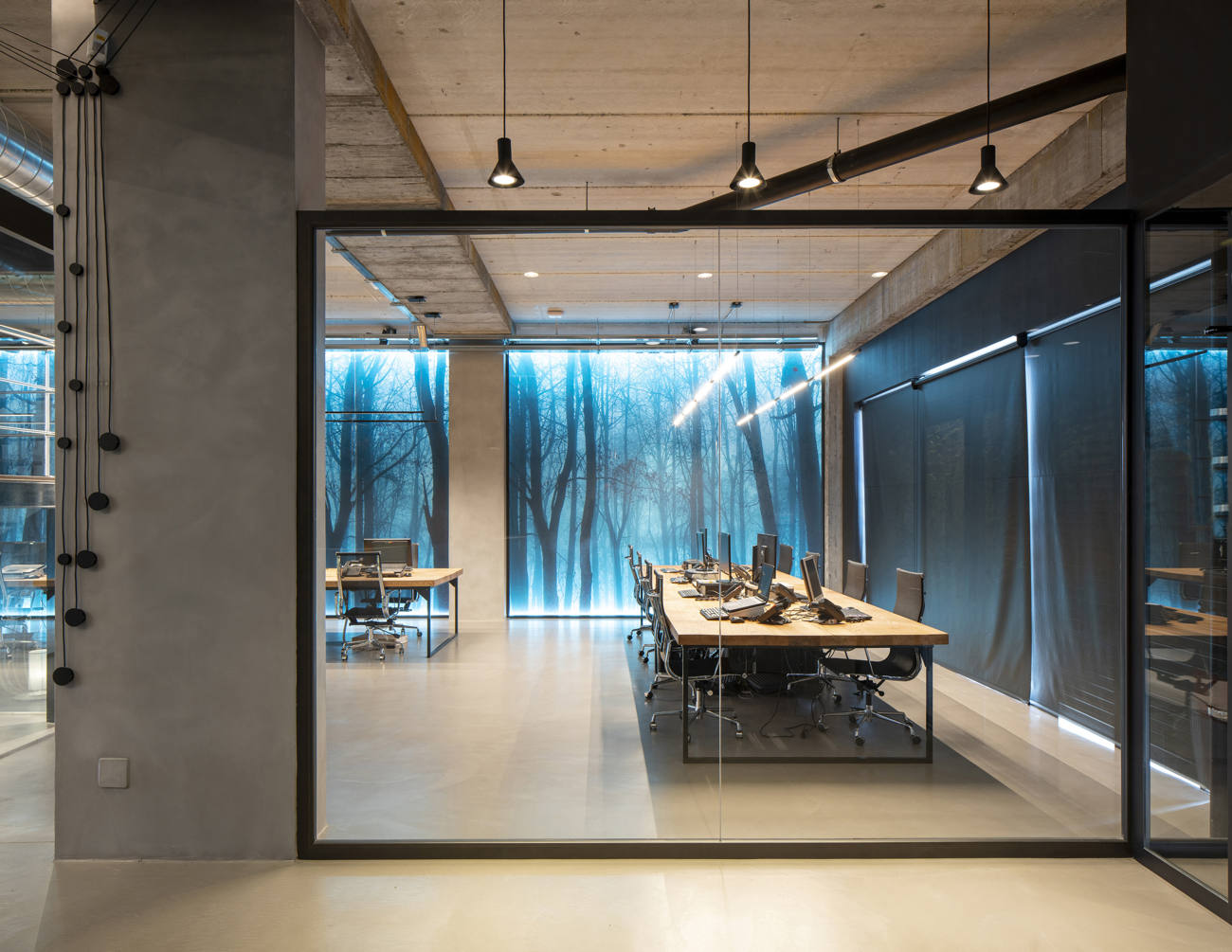 Market our services and be a microcement in Ashburg reference
Taking our microcement in Ashburg to the top is something we are already doing. If you want to be part of this project, joining Topciment® is something that is completely within your reach.
Our distributor network is stronger and we are present in more and more parts of the world. Therefore, we are looking for official partners to market our solutions, also in Ashburg. You will distribute our products to professionals and advise, assist and guide them in the process. You will offer the best systems on the market and achieve completely unique results, thanks to which you will be recognized and congratulated. Being satisfied with what you do is one of the best feelings you can have. And now it is possible to be so, thanks to your union as a distributor. We will be your endorsement, your guide and we will share with you all our knowledge and achievements.
An exciting project with which to develop and grow professionally in one of the most successful professions among users. Write to us for more information.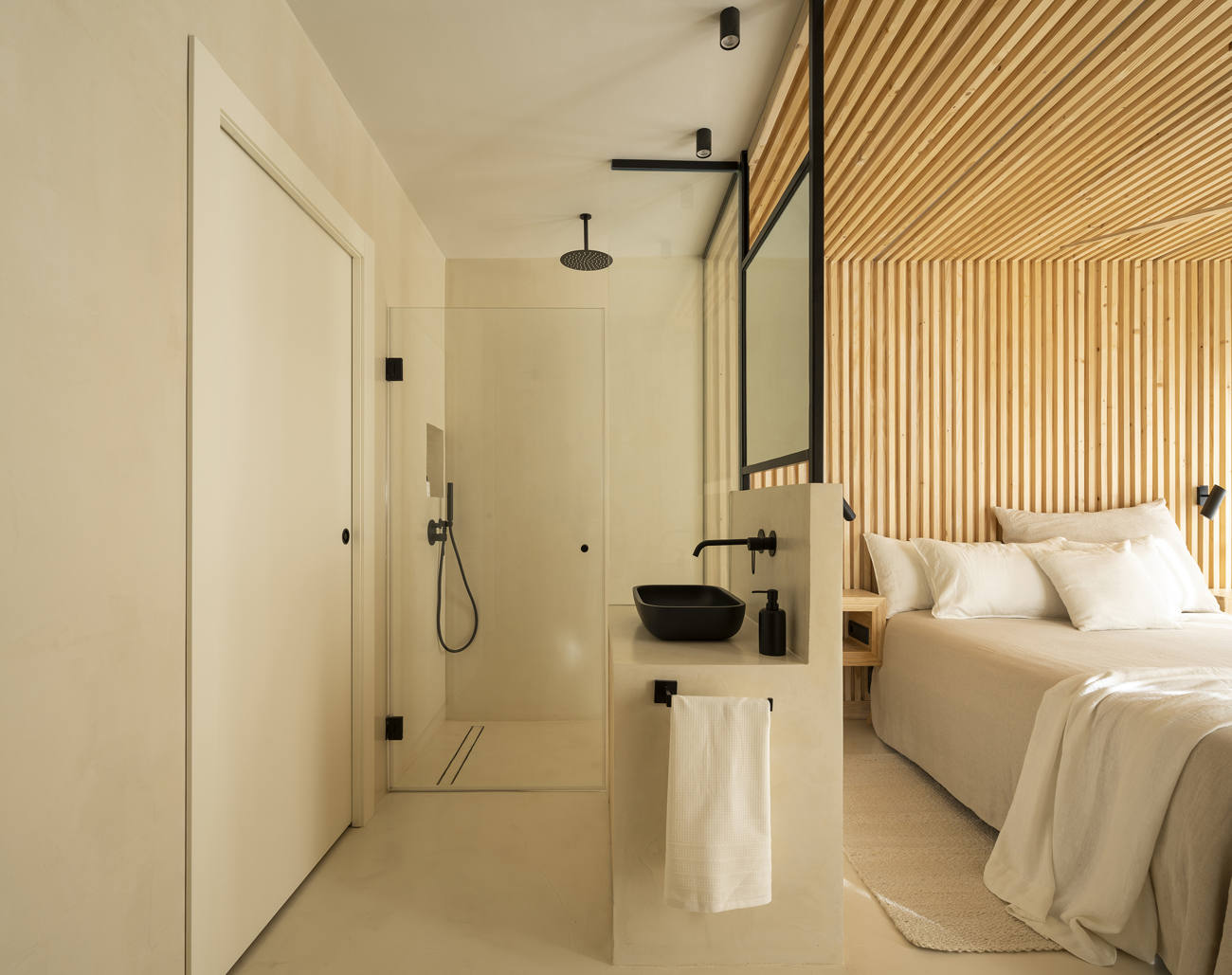 Customer Support in Ashburg
If you still have questions, need to expand your knowledge, ask us for a quotation or purchase our materials, we can help you. We would also be delighted to hear from you if you decide to join our team of microcement in Ashburg distributors.
We want to be part of whatever idea you have in mind. Write to us and we promise to give you a quick response that is completely tailored to your demands.