All about Natture lime mortar: what it is, benefits and uses
Lime mortar is one of the most common mortars used in renovation and restoration work, especially in historic buildings. Lime is a building material that was already famous in the 6th century BC. In fact, archaeological research has proven that lime was used in Ancient Egypt, Classical Greece and the Roman Empire, as well as by the Mayas, Incas and Aztecs in America and by the first Chinese dynasties.
A material whose quality is beyond any doubt, having been demonstrated in a relevant way throughout the centuries. But what exactly does it consist of, why is it fashionable nowadays and what are its most important properties? In this article, we answer all these questions and also present our Natture lime mortar. A highly decorative coating with which we go back to the origins and look to the future.
What is lime mortar
Lime mortar is a mortar composed of lime, aggregates and natural additives. Depending on the particular formulation of each product, the lime used can be aerial or hydraulic. This composition gives the coating a bioclimatic character, i.e. the substrate becomes highly permeable, allowing breathability without losing any of its waterproofing capacity.
The lime in this mortar, which gives it its name, has the quality of hardening when exposed to air. A sort of solid film is created, with a stony appearance, which hardens first by the evaporation of the water from the mixing and then by the chemical modification that its components undergo. If it is a quality mortar, it will not deteriorate over the years, but will become more and more consolidated.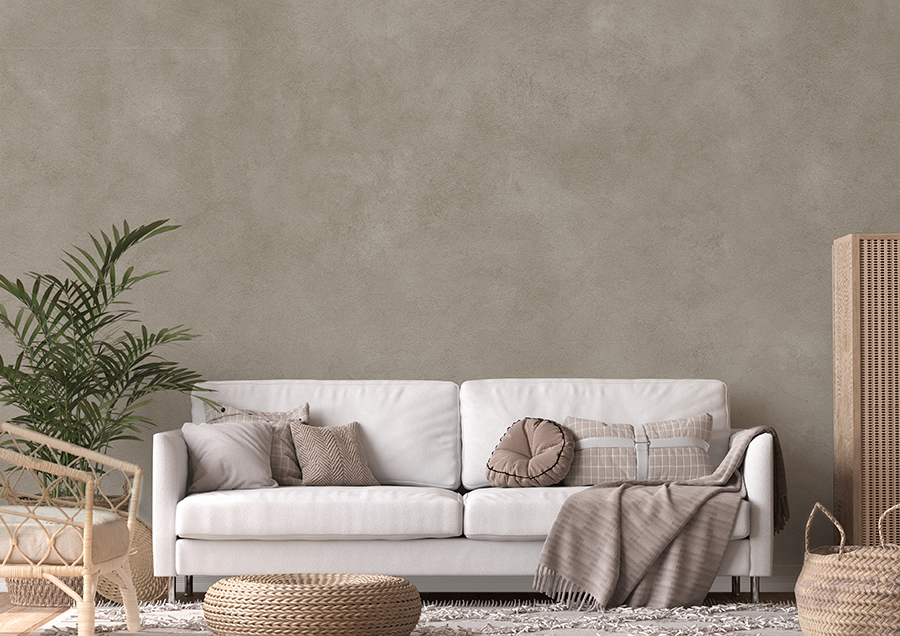 Properties and advantages of lime mortars
In recent years, the use of lime mortars and stuccos has spread at lightning speed. The promotion of bi-construction is to blame for this, although in reality these are materials that already have a long tradition in the sector. Products that have traditionally been used in construction, relegated to the background after the proliferation of cement and its derivatives.
Ecological awareness has brought them back to the forefront, gaining popularity by leaps and bounds with each passing day. An ideal type of mortar for restoration, construction, theming and heritage work.
Here are the main properties and advantages that put lime mortars back in the spotlight to the detriment of other decorative coatings.
It is a biodegradable product.
It is an ecological and environmentally friendly material, as it is nourished by elements from nature itself.
It acts as a natural fungicide and disinfectant.
This product is defined by a high level of alkalinity, which means that the lime acts as a natural disinfectant and fungicide. In this way, its high pH prevents the appearance of mould stains as well as the proliferation of fungi and bacteria that are harmful to human health.
Resistant to atmospheric phenomena
The different climatic conditions do not affect the resistance of lime mortars. Their tolerance to humidity, rain and UV rays is more than proven. This makes it one of the most recommended materials for exterior applications.
Less shrinkage and cracking material
Compared to more traditional mortars, lime mortars have lower shrinkage and cracking. An added value that results in the creation of coatings that neither crack nor shrink, thus extending their useful life exponentially.
Highly workable and breathable mortar
The lime that makes up this type of mortar allows the absorption or disposal of water. In short, it prevents the degree of humidity from rising by regulating it at all times. It is also a mortar that is in no way inferior to those formulated solely with cement. Very plastic, easy to work and workable lime mortars can be, and in fact do exist.
Provides long-lasting aesthetic finishes
The decorative finishes achieved are very durable. Spaces are embellished by creating a variety of textures and effects with the hardness of a rock.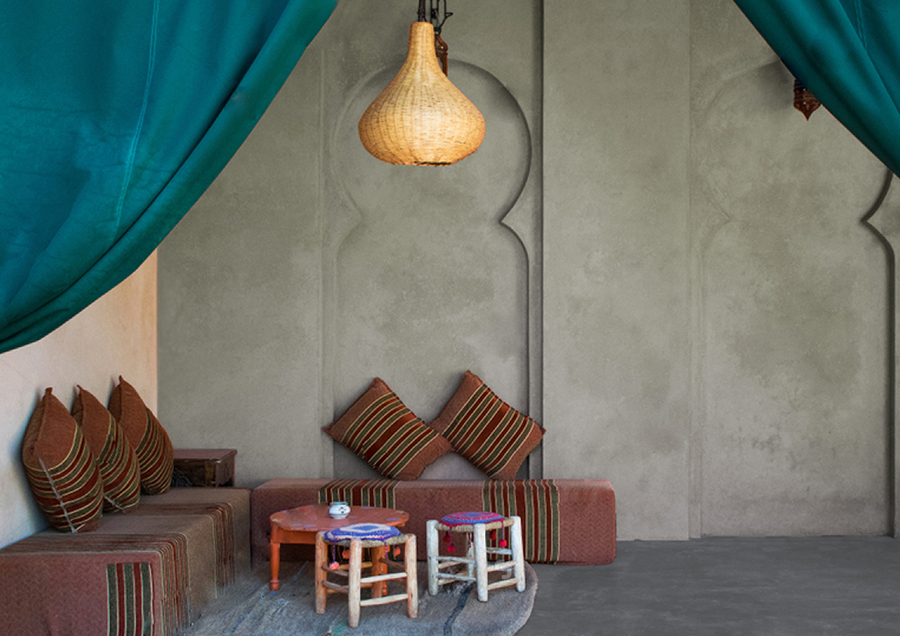 What lime mortar is used for: main fields of application
It is one of the most widely used mortars in renovation and restoration work on heritage buildings, but also in new construction and as a decorative coating for homes, premises and businesses.
In summary, these are the most widespread uses of lime mortar:
Old masonry or ceramic block masonry.
Restoration of walls and grouting.
Restoration of walls: completely or just the joints.
Protection of walls located in very damp environments: to solve salinity problems, especially in walls with capillary rise.
Vaults and floors.
Plastering, stucco, tadelakt, etc.
Traditional plasters with rough finishes.
Coatings of high decorative value: with glossy, matt, trowelled, etc.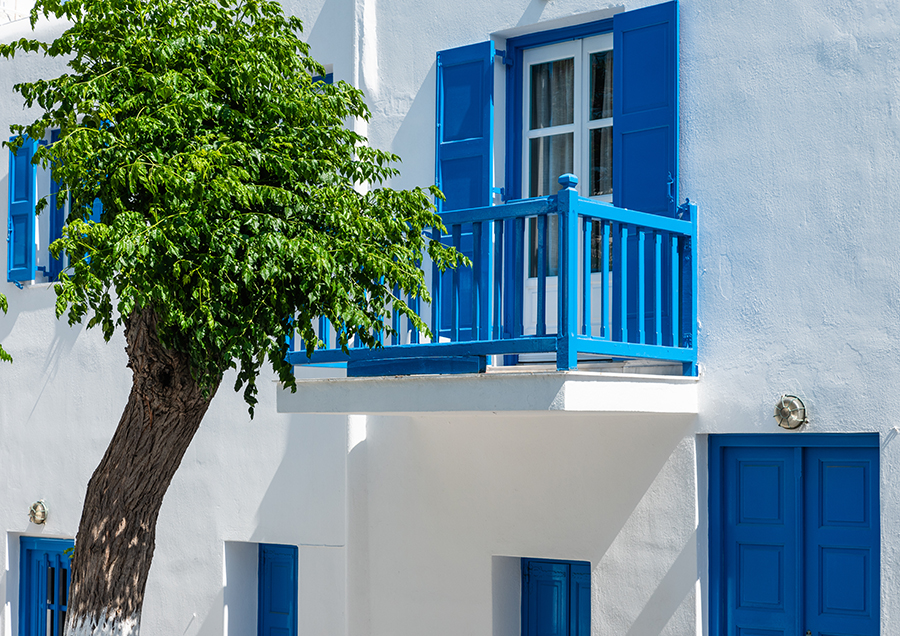 Types of lime mortars that exist
In reality, lime mortars are industrial mortars that have been dosed, mixed and kneaded with water in factories to be distributed to the place where they are to be used. There are several types, but we are going to classify them according to the setting process and composition.
Air lime mortars
The hardening of this type of mortar is carried out by contact with air, from the outside to the inside, which makes the process a little slower. They are also somewhat more vulnerable to different weather conditions.
Hydraulic lime mortars
On the other hand, the hardening of hydraulic lime mortars is not affected or conditioned in humid environments. Therefore, they harden in contact with air and water in the same way. It can be obtained naturally, directly from the stone, or manufactured industrially. Compared to air limes, these mortars provide higher strengths in much less time.
A further differentiation of this type of mortar can be made according to whether it is combined with sand or water.
Lime and sand mortars
The mixing ratios depend on the field of application and therefore vary in this respect. For plastering, for example, one part lime to one part sand is used, while for plastering, one part lime to two parts sand is used. This correspondence will continue to be unbalanced if this mortar is used for brick walls (1 part lime to 3 parts sand) or for masonry walls (1 part lime to up to 4 parts sand).
Cement-lime mortar
Similarly, the mixture of lime and cement with water is subject to the application to be given to this mortar. It is very important to emphasise that the amount of water to be used must be limited to what is strictly necessary, since if there is too much, it will evaporate, thus reducing the mortar's resistance, and if there is too little, working the mass and laying it later will be more complicated.
Having said that, here are some examples of actual mixing proportions:
For loaded and/or impermeable walls: 1 part cement + 1 part lime + 6 parts water.
For lightly loaded walls: 1 part cement + 1 part lime + 8 parts water.
For foundations: 1 part cement + 1 part lime + 10 parts water.
For waterproof plaster: 4 parts cement + 1 part lime + 12 parts water.
How to make a lime mortar step by step
The union of the different compounds that form the future mortar has to be done just when it is going to be applied on the corresponding surface, floor or wall. A mixture of materials that is carried out using an industrial mixer in most cases, although it is also possible to do it by hand. Now, we are going to detail the step by step to make a lime mortar.
Step 1: Calculating the proportions of the mixture
To begin with, the exact proportions of each component (lime, cement, water, sand, cement) must be calculated according to the type of lime mortar and its intended use and field of application.
Step 2: Mixing the aggregates to produce the mortar
Next, it is necessary to mix the different aggregates that make up the mortar in question. Sand is one of the most common materials, but there are also those who substitute it with other materials such as gravel. Mix everything according to the exact formula of the previously calculated proportions, some of which have been specified in previous paragraphs.
Step 3: Apply the lime mortar
Once the materials are perfectly mixed and the lime mortar has dried, it is time to apply it. Experts recommend placing it so that it expands at the top. The longer the mortar takes to dry, the greater the strength and durability of the substrate.
Tip! To achieve a faster drying lime mortar, it is better to use hydrated lime in the mixture. Why? Because this lime reacts with water to form crystals and these crystals provide partial hardening and thus accelerate the setting of the mortar.
It is applied in the same way as a traditional plaster mortar. Therefore, once the desired mixture has been obtained, apply it to the vertical wall or floor with the help of a trowel.
Lime mortar finishes: one of the fastest growing deco trends
Although lime mortar is a construction material that has been used since the last century, it has been in recent years when its use has grown exponentially to become one of the decorative trends that is growing the most. An unstoppable progression that is framed in the social, economic and political situation aimed at achieving a more sustainable planet for some time now and which is accentuated by the future horizon, but close at the same time, of the 2030 Agenda.
An environmental awareness that has led to the rise of bio-construction and, consequently, has also boosted the commitment to this cladding. A covering that has been with us practically all our lives, decorating floors and walls, in interior and exterior spaces.
A lime mortar that is past but also present and, above all, future. We have moved on from the ancient, more millenary techniques, to the production of more modern mortars that have variations depending on their intended use and the wide range of finishes that they allow. Any decorative style is possible.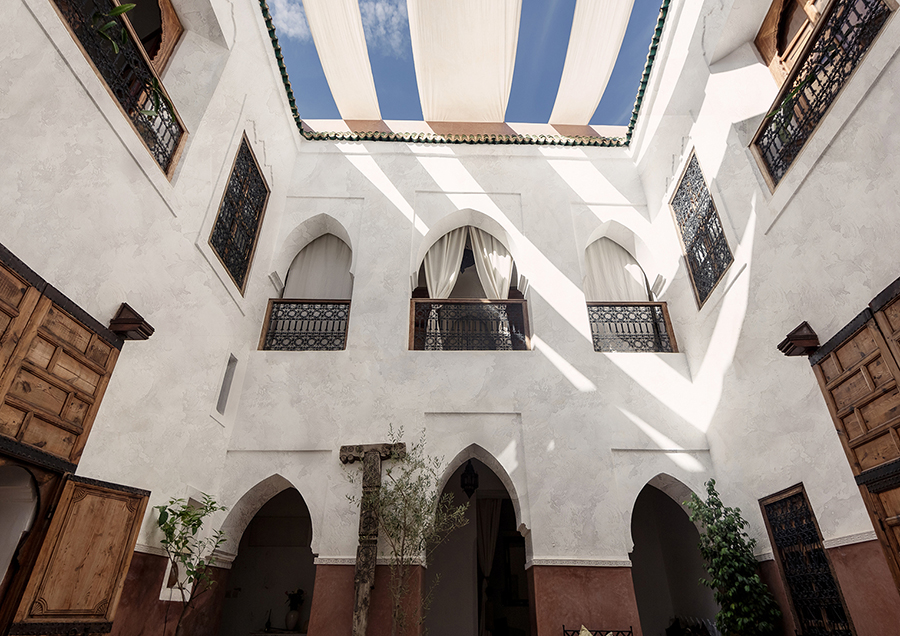 Colours of the most common lime mortars
Without colour, there is no form; nor is there form without colour. Both concepts feed each other and merge to offer a wide range of colours. After all, a lime mortar is nothing more than a continuous coloured coating. A coating that is harder, more resistant, with less shrinkage and also more environmentally friendly.
The catalogue of shades is immense and endless. Distinctive finishes can be created for walkable and non-walkable surfaces, vertical and horizontal, in interior and exterior spaces. From more earthy scales, reminiscent of the earth, the matrix and origin from which this building material originates; through the sophistication and minimalism of greys; to more lively chromatic varieties in line with new trends: ochres, yellows, oranges, reds, blues, greens, etc.
Lime mortar to rehabilitate façades
Facades, being outdoors, are constantly exposed to different weather conditions: rain, heat, cold, wind... as well as the inexorable passage of time, which sooner rather than later takes its toll. Over the years, it is inevitable that façades will deteriorate and age, and it is necessary to carry out some kind of renovation to restore their lustrous appearance.
For this purpose, lime mortar is a very competent material for renovating all types of façades, even the most emblematic and old buildings, to achieve a highly decorative cladding.
A product that will beautify the façades again while increasing their chemical and mechanical resistance. Benefits to which must be added the high pH of lime mortar, which prevents the growth of fungus, mould and derivatives on the walls.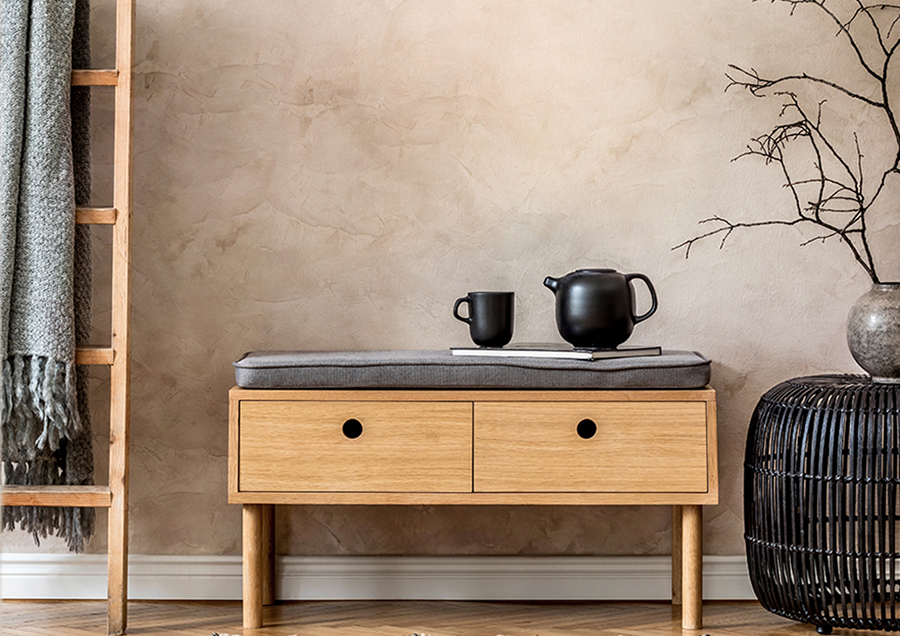 Natture, the new Topciment® lime mortar
At Topciment® we are also driven by environmental awareness, hence our firm commitment to developing coatings with which we can do our bit. This is the setting for Natture, a micro concrete with a tadelakt appearance fwith which we are gradually moving towards a more sustainable line. A decorative solution that fits perfectly with the demands of the sector and the current context in which reducing the ecological footprint is fundamental.
Natture is a lime mortar designed to decorate floors and walls, both indoors and outdoors. A micro concrete with a two-component composition that stands out for its variety of finishes, imitating not only the appearance of stucco more similar to tadelakt, but also to fair-faced concrete. A product with a natural, handcrafted appearance that can be reworked, thus playing with incalculable textures.
Among its benefits compared to other materials, the following should be highlighted:
Continuous, low-shrinkage coating that does not crack.
It can be applied on a multitude of substrates such as concrete, cement, ceramic or plaster, among others.
It provides a higher workability than other coatings on the market, as well as being a product that, as already mentioned, is fully reworkable.
It can be applied with the "fresh on fresh" technique, an option that multiplies the final finishes that can be achieved.
It guarantees greater hardness and mechanical and chemical resistance.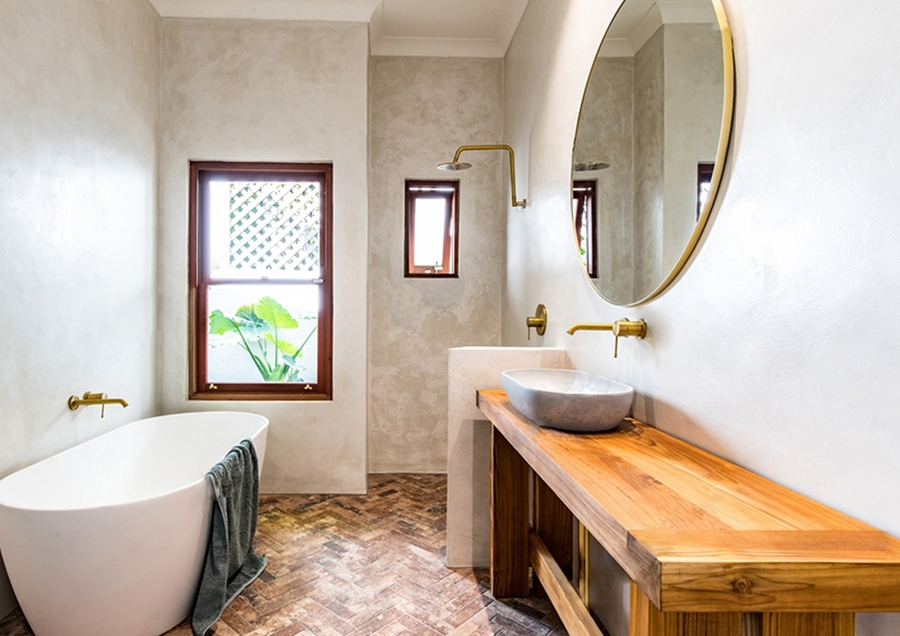 A mixed mortar that combines the best of lime and the best of cement. The result is a product whose hardening is accelerated, as well as its mechanical resistance; it enjoys hydraulic qualities and greater plasticity and workability.
The Natture system comprises four products distinguished by their aggregate size, the coarsest being Natture XL (0.4 mm). A lime mortar designed primarily as a preparation for the substrate, both floors and walls, although it can also be used as a finishing micro concrete to enhance a rustic style. It is closely followed by Natture L and its 0.3 mm aggregate, being a product designed for the same use and application as its predecessor.
As a finishing lime mortar we have Natture M (0.2 mm) on the one hand and Natture S (0.1 mm) on the other. While the former can be applied both on floors and vertical surfaces, the latter is reserved for walls only. The final finishes in both cases are simply spectacular.
If you have any questions about our new lime mortar, do not hesitate to contact us. Write to us at info@topciment.com or fill in this form. One of our technical specialists will contact you as soon as possible to tell you all about Natture.
Subscribe to our newsletter
Receive in your email tips for the application and care of micro concrete, the latest trends and news about Topciment products.