Microcement Denver - Polished concrete renovations for sublime finishes
In 2005, in Valencia, a coastal city in eastern Spain, we, Topciment®, a company specialized in microcement and all types of decorative coatings, were born. Our goal? To revolutionize the decorative sector and take it to a higher level. In our journey to reach our goal, we had to deal with all kinds of situations, from the good ones to the not so good ones, but with our faithful belief in mind and above all a lot of hard work, we managed to reach the point where we are today, being one of the leading decorative coating companies worldwide, offering successful renovations in microcement and polished concrete.
However, despite our great reputation, we like to keep our feet on the ground and remember where we came from. We believe that humility is a value that must be preserved at all costs and we know that if we have come this far it is not only thanks to us and our effort, but also to all those companies and professionals who decided to bet on us for the first time and we can proudly say that today we still keep that bond.
One of the reasons for which they decline to bet on our products and services are the guarantees of success that we ensure from the beginning, how? Through certificates that demonstrate our quality and excellence as a company, as is the case of the ISO 9001:2015 seal. This distinguished title, which few companies have, highlights our distinction from other brands and highlights the high performance we offer.
After almost 20 years of experience, our collaborators have not stopped growing exponentially, which has guaranteed us to have a wide network of distributors that guarantees our presence in more than 60 countries and in cities as influential as they come to be: London, Paris, Madrid, Toronto, Warsaw, Sydney, New York.... And Denver, city to which we come to bring all our talent and potential as a company to elevate the microcement sector.
Our efforts to bring microcement of the highest quality to Denver and around the world, has been recognized by awarding us the distinction of Innovative SME. A certificate that highlights our business and professional trajectory and with which we have earned the trust of more and more professionals in the sector: architects, interior designers, designers, construction companies and individuals.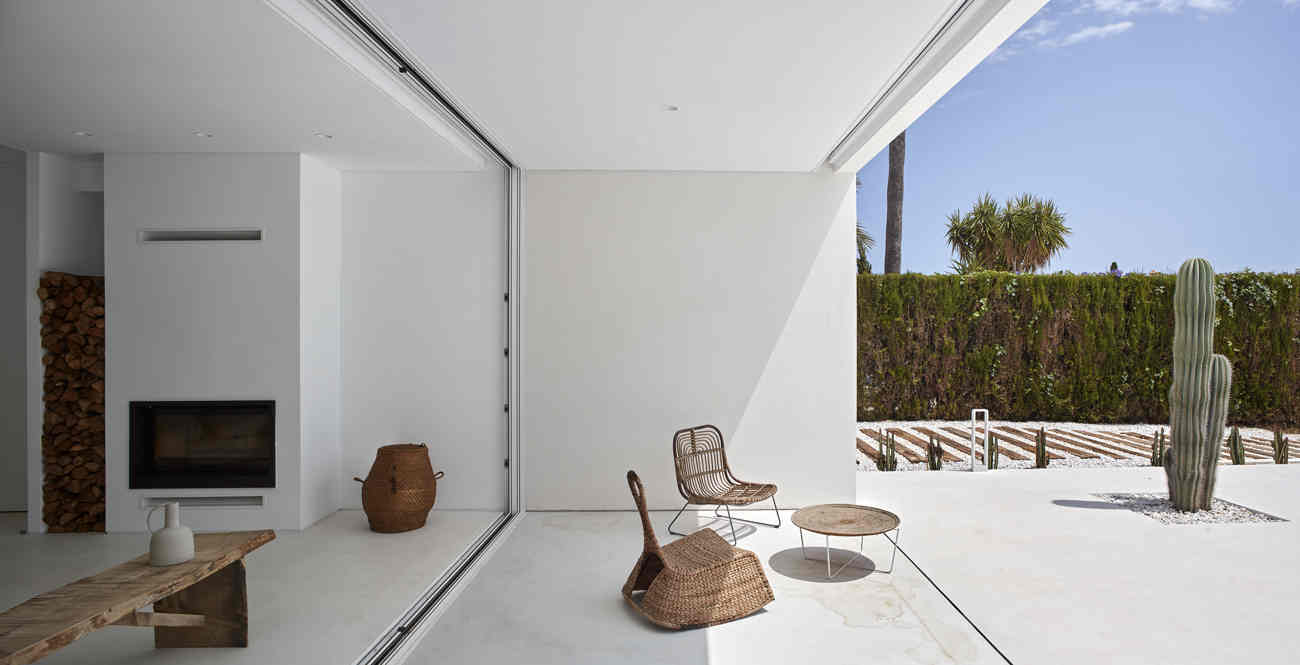 One of the most popular coatings, the microcement
More and more experts have found in microcement the ideal decorative coating for all kinds of situations. It is incredible the long list of benefits that this material brings us, so it is not surprising that its demand has skyrocketed in recent years.
This coating, only 2/3 mm thick, allows us to apply it on any surface avoiding affecting the structure with its weight, but also providing extra resistance to pedestrian traffic, as well as abrasion wear, UV light, moisture, bumps and scratches. As you can see, it is a material of incredible hardness that guarantees the durability of the surfaces.
Among its properties, it is easy and fast to use, allowing the professional to apply it directly on the existing material, saving time and avoiding the generation of any kind of debris. This ease of adaptation to any support is due to its high adhesion, from which no material escapes: tiles, cement, marble, ceramic, plaster, plasterboard, terrazzo... And a long list.
Microcement is the symbiosis between functionality and aesthetics that professionals are looking for, since in addition to all the characteristics described above, it has an incredible capacity to provide results of incomparable elegance and exclusivity, which is why decorative projects of all kinds rely on this rivestimento: hotels, restaurants, industrial areas, commercial areas, parks, swimming pools, kindergartens, private works, among others.
Moisture mitigation and other advantages of microcement renovations
Choosing the right material for your decorative reform is not a simple choice. The decision you make will definitely mark the course of your project, so we recommend opting for a product with full guarantee of success and the hand of a trusted company. Microcement is that coating, since it offers endless advantages that will ensure impeccable results.
A product that innately is able to mitigate moisture in an incredible way even becoming almost impermeable, through the use of sealants and varnishes.
Here are some of its most relevant benefits and why its popularity has grown so much:
With microcement, falls disappear.
In order to guarantee maximum safety, we have strived to develop a product that avoids any kind of misfortune. In microcement you will find a material with extraordinary anti-slip properties to prevent mishaps in places where it can be dangerous, such as kitchens, swimming pools, factories, hospitals, parks, etc.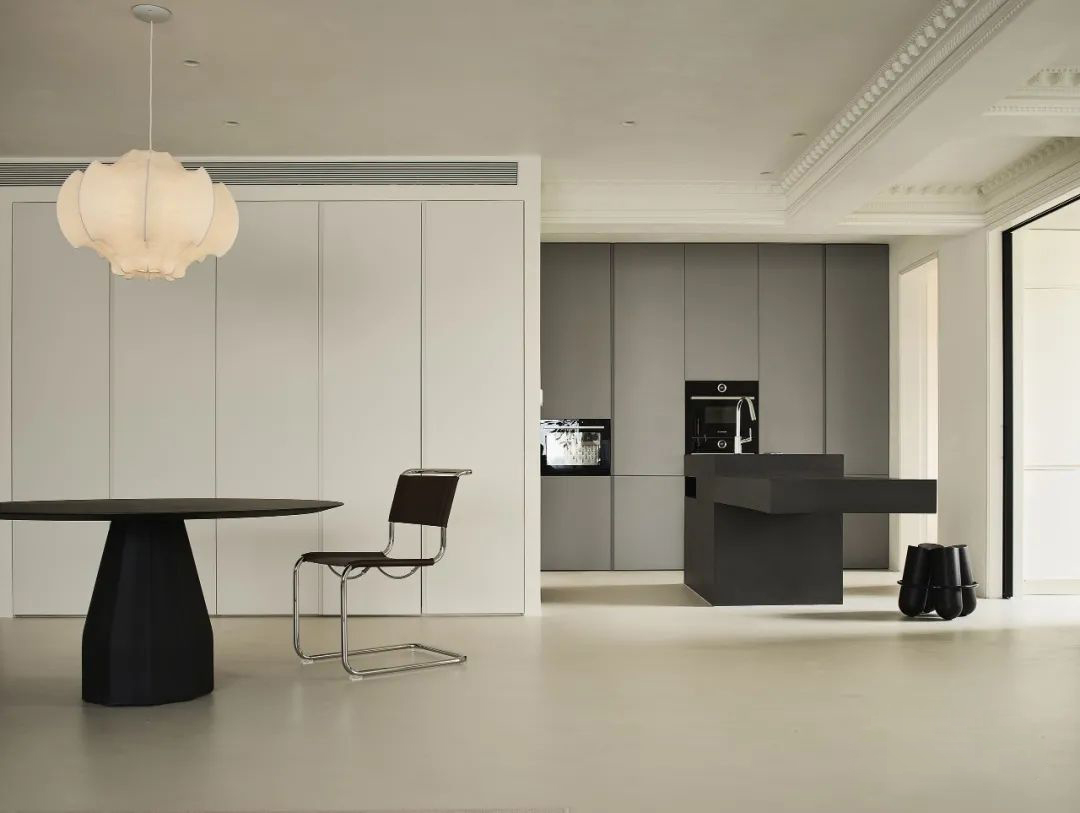 Elegant infinite finishes
By means of our decorative coating we guarantee infinite and joint-free surface finishes, thus providing a more elegant and refined appearance. Another of its great advantages is the ease of cleaning, thus avoiding the accumulation of dust.
Successful tailor-made solutions
Being one of the leading companies in coatings means having the capacity to offer solutions for all kinds of needs. In our case, we are fortunate to have projects of all kinds, and in order to achieve fully satisfactory results, we have strived to develop different lines of microcement that ensure successful decorative solutions.
A resistance that is hard to beat
And finally it makes use of the presence of one of its most valued characteristics, resistance. It is essential to have a quality product that gives you full guarantees that its results will last over time. With microcement we have all that and more, since in a simple way, you will be able to enhance the resistance of your surfaces in every way.
No surface escapes your attention
Few materials escape from your hands. Thanks to this property is that the reforms gain that character so simple and fast, since it is a product that allows us to apply it directly on the existing supports, thus avoiding the debris.
The most reliable Denver microcement company
At Topciment® we value discipline and hard work above all else. Since we started more than 17 years ago we have followed this philosophy, in which we bet on the path of effort as the best option to lead our customers to maximum satisfaction. An objective that we would not achieve if we only offered a quality product and service. It is necessary to take care of the whole process in order to guarantee an experience of 10.
Personalized technical service
After so many years of experience, we are aware that starting a decorative project can generate many doubts and questions. With us you are assured to have a team of specialized professionals who will be at your side at all times, so, in any situation, you can contact us and we will ensure your peace of mind and company, providing effective solutions.
ISO 9001 quality certification
One of the most complicated, but at the same time most vital, aspects when dealing with a client, is to give him the assurance that if he trusts us, his project will have full guarantees of success. In our case, we provide that security through the ISO 9001:2015 certificate, a distinguished seal, which few companies can boast, which recognizes the excellence of our company as manufacturers of microcement, both for design, development, as well as for marketing.
Named as an Innovative SME
One of the most effective ways to keep moving forward is our strong investment in innovation, development and research. We are a company that constantly strives to be at the forefront, a fact that has been recognized by the title of Innovative SME, which sets us apart from other companies, highlighting our professionalism, as well as our business trajectory in favor of constant evolution.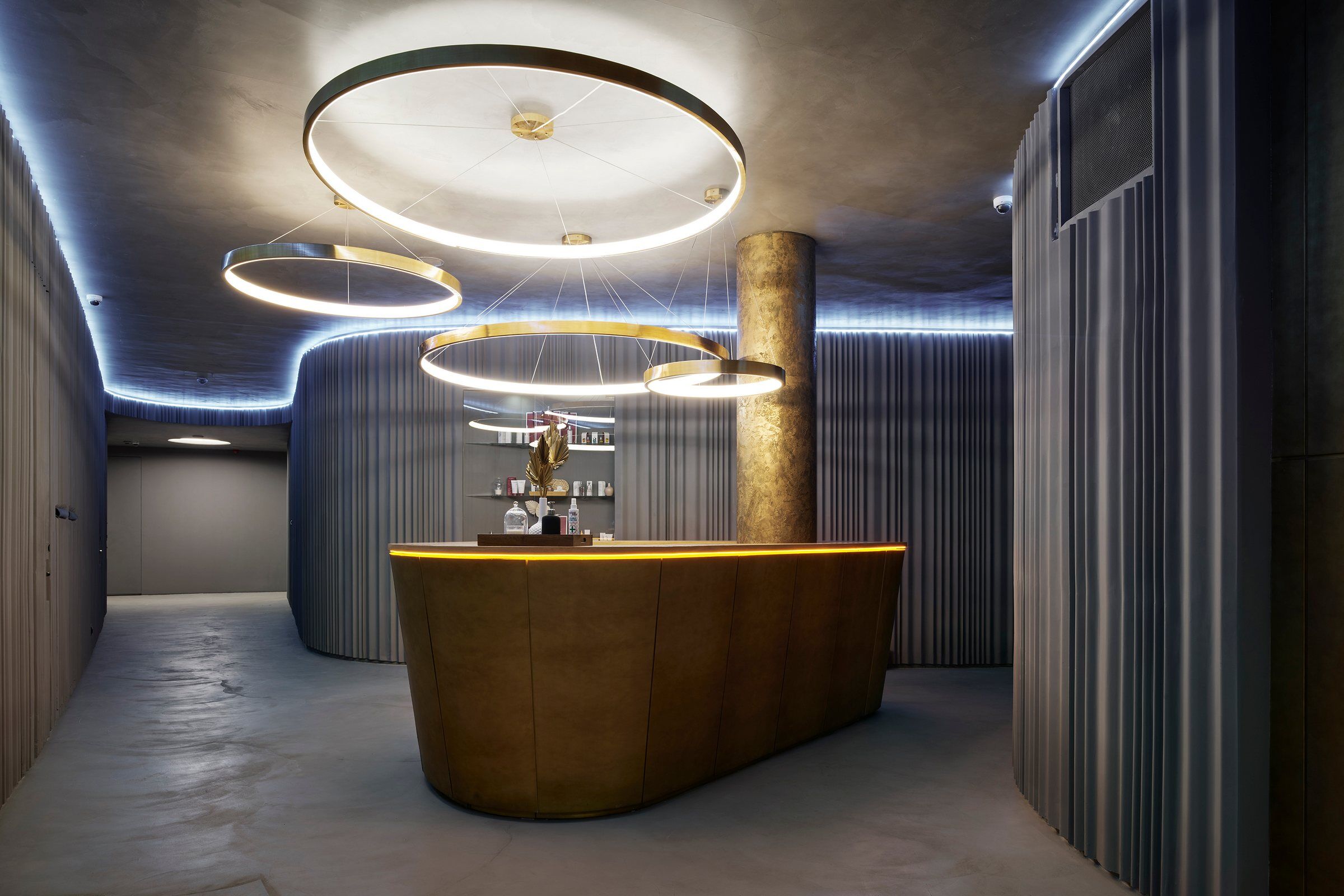 We are specialists in the training of professionals.
Experience is one of the most precious intangible values that a company can count on. Only time gives it to you and it brings with it knowledge and wisdom. We can confirm, to this day, that we are true masters of microcement, which has allowed us to specialize as professional trainers of coatings applicators.
Our courses are aimed at any professional who wants to further improve their skills as an applicator. It is not necessary to be a Topciment® employee, anyone has the option to apply for one of our specialized trainings.
If you are interested in developing new coating techniques, as well as expanding your knowledge, request information by filling out the form below. Our team of experts will assist you via email or telephone and explain everything you need.
We sell microcements in Denver for professionals
One of our priorities as a company specialized in decorative rivestimentos is to provide finishes that are as faithful as possible to the original idea of our customers, so that we can achieve results that meet the most demanding expectations.
To ensure success in each of our works, we have made an effort to develop a wide range of microcements, where each one stands out in very specific characteristics and allows us to respond in a completely personalized way to all the demands that arise.
Microbase, our most traditional microcement production line
Our most traditional cement-based microcement line, available in single-component (Evoluttion) and two-component (Sttandard and Unlimitted). A material that enjoys great strength and hardness, and that allows you to create spaces full of character thanks to its texture. These properties make it ideal for use on both floors and walls. Find it available in its granulometries: L, XL and XXL.
Microfino, microcement designed for walls.
This line is available in single-component (Evoluttion) and two-component (Sttandard). This microcement is specialized for the coating of non-trafficable and vertical areas. Its high capacities in terms of mechanical and chemical resistance have led to its use being extended to floors as well, guaranteeing sublime results. It is available in the following grain sizes: XS, S and M.
Microdeck, microcement for floors
A single-component (Evoluttion) and two-component (Sttandard and Unlimitted) coating. Unlike the previous one, this line is specifically designed for use on floors due to its high resistance to pedestrian traffic, abrasion wear and its anti-slip finish. Its granulometry is available in: M and L.
Microstone, specialized outdoor microcement
Sttandard Microstone microcement is the specialized line for outdoor areas. This is due to its strong resistance to abrasion, as well as its amazing anti-slip finish. All this is accompanied by an aesthetic that mimics the natural rock, thus achieving a complete mimicry with the environment. This coating is available in granulometries: L and XL.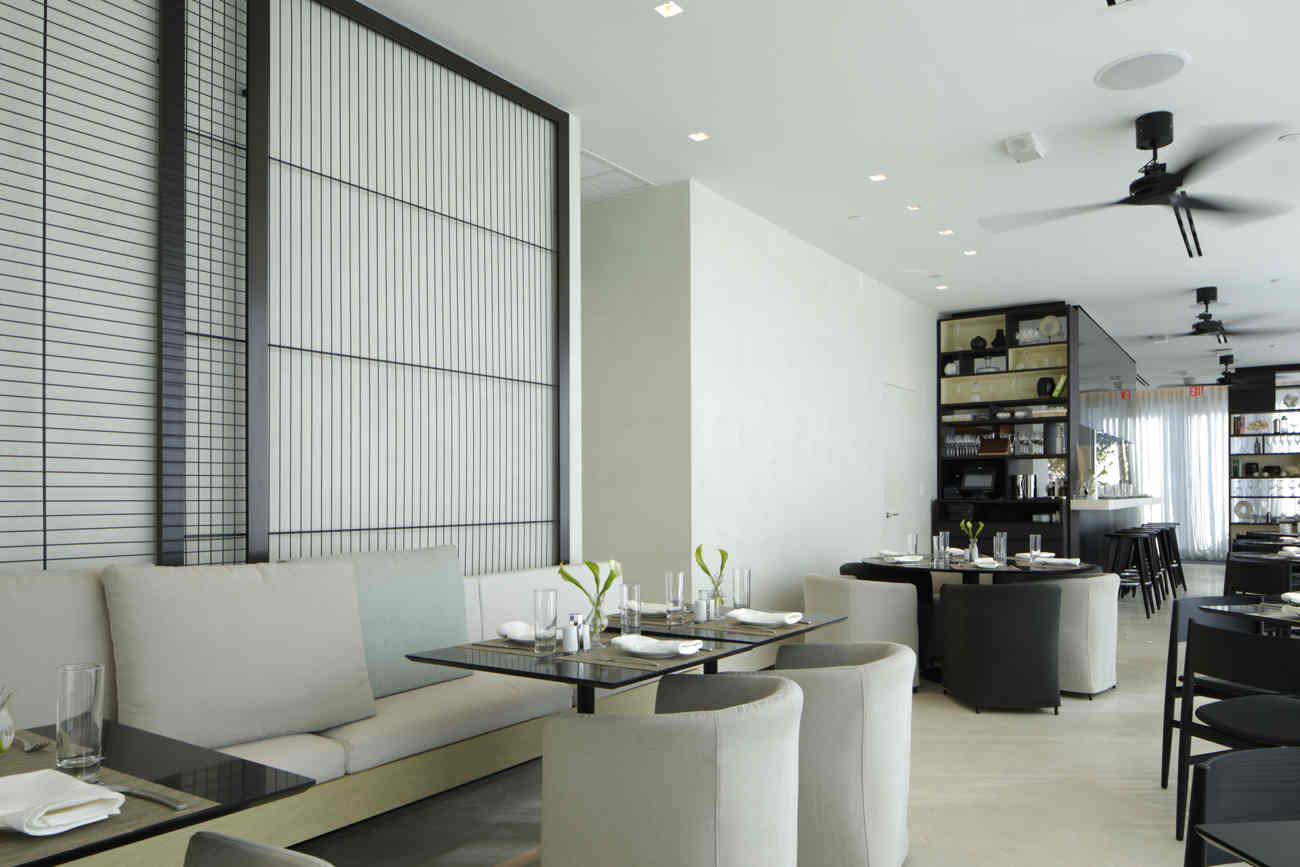 Atlanttic Aquaciment®, designed for wet areas.
We present one of our most special lines. Its use is specifically aimed at areas with high environmental humidity or where the surface is in direct contact with water. A microcement that stands out for its impermeability and anti-slip properties, qualities that are enhanced when in contact with water, making it ideal for: swimming pools, showers, bathrooms, terraces, etc.
Not only does it stand out for its functionality, aesthetically it also offers brilliant results, guaranteeing clean, sophisticated and elegant environments. Find this tile available in XXL and XL grain sizes.
Industtrial, epoxy-based, ideal for interiors.
In the Industtrial line we find a strong microcement resistant to pedestrian traffic and abrasion, thanks to its exclusive formula based on epoxy resin and aggregate.
This line offers a wide range of aesthetic options by allowing us to choose between 16 colors and 4 different granulometries: Industtrial XL, Industtrial Base, Industtrial Medium and Industtrial Smooth.
Effecto Quartz, microcement ready to use of high standing
Here is a microcement that offers results free of unexpected shrinkage or cracking. Its easy and fast application, as well as its low thickness and great adherence, make it one of the most suitable coatings to decorate houses already inhabited.
Its great aesthetic quality is that it provides us with results of an achieved natural appearance and in 16 different colors, as well as 4 sizes of granulometry: Small Grain, Medium Grain, Big Grain and Super Grain.
Natture, our new lime-based line
We show you Natture, our new line of two-component microcement based on lime, which manages to bring to the spaces a totally different aesthetic to the previous ones, resembling taledakt and exposed concrete.
This material not only stands out for its aesthetics, but also has extraordinary hardness capabilities as well as chemical and mechanical resistance. It is available in the following grain sizes: XL, L, M and S.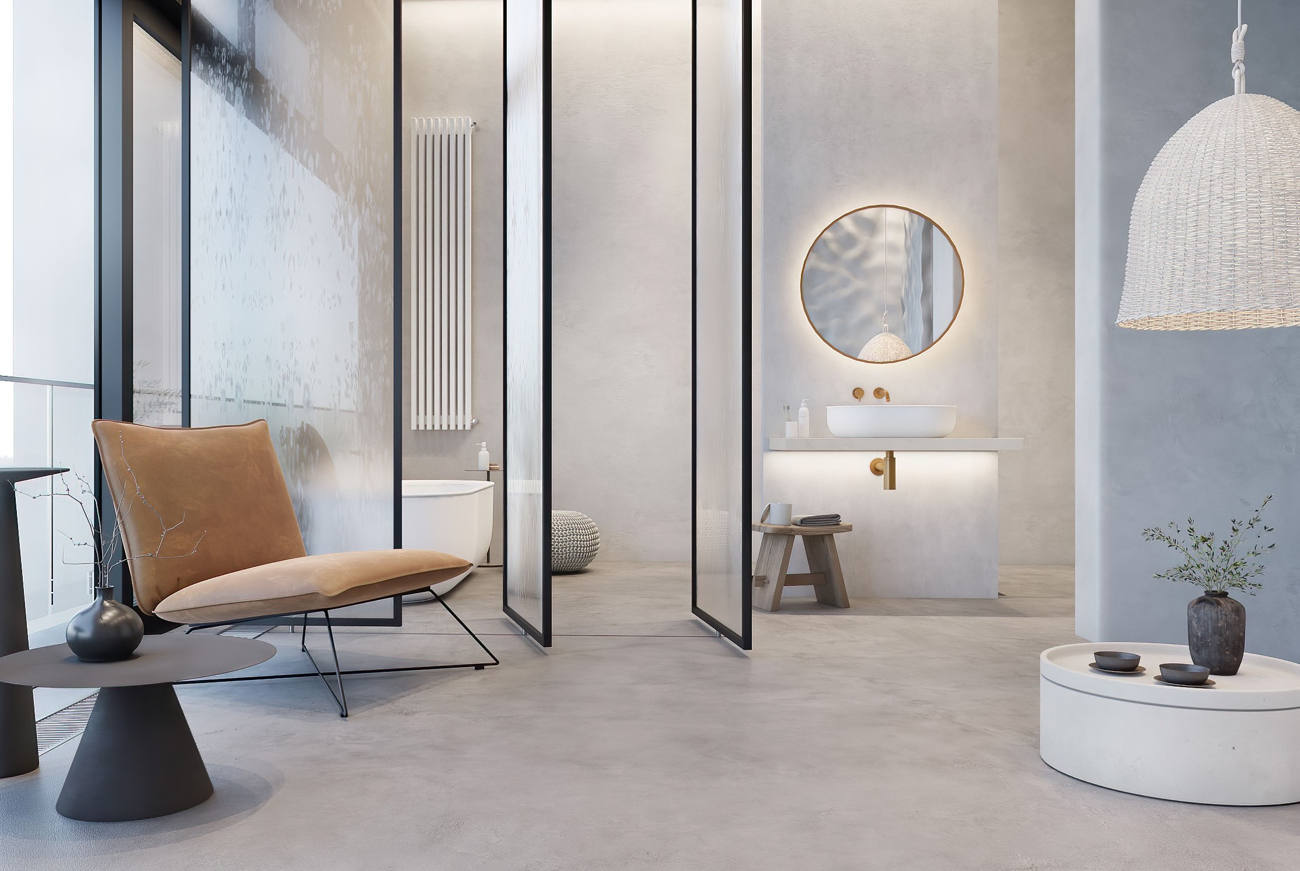 Microcement on floors, walls and every surface you can imagine
At Topciment® we are specialists in the development of products to generate customized surfaces. We provide solutions with functional and aesthetic properties that, when carried out by our team of highly qualified applicators, will become a basic material for any environment, whether residential, family or professional.
Thus, kitchens, art gallery staircases, bathrooms, factories, attics, bedrooms, walls, floors, museums, hotels, retail offices, garages, etc. They can modify their appearance by installing our microcement systems for interiors and exteriors. We generate environments where strength and beauty come together, creating resistant surfaces of distinguished character to the tastes of each client.
Design walls with microcement
Thanks to this type of surface we get the ideal showcase in order to show the characteristics of microcement and highlight its decorative qualities. Due to their elevation, these areas motivate us to make a clear visual connection where custom finishes can be appreciated at a glance.
Durable cladding floors
It is necessary that they have some elementary resistance to be walkable surfaces, thus, we will avoid that in the future may appear irregularities such as cracks or different cracks, due to high pedestrian traffic or vehicles. The microcement is able to provide these qualities and many more, in this way, the pavement will gain in strength and durability, keeping the coated surfaces in perfect condition.
Without losing its potential in terms of resistance, its decorative talent is far superior to that of other coatings, giving rise to exclusive artistic finishes with different shapes, colors and textures, and of a quality that is maintained over time in optimal conditions.
We bring microcement to Denver, yes, and paints, glazes...
In order to be able to respond to all the demands that arise every day, it is necessary to have a large portfolio of products where each one can meet very specific needs. Thus, in Topciment® we are not only specialists in microcement, we have made an effort to professionalize ourselves in a great diversity of decorative products in order to obtain results at the height of expectations.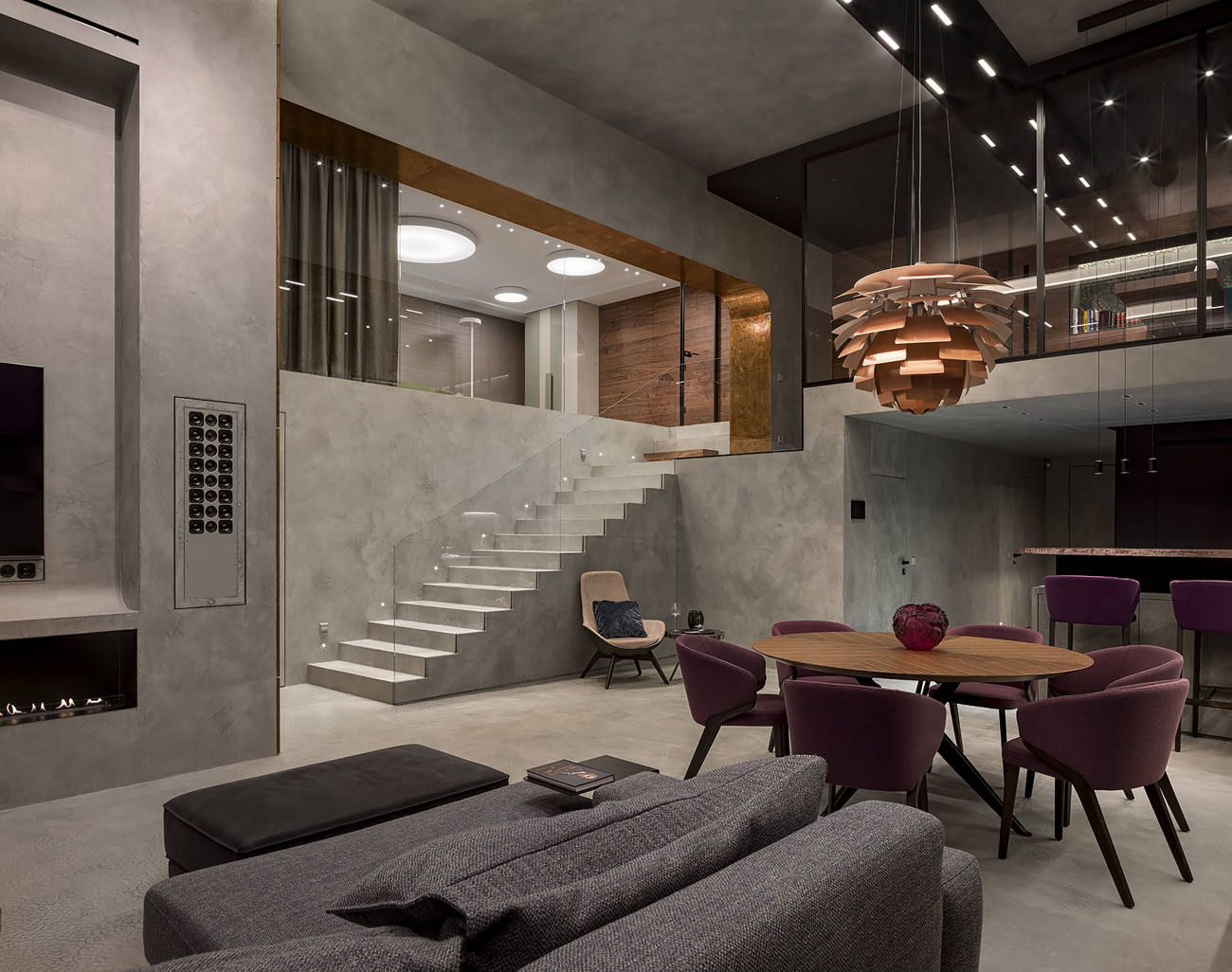 Printed concrete, a renowned coating
Ready to talk about one of the most versatile materials, we should talk about printed concrete. This coating is the clear example of the fusion between beauty and resistance.
We find in its composition that it is made by binder, water, some additives and aggregates, giving rise to a material of a great hardness. However, it is its aesthetics that most attracts the attention of professionals. The decorative possibilities multiply when making use of printed concrete, this is due to its capacity to imitate any type of design, as well as material or texture, preserving its original properties. Some examples of designs are: wood, tiles, cement, brick, cobblestones, stone, slate and many more.
Emottion, our fast-drying tile paint
Your tiles will shine again with our Emottion tile paint, which offers excellent quality results that guarantee resistance to UV light and running water, as well as an extra fast drying time that allows its use in both exteriors and interiors.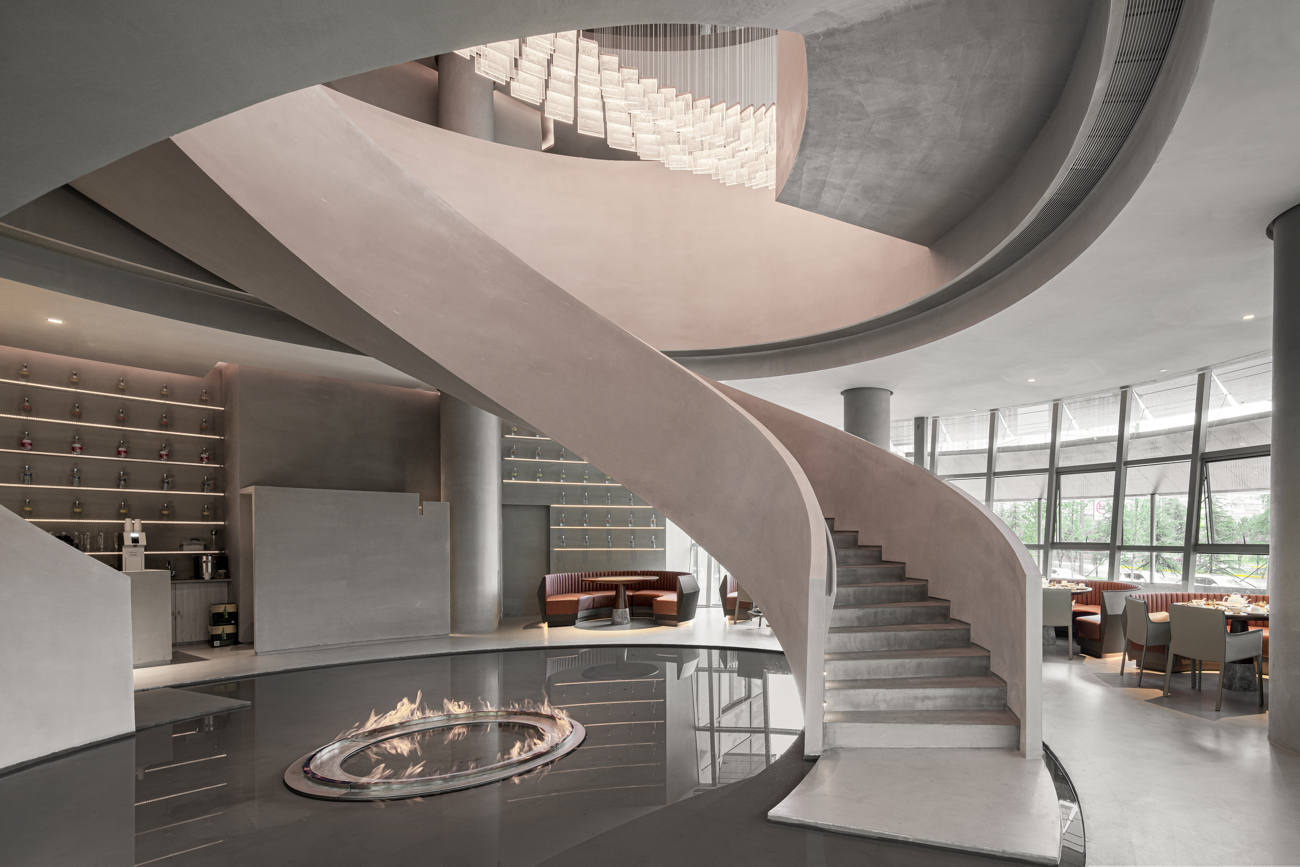 This primerless paint is available in 10 different colors.
Elitte, a unique line of metallic glazes
We present a material that is unlike any other, with which to achieve unique decorations and full of combinations. With our line of Elitte metallic glazes, you will be able to decorate all kinds of surfaces, both walkable and not, and you will give them an amazing metallic effect (Glaze) and glitter (Glitter).
Pure Mettal Coating and Classic Mettal Painting
From the hand comes our line of metallic products Pure and Classic Mettal, two products with a great decorative capacity, with which to achieve exclusive and elegant environments. Its use knows no limits, so it can be applied both outdoors and indoors.
However, there is more. For non-conformists who want to go a step further, we present our Mettal Activator, with which to generate a spectacular rust effect for spaces full of personality.
Microcement company in Denver in full growth, be part of us
One of our primary goals is the expansion of our partner network. We ensure decorative materials made with the objective of providing the best performance, a fact that is causing the demand to grow exponentially.
Join Topciment® by becoming one of our microcement distributors in Denver and you will have different advantages unique to you, such as 24/7 personalized advice and different trainings.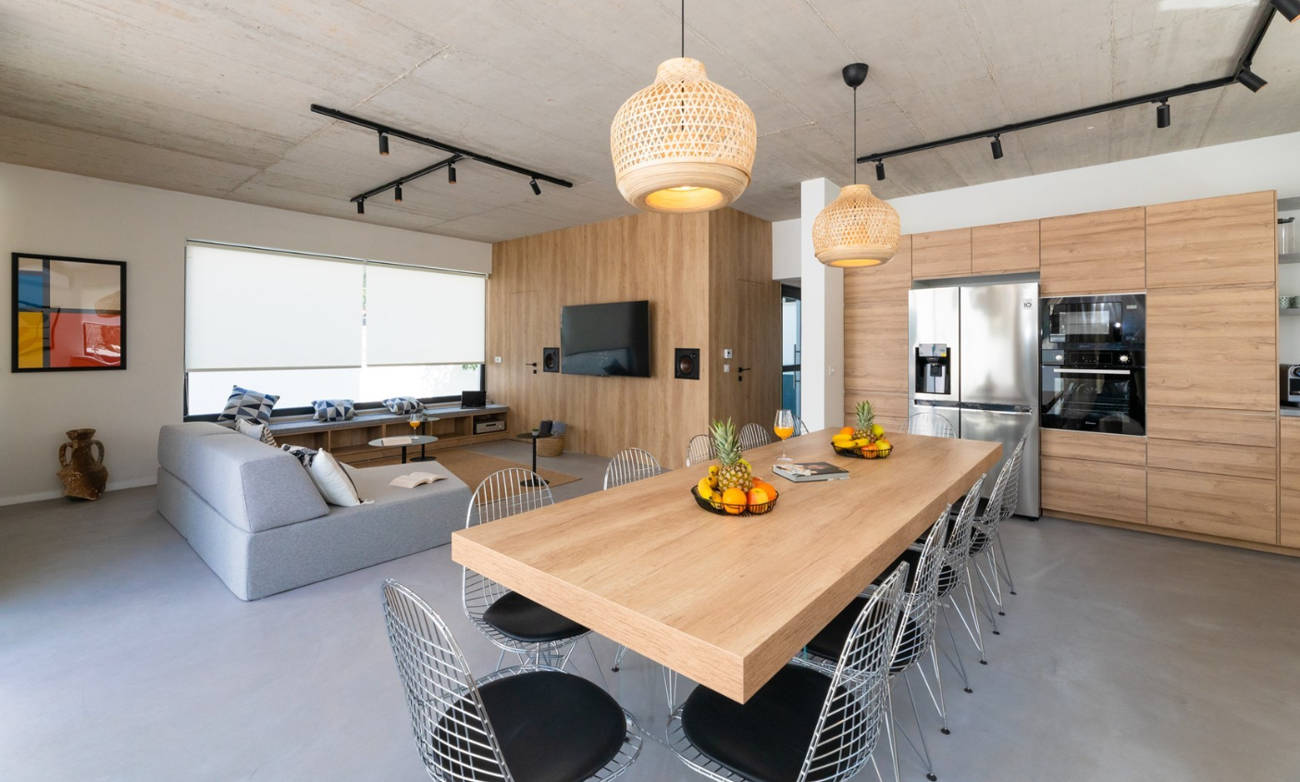 Denver microcement price: request a quote
The price of microcement in Denver per square meter depends on a number of variables. Factors subject to specific situations make it impossible to set a standard cost for this material, which varies according to the work or project in question.
At Topciment® we do our best to offer a competitive price regardless of these conditions. The state of the surface determines the amount of renovation with microcement, since if it is in poor condition it will have to be repaired before applying the new coating. Obviously, if it is necessary to restore the substrate, the cost will increase.
The complexity of the work also affects the price of microcement per square meter. In this sense, resurfacing a swimming pool or a staircase is more difficult than normal paving. Therefore, the applicators must have more knowledge because the application techniques are more laborious.
As in the case of the square meters of the surface to be coated. The larger the size, the more economical it will be to apply the microcement even though it requires more labor and quantity of material to be used. The quality of the material used and the handling of the applicators are also determining factors in the cost.
Tell us all the details and what your renovation project is about. We will give you a free, personalized estimate. Write to us!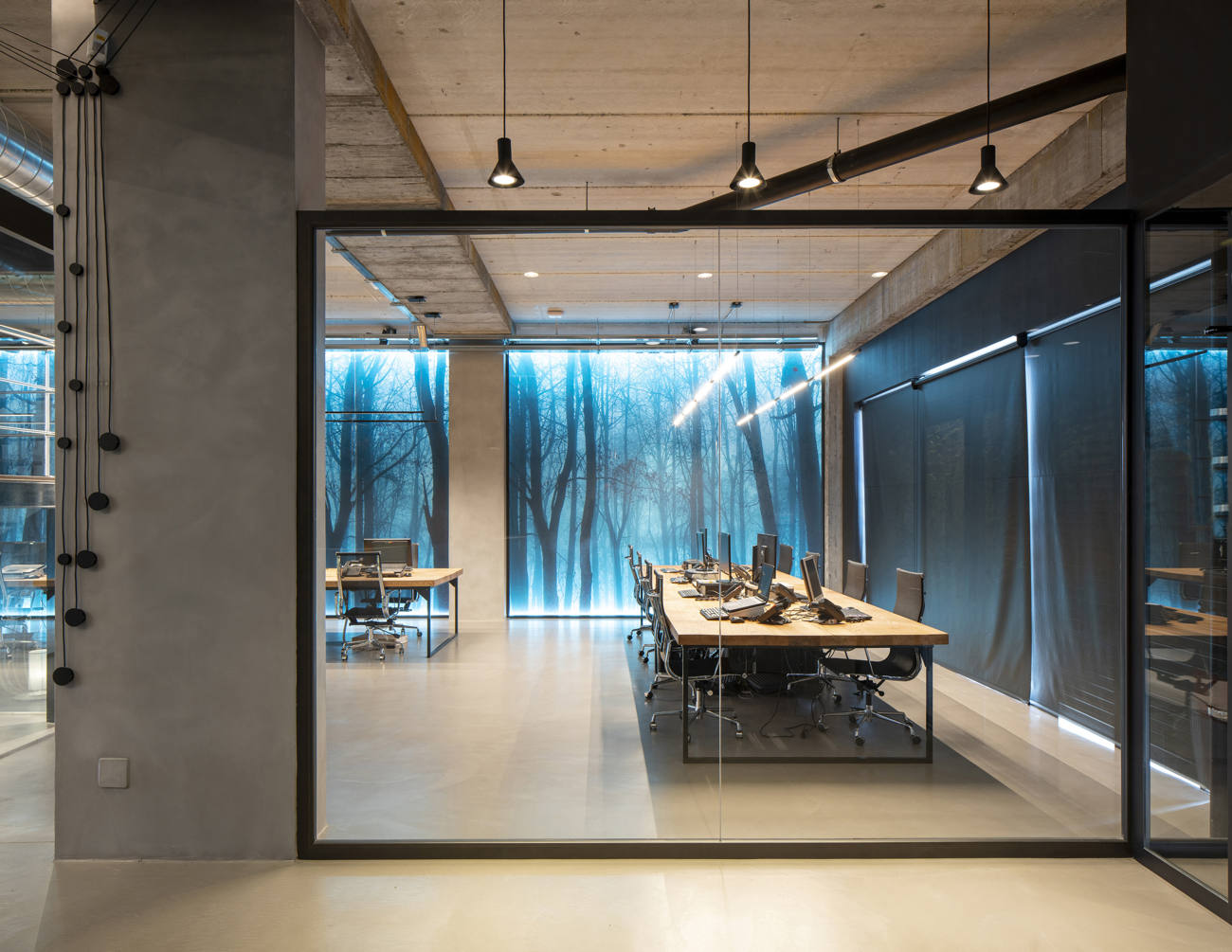 Let's get started! Leave your project in our hands
Now that you know that with us you have the security of seeing your project come to life as you had always imagined, the time has come for us to get to know each other. Success and persistence are engraved in our DNA, and we do not stop until all your needs are completely satisfied.
Tell us more about what your decorative project is about by filling out the form below and our experts will solve all your doubts, as well as guide you from a professional point of view.