Microcement swimming pools, the best possible option
When we talk about swimming pools, the market offers practically infinite alternatives depending on the design, size and budget. But not all of them offer the benefits of microcement pools, which for some years now have been established as the alternative in capital letters to traditional masonry pools.
Microcement pools are on the rise, and no wonder. A material that combines aesthetics and functionality to offer a dream pool that does not require time-consuming building work or high costs.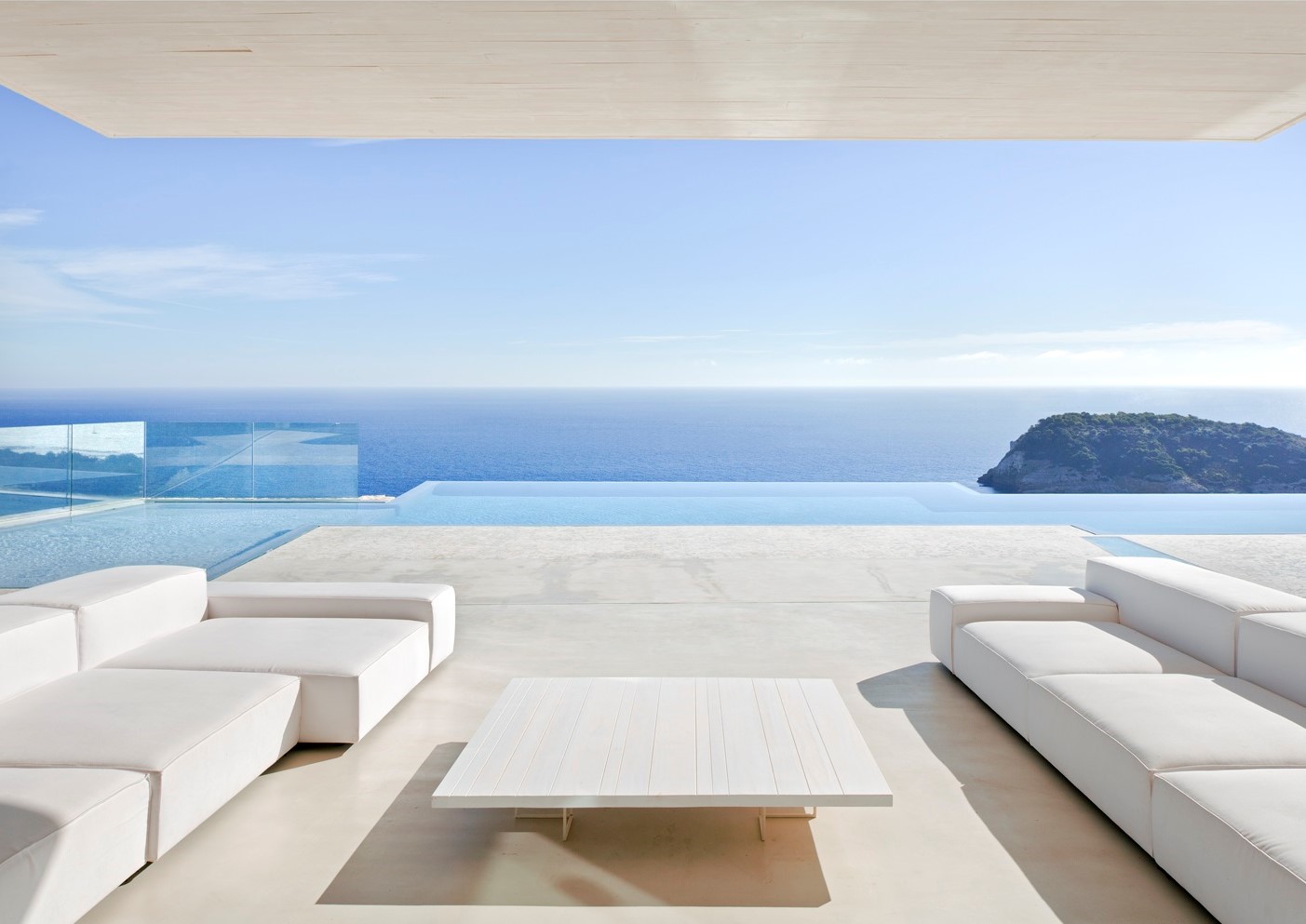 Microcement pools: why are they so popular?
Microcement is a decorative coating that is a triumph in interior decoration and, increasingly, in outdoor spaces such as façades and terraces. With a thickness of between 2 and 3 mm, it stands out for its elasticity, continuity, resistance and ability to be applied to any surface.
These qualities are taken to their maximum potential in the case of microcement pools, which have been gradually replacing masonry pools such as concrete pools, stainless steel pools, sand pools or gresite pools, among others.
If you want to know more about swimming pools with microcement, read on. Once you know all the advantages of this innovative material, you will be captivated.
1. Microcement pools: suitable for new and old pools
Whether you are planning to build a swimming pool from scratch or completely renovate an existing pool, microcement is the decorative solution you need and you don't even know it yet.
One of the peculiarities of this innovative material that make it an all-terrain coating is precisely its compatibility with numerous materials such as concrete, gresite, terrazzo, brick, tiles, etc., as long as these are on the edge and crown of the pool. In this case, to change the coating of the area around the pool, it will be enough to level and repair the support (if necessary) and apply the microcement on it.
Another possible situation, and also an application process, is if the aim is to coat the pool shell with microcement. In this case, due to the inherent humidity inside the structure, it is not possible to lay the microcement directly on a tile or stoneware covering. Here, to say goodbye to your old pool, the first thing to do is to remove the existing material that has been used so far as a coating, as the microcement has to be applied on shotcrete, gunite. It is essential that the substrate is completely clean, consolidated and in optimal conditions of planimetry.
If, on the other hand, you wish to build a microcement pool from scratch, it is also possible. In both cases the result will be the same thanks to its versatility: a quick transformation of the space, savings in labour and spectacular aesthetics. A pool worthy of luxury magazines.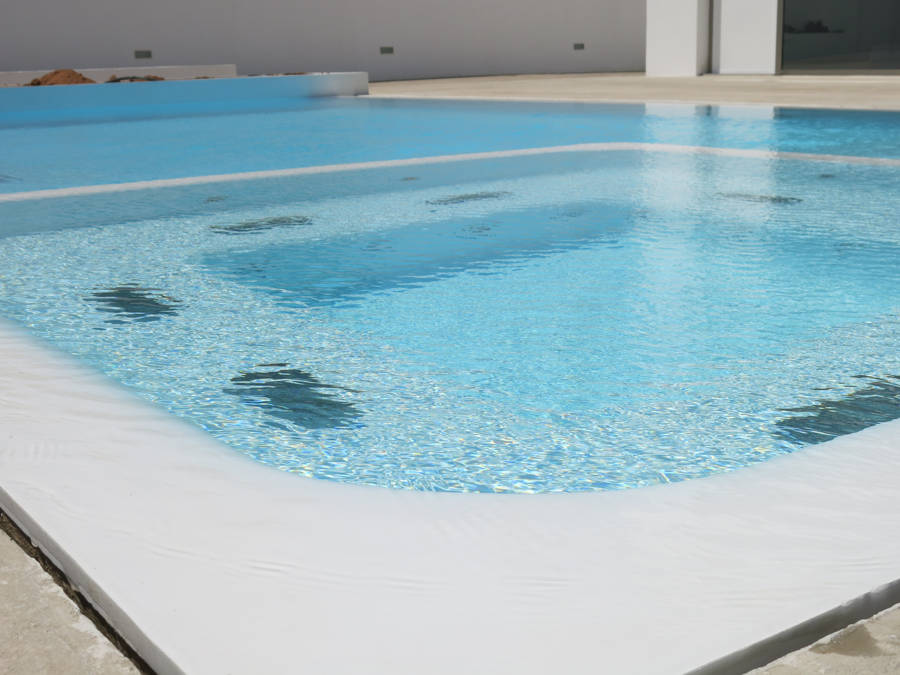 2. Slips have no place in the crown and edges of microcement pools
When building a swimming pool, it is essential to opt for a material that avoids the dreaded slips and falls which, unfortunately, on more occasions than we would like, become the real protagonists of the summer season.
A problem that disappears by applying microcement to the crown and edges of the pool, as it is a coating that provides a non-slip finish. This is undoubtedly one of the great added values of microcement pools, to which we must also add their waterproof
3. Microcement pools provide continuity in design
Another of the great virtues of microcement pools is the uniformity they offer, as they have no joints. As there are no visible divisions, the pool can blend in perfectly with its surroundings and exude not only visual continuity, but also a sense of calm and relaxation. An added factor that also contributes to a feeling of greater spaciousness.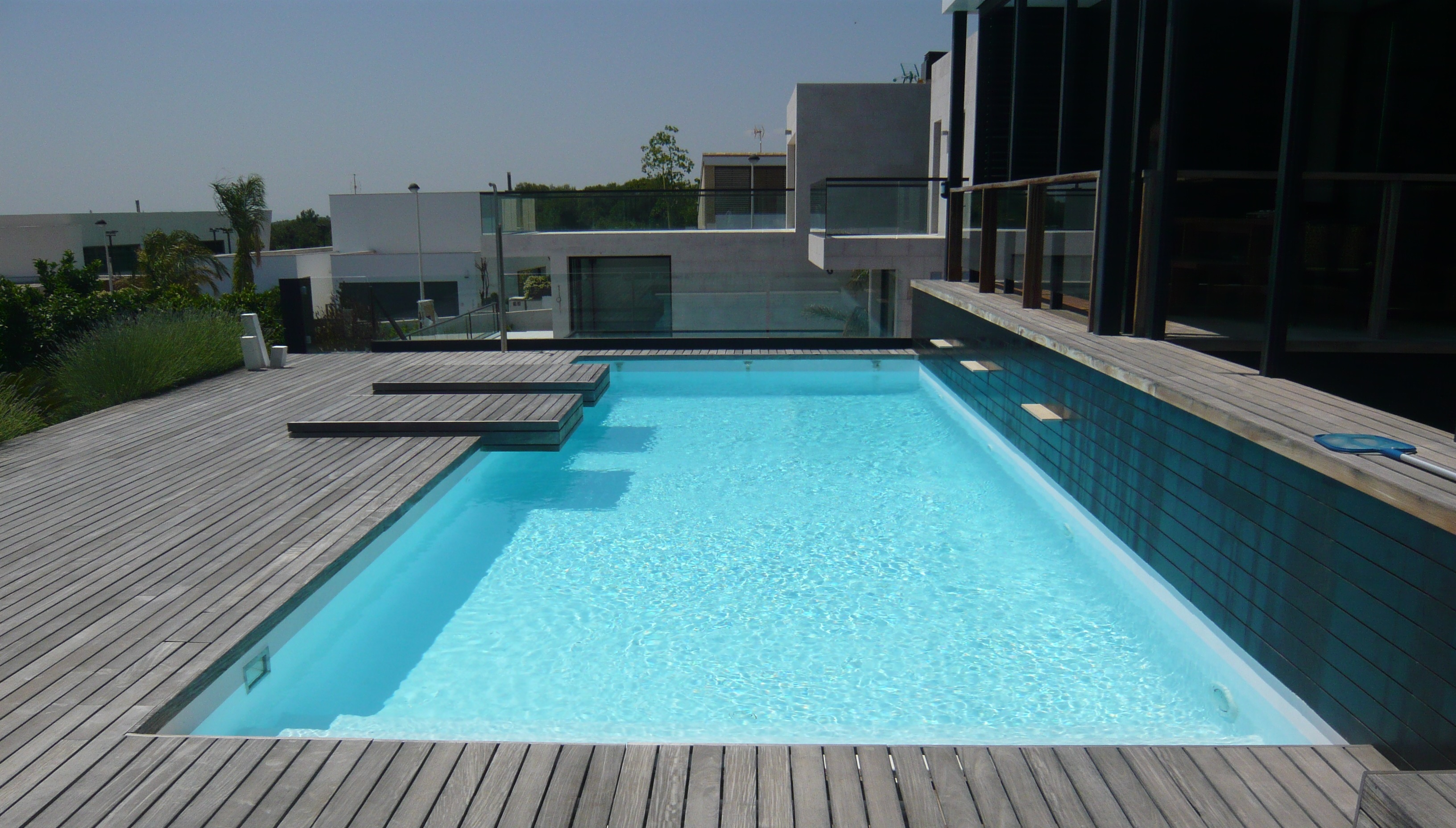 4. Minimum cleaning and maintenance of microcement pools
In conventional pool designs where tiles predominate, a lot of dirt and mould accumulates in the joints. Microcement, as it has no joints and is a continuous surface, does not have small cracks that allow dirt to accumulate.
The low maintenance and cleaning requirements of microcement pools are not found in other types of pools. Not only because of the absence of joints, but also because it does not require such demanding care as other materials.
5. Unlimited customisation in microcement pools
Microcement pools can be customised to the extreme through the chosen colour and finish, as well as the shape of the pool. Rectangular or semi-circular pools with microcement, with rounded or straighter edges, incorporating other elements such as a jacuzzi area or a waterfall, etc. You set the limit!
Without losing sight of the fact that microcement combines with all kinds of materials, so it can be integrated into any style. In this way, you can create a microcement swimming pool and also cover the crown and use another material in the surrounding area, such as wood, for example.
6. Microcement pools: a question of durability
The profusion of microcement pools has exploded in recent years thanks to the enviable properties, most of which have been mentioned above, to which must be added their great durability.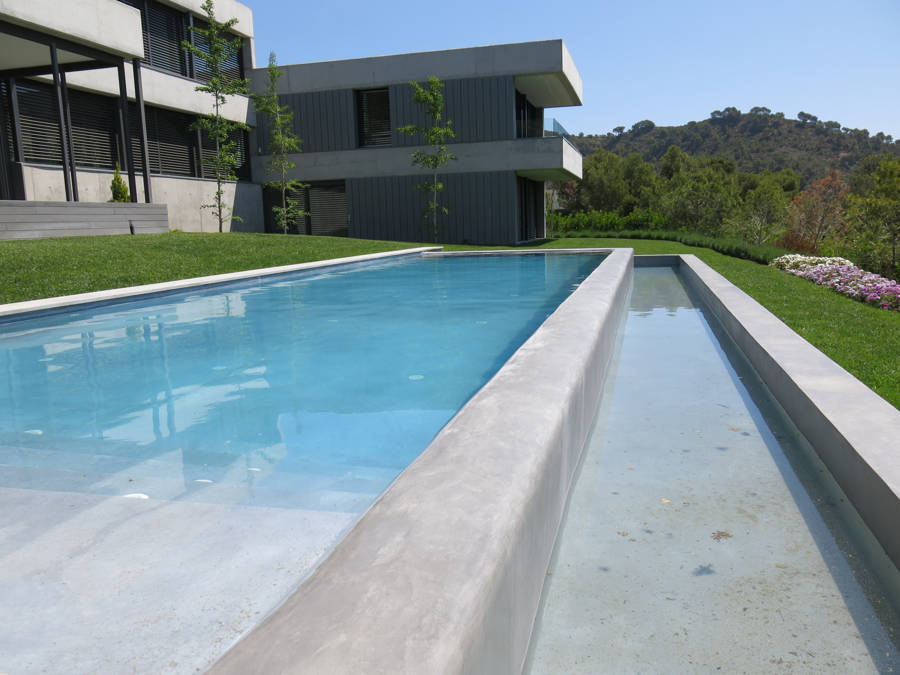 White microcement pools, a plus of character
The wide range of colours makes it possible to create all kinds of microcement pools, but those with a markedly minimalist and avant-garde character get all the recognition. And if there is a colour that represents this style, it is white, which there are plenty of reasons to love.
That is why white microcement pools triumph over the rest. The mosaic that is achieved thanks to the contrast with the blue of the pool water produces a relaxing effect, worthy of hotels and spas. A colour that works wonders in very sunny areas such as the terrace, achieving a powerful contrast between the elements inside and around the pool lined with microcement.
How much does a microcement pool cost?
Applying microcement in swimming pools is a more complex method than covering other surfaces such as walls or floors with this material, for example. It is a product that needs to be well known and the work must be carried out by a professional with the necessary experience to carry out the project successfully. All of this means that the cost of a microcement pool can be higher than that of microcement floors or walls.
However, the other factors to be taken into account for the price of a microcement pool are the same: type of microcement, m2 of the future pool, labour costs, etc. As a general rule, a swimming pool with microcement costs between 80 and 100 euros per square metre.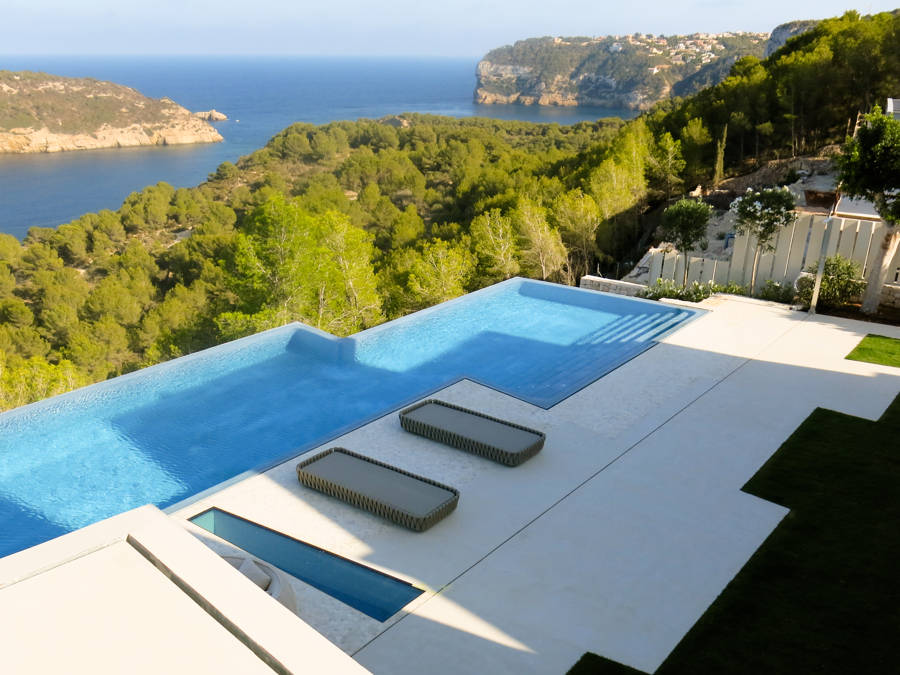 How to make a microcement pool?
The first thing to do before applying microcement is to make sure that the substrate is clean and free of dirt and damage. If necessary, it should be vacuumed to make it perfect. Once this is done, to make a microcement pool, the following steps must be taken into account.
1. Apply a layer of resin with a roller (we recommend our Acricem water-based acrylic resin). Leave it to act for at least 30 minutes until the he surface is dry.
2. Apply four coats of specific microcement for swimming pools, as using a microcement that does not guarantee optimum resistance could end up being fatal to our interests. We recommend two coats of Atlanttic Aquaciment XL, which will serve as a microcement base for the future microcement pool, and then another two coats of Atlanttic Aquaciment M (finishing microcement).
3. After each layer of microcement, let dry for 24 hours and sand with 40 grit sandpaper.
4. Apply two coats of a special sealant for microcement pools such as Presealer, which automatically waterproofs the substrate. Allow approximately 4 hours drying time between coats.
5. Lastly and very important. Before filling the microcement pool with water, leave a margin of about five days.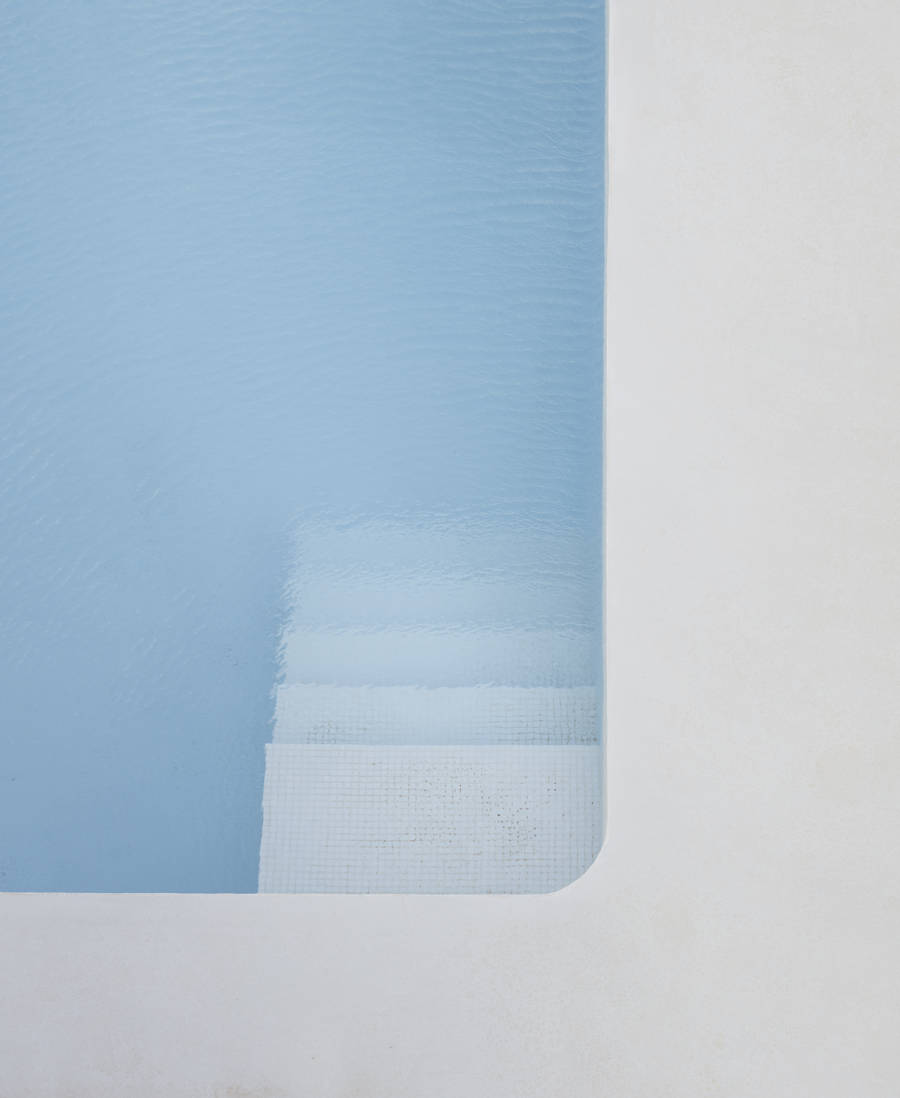 Create your microcement pool with Atlanttic
At Topciment we have been manufacturing all kinds of decorative solutions for more than 15 years. Among them is Atlanttic, our two-component microcement developed specifically for swimming pools and other spaces in contact with water such as fountains or ponds.
Having a swimming pool is one of the most common desires, but having a microcement pool with Atlanttic is, without a doubt, a dream.
Subscribe to our newsletter
Receive in your email tips for the application and care of microcement, the latest trends and news of Topciment products.