Wall coverings : types, advantages and professional advices
Find out about the main wall coverings on markets and their most outstanding advantages. Our experts will advise you which one to choose for each situation.
When it comes to decorating a space, the floor is often the surface that receives the most attention, a prominence that is not by chance. This is primarily due to the fact that this covering is the most exposed surface to impact, abrasion and traffic. The covering that requires the most efforts, and also a great budget, is subject to choosing the right material to cover the flooring.
However, the decoration of walls and other vertical surfaces should not be neglected. Even though they do not suffer the same wear and tear as the flooring, wall coverings are one of the most powerful elements on an aesthetic level. A differente component will give even more personality and sophistication to the room to be renovated.
Decorating a wall is not limited to painting it with the latest colours. You have to go further. Because although it is more than just a valid alternative as wall coverings, the range of possibilities is practically unlimited. In order to opt for one covering or another, a series of considerations must be taken into account.
Among other things, it is necessary to consider which wall covering best matches the decorative style of the space. As well as how much maintenance and cleaning it requires or whether it fits in or exceeds the budget available.
In this article we are going to talk about which wall coverings are most commonly used and why. We will deepen the main characteristics and advantages of each of them as well as professional advices. Some recommendations that will help you choose the material which best suits your needs. Ready?
What is wall covering?
Wall covering is a type of material that is applied to vertical surfaces in order to decorate and protect them. It is a covering that can be applied on interior spaces as well as on exterior facades, depending on the needs and tastes of each individual person.
There are wall coverings to suit all tastes. Marble, ceramic or microcement are just some of the most popular materials. Depending on the characteristics of each one of them, it is necessary to apply one or more layers, therefore changing the final appearance accordingly. Not to mention that the added benefits differ greatly from one coating to another. That is why it is so important to carefully assess the pros and cons of each wall covering respectively.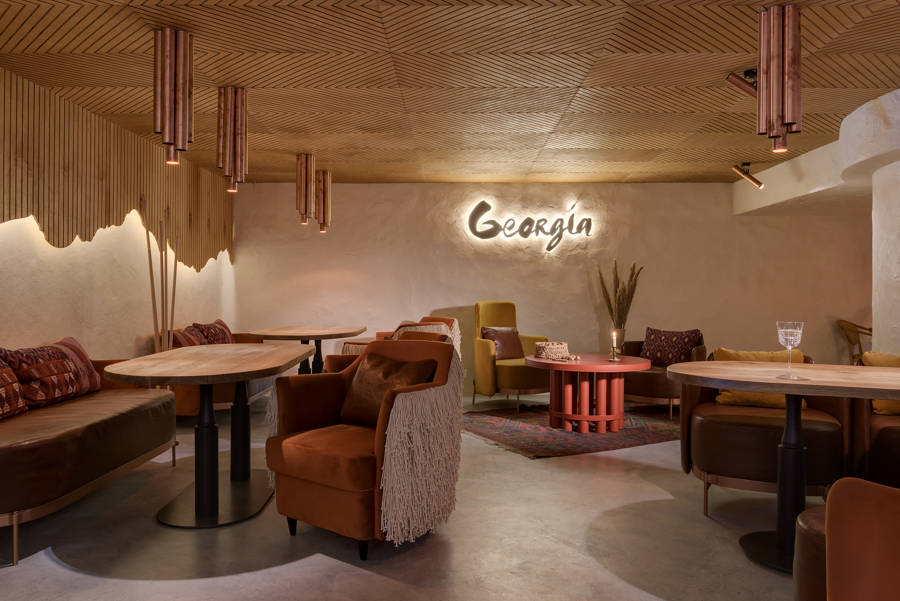 Tips for choosing wall coverings The experts speak!
There are all kinds of wall coverings for your home, office or business premises and make them look stylish and elegant. But for the experts, one of the main issues to consider is to evaluate correctly the results in different rooms. The aim is no other than to ensure that the materials applied to the walls are pleasing to the eyes.
This is not an easy task given the number of options available on the market. It is like a whole world where you should find out the quality of the material, the budget, the aesthetics and the duration of the work. They are fundamental. Here are the main questions that experts recommend to analyse in detail in order to choose the ideal wall covering. Pay attention!
Defining the aesthetics of wall coverings
What aesthetics are you looking for? That is the first question to ask yourself, and to find it out before choosing among all the wall coverings available. Because each one provides a very different characteristic and personal decorative finish. The experts believe that it is a mistake to be guided only by the resistance of materials, because the end result can be far byond your expectation.
Not all materials represent different decorative styles in the same way. For example, to create a rustic style, wall coverings such as wood or stone are a safe bet. Similarly, to create a Mediterranean style, Venetian stucco can be a great idea and microcement for a more minimalist and avant-garde decoration.
Take into account the maintenance required for each wall covering
It is just as important to carefully assess the aesthetics as the maintenance required for each wall covering once it has been installed. If this factor does not bother you, you can easily decorate the walls with natural wood, stone or brick, which are more demanding in terms of cleaning and maintenance.
On the other hand, if your priority is to combine aesthetics with minimum maintenance and cleaning, you should look for wall coverings that are continuous and jointless that reduces cleaning process. Materials such as microcement can be your best allies.
Guarantee the resistance and comfort of wall coverings
When choosing wall coverings, it is important to think about in the long term. This means the durability of the material: the posibilities of cracks and fissures appearing over time, whether it will lose colour or whether repairs will be necessary to keep it in perfect condition.
Likewise, we should not forget about the thermal and acoustic effects offered by each of the wall coverings available on the market: do they provide soundproofing? are they thermal insulators? are they resistant to humidity? and are they resistant to temperature changes? Believing that decoration means "dressing up" walls is not only a misconception, but can also lead to unpleasant problems in the future.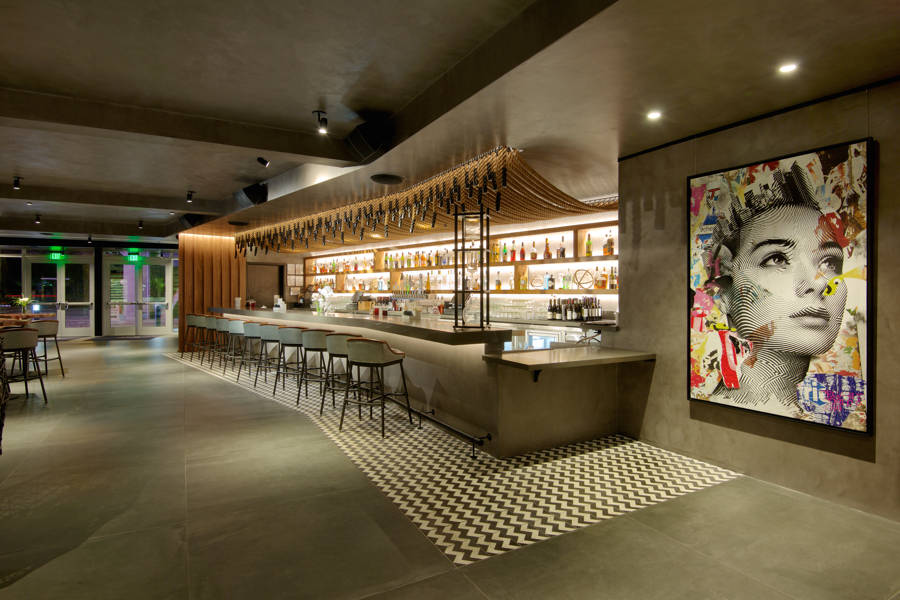 Opt for wall coverings that are easy and quick to install.
Time is money. In this sense, having wall coverings installed easily and quickly narrows down the list of possibilities. And if at the same time they guarantee high quality technical performance, it makes the final choice much easier.
Microcement, for example, is a wall covering that meets all these requirements. It is easy and quick to apply and has excellent resistance. It is a thin material that adheres to the existing wall without the need of building work. It is compatible with plasterboard, plaster, marble and tiles, some of the most common wall coverings.
Choosing wall coverings that fit the budget
For the last, we have left one of the most important factors in the selection of wall coverings : the price. The quality of the material, the size and complexity of the work, the time required by the professional to carry it out, whether or not the existing material has to be removed from the wall, etc.
In this sense, some of the most expensive wall coverings are stone, natural wood or ceramic tiles. Compared to them, PVC or microcement, among others have lower prices.
What are the most commonly used wall coverings? Take note!
The choice of a wall covering depends on the needs of each room. For a bathroom you need to look for a material that is waterproof and resistant to humidity; for a living room or hallway the requirements are not the same.
Next, we will detail the advantages of the wall coverings that are currently the most popular. A list that includes porcelain tiles and stoneware, wood or natural wood panels, wallpaper, brick, stone, Venetian stucco, polished cement and microcement. Here we go!
Porcelain tiles and porcelain stoneware, classic wall coverings among the classics
Porcelain tiles and porcelain stoneware are two of the most traditional wall coverings, but also the safest. The bet for them is always a success, especially in spaces at home such as bathrooms and kitchens thanks to the resistance against moisture or stains.
Wall coverings that have evolved over time in terms of colors and textures of the plates. This innovation makes it possible for everyone to decorate any space in a very creative way, creating the most refined and exquisite atmospheres. On the other hand, they are two materials that require continuous cleaning and maintenance due to the accumulation of dirt. In addition, it is necessary to carry out works by machinery to install them.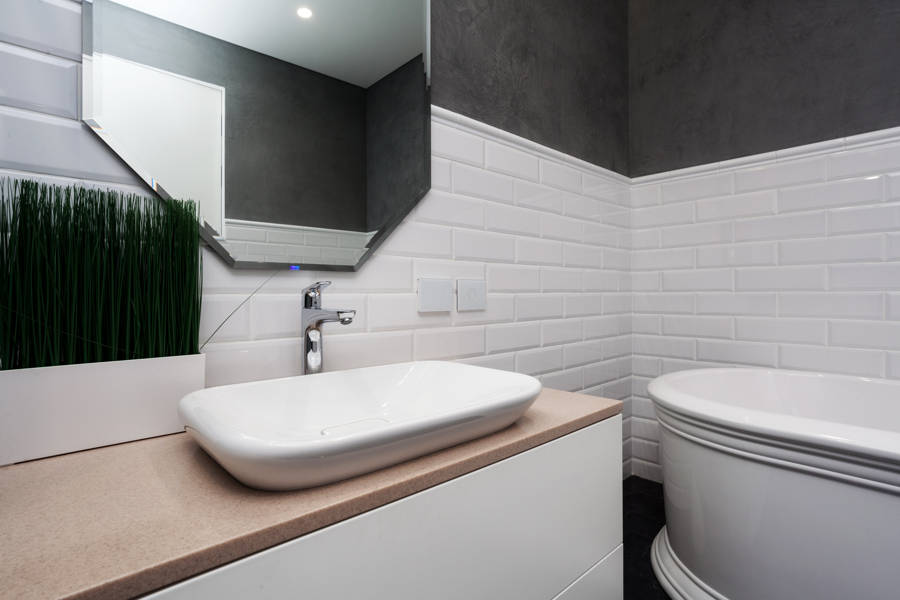 Wallpaper, a "simple" wall covering that never bores you
If you are looking for quickness in the application without sacrificing a modern aesthetic, wallpaper is the ideal wall covering. There are as many colors and patterns as there are decorative styles. It couldn't be easier to find one that fits your dream style. The best thing about it? It's impossible to get tired of it. If you do, all you have to do is remove it and replace it with a new one. Very convenient, isn't it?
If you dare to use wallpaper as a wall covering, you should know that there are several types. On the one hand there is the lining paper, which is used when the wall has some kind of irregularity or has been previously painted and is in poor condition.
The wallpaper does not need to be washed and is the most economical convering. But on the other hand, it is a wall covering that is not very resistant and is not recommended for use in bathrooms or kitchens. It is a coating that absorbs moisture and in the case of staining it is very complicated to clean up.
But you will be happy to know that there is also a wallpaper that is washable. And yes, as you can imagine, it is one of the most demanded. It resists environmental moisture, scuffs and stains. The advantages that make this wall covering be highly recommended not only for bathrooms and kitchens, but also for passage areas.
And finally vinyl wallpaper, a wall covering much more durable than its predecessors because it is very resistant to moisture and stains. In addition, it can be washed without problems by a soft damp cloth. Resistance and ease to clean. And there are many, many models to choose. It is able to attract you anywhere with their eye-catching designs.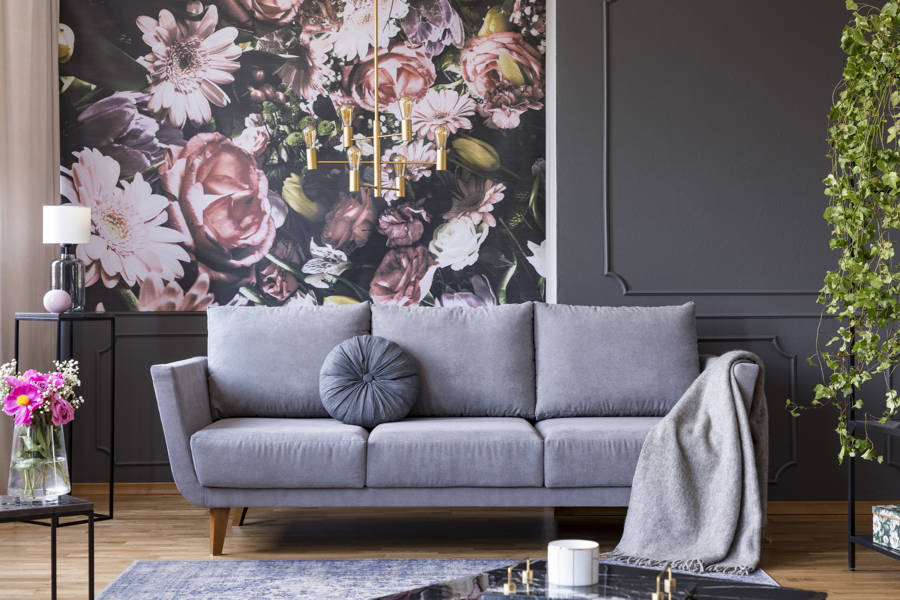 The modernity and elegance of stone wall cladding
A project with stone as wall cladding is synonymous with its own personality. A material that brings a special charm and aura to homes built in the past as well as rooms that incorporate with this finish.
It is one of the wall coverings that offers modern and elegant finishes like few others, but with outstanding results thanks to its extraordinary qualities, and also its insulating ability to reduce the intensity of sounds or to maintain the temperature inside the room.
The material is not at all porous so it can avoid humidity completely, as well as the reproduction of bacteria. Durability and fireproof character are another of the most outstanding benefits of this wall covering that never goes out of fashion. A long-term bet but , as a natural stone, we must remember that it is more expensive compared to other coatings.
A decorative resource that has the ability to completely transform a room of only a few meters. However, experts recommend that to use this wall covering in a restrained manner so as to avoid the space too overloaded.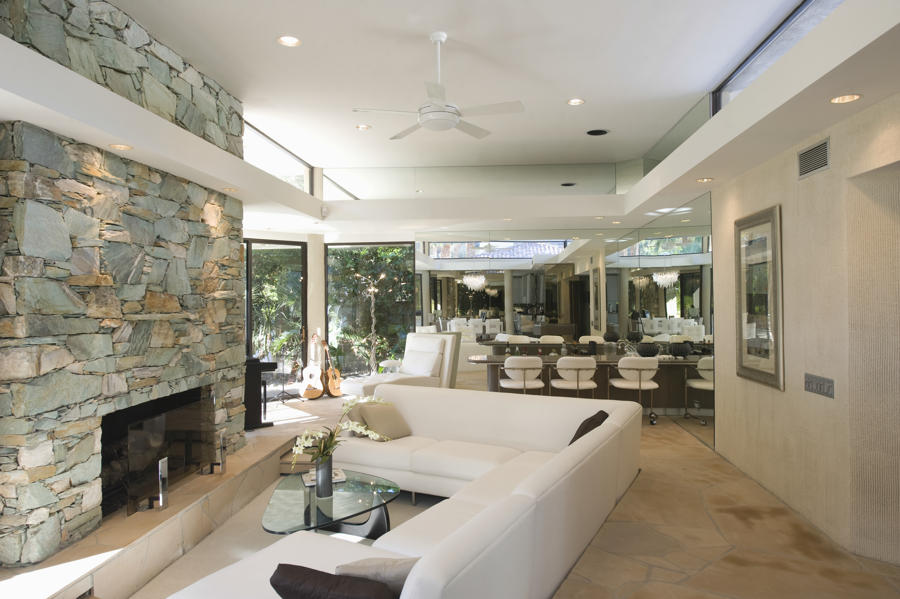 Brick: the wall covering made in New York
The decorative style of the New York loft dates back to the 1940s, when the excessive prices of rents forced commercial premises to be converted into housing. An optimization resources at that time, and a decorative trend that sweeps wherever it goes today.
And the influence of the New York loft style is still very present thanks to the use of bricks as wall cladding. A material that favors the creation of open, industrial and authentic spaces. A coating that seems to be simple at first glance but penetrates any room with character.
As the years go by, exposed brick will continue to be a very stylish wall covering. Especially if it is used as main wall and the contrast with the rest of the room is more striking if possible.
The principal advantages of brick are its low maintenance, durability, ability to provide a sound barrier, heat resistance as well as the wide variety of colors available.
However, it is a rather difficult wall covering to repair when damaged, as it is not a simple task to replace a single brick without having to remove the entire wall. A downside we must add is that the accumulation of moisture over time will end up cracking.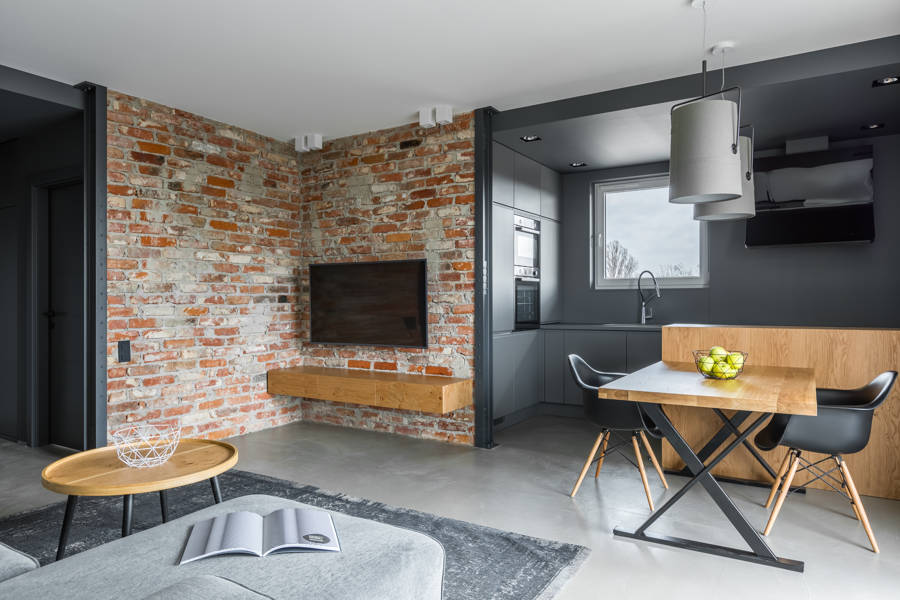 Microcement, the wall covering with more resources
We can say firmly that microcement is the most versatile wall covering that exists. There is no lack of reasons for this statement. Starting with its absence of joints and works, which allows it to be placed on almost any material without generating debris and no need of any building work. This makes possible the space in which it is applied can continue to be habitable during a much faster process than other materials.
In just a few days, you can enjoy the new microcement wall covering. An added value is that architects and decorators apply the material for remodeling of large sites such as shopping centers, hotels and restaurants.
It is also a very resistant material that does not crack over time, so betting on microcement walls is to have the guarantee of a coating in perfect condition for a long, long time. The textures are also the most varied. Depending on the type of application that the professional wants to carry out, it can create very different visual effects, decorative finishes such as with a water effect, with greater or lesser relief, resembling lime stucco, polished cement, etc.
The wide variety of colors of this wall covering also responds to a large extent to the popularity it has gained in recent years, as well as the waterproof finishes that are offered by it. Precisely for this reason it is used in bathrooms and kitchens.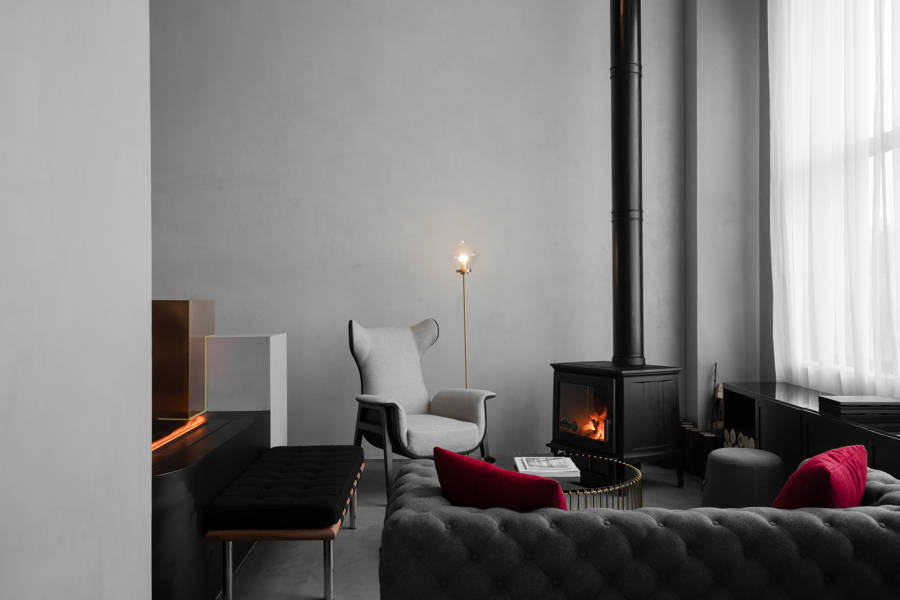 Rust effect paint, a trendy wall covering
The rust finish merges the new with the old. A combination that is very trendy in interiors due to the immense decorative possibilities it offers. It is possible to obtain from more classic and rustic styles to more industrial and modern atmospheres.
A natural and vintage aged look that has become an increasingly demanded decorative resource as wall cladding. Not only in homes, but also in large businesses such as restaurants and hotels that manage to create an aesthetic element of rupture that attracts all eyes.
A very easy and quick effect to achieve thanks to a good rust effect paint. A product that will give the coated walls a unique, natural and long-lasting design. But not only in interior spaces. It can also be used outdoors to create the most impressive façades.
At Topciment we have developed Classic Mettal, a ready-to-use rust effect paint that stands out for its extraordinary adhesion and durability. Highly adherent to the substrate, it can be applied as a wall coating on a multitude of substrates: microcement, concrete, metal, brick, plaster, etc. The final finishes are simply spectacular, as Classic Mettal is formulated with metallic particles of copper, iron, bronze and brass.