Microcement kitchens: benefits and most popular styles
Microcement kitchens are the preferred choice of more and more renovation professionals, architects and decorators due to the many advantages offered by this decorative coating. A covering that guarantees unique creations to renovate a room as important as the kitchen.
One of the particularities of microcement in kitchens is that it can be implemented in many ways thanks to its versatility. In this way we find kitchens with microcement on floors, walls, worktops and even sinks. A wide range of fields of use to which we must add the great variety of colours available for this material. Two factors which, together, allow you to give free rein to your creativity. Any kitchen design is possible.
Its lack of joints, which enhances the continuity and luminosity of the room, gives a plus to a ground-breaking aesthetic and, above all, to a very functional kitchen. Whatever the surface covered with microcement, it ensures good resistance to wear and tear due to abrasion, traffic and environmental humidity, among other virtues.
The finishes of kitchens with microcement are plural, adapting to the tastes and preferences of each individual. A coating that stands out for the ease with which it complements the rest of the elements in the room in terms of decoration. Smooth finishes, finishes with a higher gloss, finishes with more marked textures, water effects, etc. Below, we detail the main benefits of a decorative trend on the rise.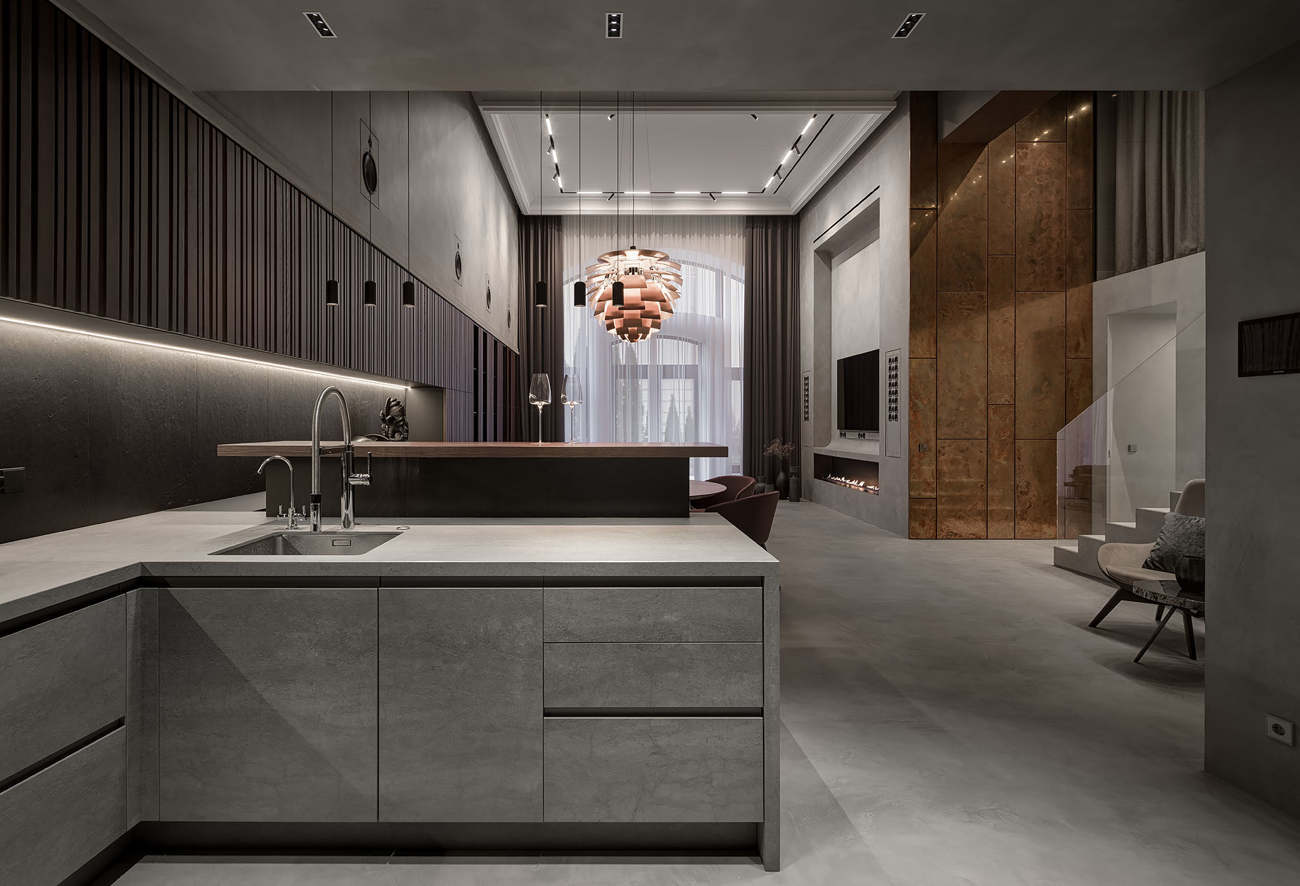 Advantages of microcement in kitchens
Microcement in the kitchen offers numerous advantages, regardless of the surface on which it is used. Especially because it enables a quick renovation of the kitchen without it ceasing to be habitable, as it is not necessary to carry out building work and, consequently, rubble and dirt generation are avoided.
We explain below the main qualities so that you can understand why microcement kitchens have become an absolute trend in the renovation of kitchens in homes, restaurants and hotels.
1. Applying microcement in the kitchen does not require building work
When it comes to renovating a room, time is money. Even more so when it comes to a kitchen. As this decorative coating is compatible with practically any material, microcement in the kitchen is applied directly onto the existing surface without the need for building work. Your new kitchen will be ready in just a few days.
2. Diversity of colours for kitchens with microcement
There is a wide variety of microcement colours to cover your kitchen. From more neutral tones such as white, grey or black to more striking pigments. At Topciment we have a complete palette of colours to create an environment full of inspiration.
3. Microcement kitchens have good resistance to heat and chemical products
This covering has good resistance to heat and also to domestic cleaning products. Two differential factors that have made microcement floors and walls in kitchens as well as kitchen worktops clad with microcement very fashionable.
4. Kitchens with microcement can be waterproof
Beyond the decorative value, for rooms such as kitchens what is sought above all is a cladding that is highly functional and adapts to the needs. In this sense, guaranteeing a waterproof finish in a space that is so exposed to water and similar liquids is fundamental. This is why microcement in kitchens is so popular. With the use of varnishes and sealants designed by Topciment, kitchens with microcement can be made waterproof. But not only is the substrate completely waterproofed, but it also provides extra hardness. 2 for 1 in every sense of the word!
5. Microcement in kitchens can be non-slip
Just as waterproofing is an added value of microcement in kitchens, its ability to be non-slip is another of its great advantages over other coatings. But, in this case, it is also necessary to use the right product. At Topciment we have developed Topsealer WT Anti Slip , a water-based polyurethane varnish that transforms any surface into non-slip. An ideal finish especially for floors.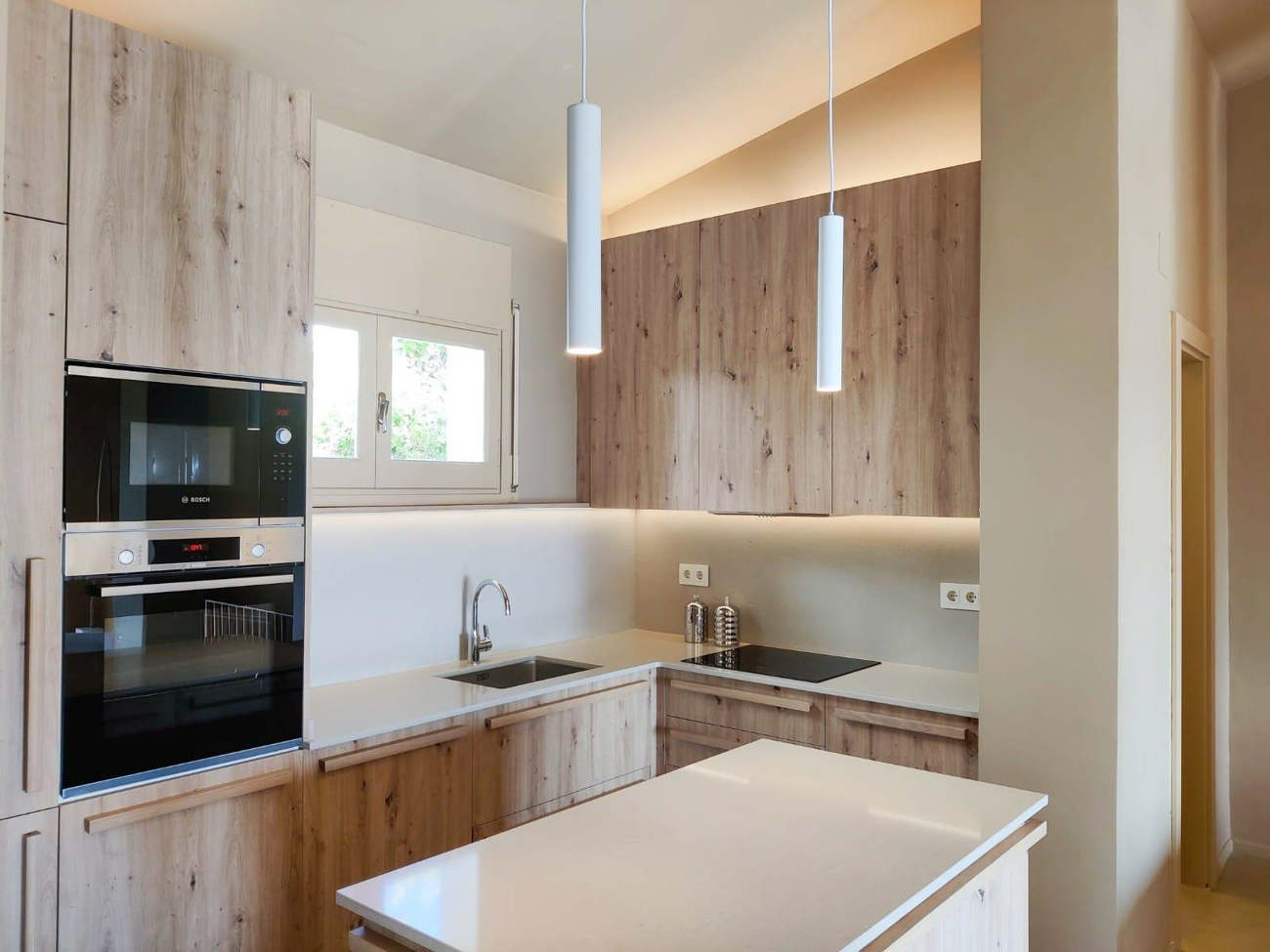 Microcement kitchens for all styles
If there is one thing that characterises this material, it is the wide range of possibilities it offers. For every decorative style, there is a perfect microcement kitchen. At Topciment we propose five different styles of microcement kitchens:
Minimalist microcement kitchens:
For those who opt for a kitchen in which straight lines predominate both in the furniture and in the layout of the space. The absence of joints favours continuity in microcement kitchens, a fundamental factor in minimalist design.
Eclectic microcement kitchens:
For people who, on the other hand, prefer a kitchen in which different types of materials such as plasterboard, slate or tiles are combined. In eclectic microcement kitchens you can combine the traditional with the modern, luxury with simplicity. A 100% winning combination.
Nordic microcement kitchens:
You don't need a huge kitchen to shine. The Scandinavian or Nordic style is ideal for small microcement kitchens, as it enhances the beauty of the smallest details. White tones will not only magnify the dimensions of your kitchen, but will also enhance the natural light in the room.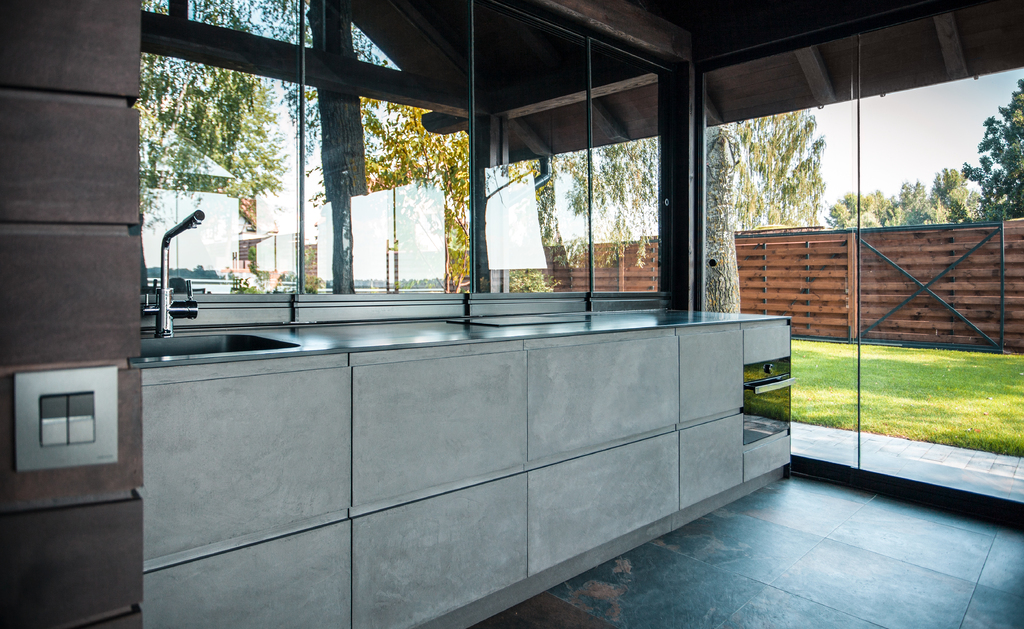 Industrial microcement kitchens:
Do you prefer a kitchen with a more modern, avant-garde and urban aesthetic? We propose a 100% industrial style, which is becoming more and more widespread in interior decoration such as kitchens. Industrial microcement kitchens are dominated by the combination of walls and floors of this continuous coating in grey and black colours. An industrial atmosphere that you can easily achieve with the use of Industtrial, our epoxy microcement. A cladding that offers greater resistance to traffic and impermeability.
Rustic microcement kitchens:
Kitchens with a markedly rustic style have a special character. They transmit warmth and tranquillity like few others, two everyday sensations that we all seek in our daily lives. An atmosphere that can be achieved, although at first sight it may seem an impossible mission, in a space with as much hustle and bustle as a kitchen.
This is what is known as "home warmth" and embraces the use of handcrafted materials, bespoke pieces and antique objects. As well as the use of decorative cladding such as stone and wood, the absolute protagonists of this trend, which is totally opposed to minimalism.
The preconceived idea that rustic kitchens can only be found in country or mountain houses is now a thing of the past. In fact, it is becoming more and more common to go for this decorative style in big cities as it is a style that never goes out of fashion and that, with the use of microcement, can be accentuated even more if possible. Do you have wooden beams on the ceiling? Apply earth-coloured microcement on the floor or white microcement on the worktop and enjoy a winning combination.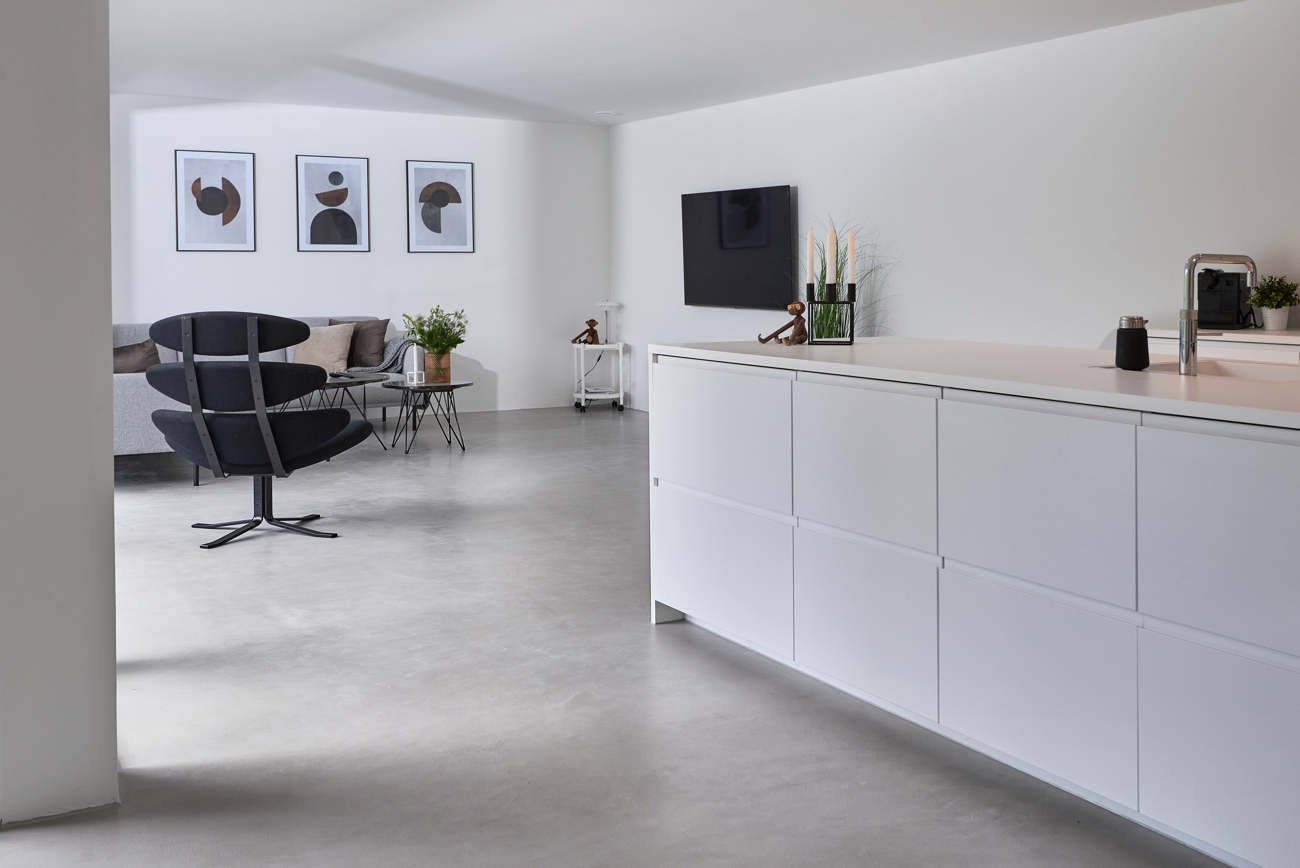 Kitchen with microcement and wood: the perfect duo
According to the aforementioned about rustic kitchens, if there is a proposal to fall in love with, it is to integrate microcement in the kitchen if there is wood involved. Two wall coverings that work wonderfully together and that can make all the difference in the room.
And the fact is that, contrary to what you might think, microcement is a very warm decorative covering if you know how to incorporate it intelligently and combine it with the right coverings. Such is the case of wood, one of the most suitable materials to complete microcement kitchens. The result is a warm, spacious and very pleasant room where soft finishes and enveloping shapes are enhanced.
Microcement on the kitchen wall
Covering the kitchen wall with microcement allows for a great aesthetic change without investing a great deal of money and time. A finish of high decorative value that brings distinction to the room due to its enormous resources and textures. The finishes are almost infinite.
A material that guarantees resistance to unwanted impacts from everyday objects as well as environmental humidity. This last factor is very important, as it is a room that is constantly exposed to contact with running water.
An added value of microcement on the kitchen wall that not all coatings provide and which is largely a consequence of its widespread use in this space. A peace of mind and safety that it also ensures in terms of spillage of all types of liquids and splashes. Two qualities to underline, since when cooking it is inevitable that food remains end up on the wall. It is also a material that gives the wall an excellent resistance to stains and scratches. In addition, it can be cleaned quickly and easily with water and neutral soap so that it is always in perfect condition.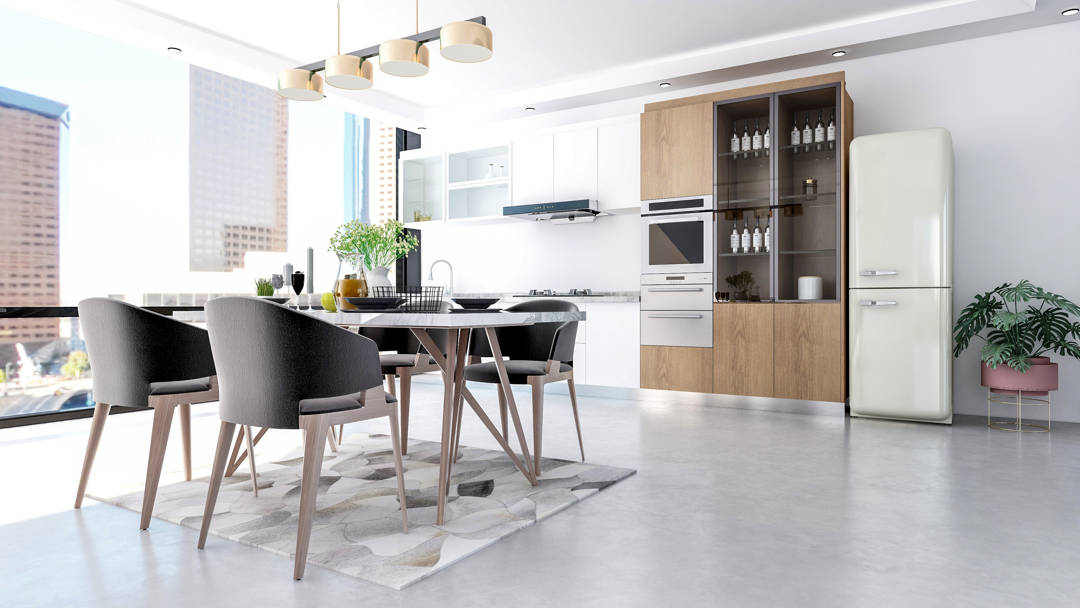 Microfino, the most suitable microcement for kitchen walls
We developed Microfino with vertical and non-trafficable surfaces in mind, including kitchen walls. A microcement that is characterised by very good resistance, both chemical and mechanical. In fact, this is why more and more customers are venturing to use it even in flooring. A coating with a very natural appearance and which we manufacture in three granulometries: XS, S and M. As for its composition, it is available both as a two-component microcement and as a single-component microcement.
How to apply microcement to the kitchen wall
The method of applying microcement to the kitchen wall varies depending on the coating to be used. The most commonly used due to its properties and finish is Microfino, the application of which we are now going to develop. However, we also recommend taking into account Industtrial, our new addition. A harder and waterproof epoxy microcement. If, on the other hand, you prefer to go for a ready-to-use microcement, there is also the option of applying Efectto Quartz.
1. Apply fibreglass mesh (only if Microfino is used).
2. Prime the kitchen wall with the most suitable promoter.
3. Apply two coats of Microbase or two coats of Industtrial XL/Industtrial Base.
4. Apply two coats of Microfine or one coat of Industtrial Medium/Industtrial Smooth.
5. Apply two coats of Presealer (only if using Microfino)
6. Apply two coats of any clearcoat from the Topsealer range.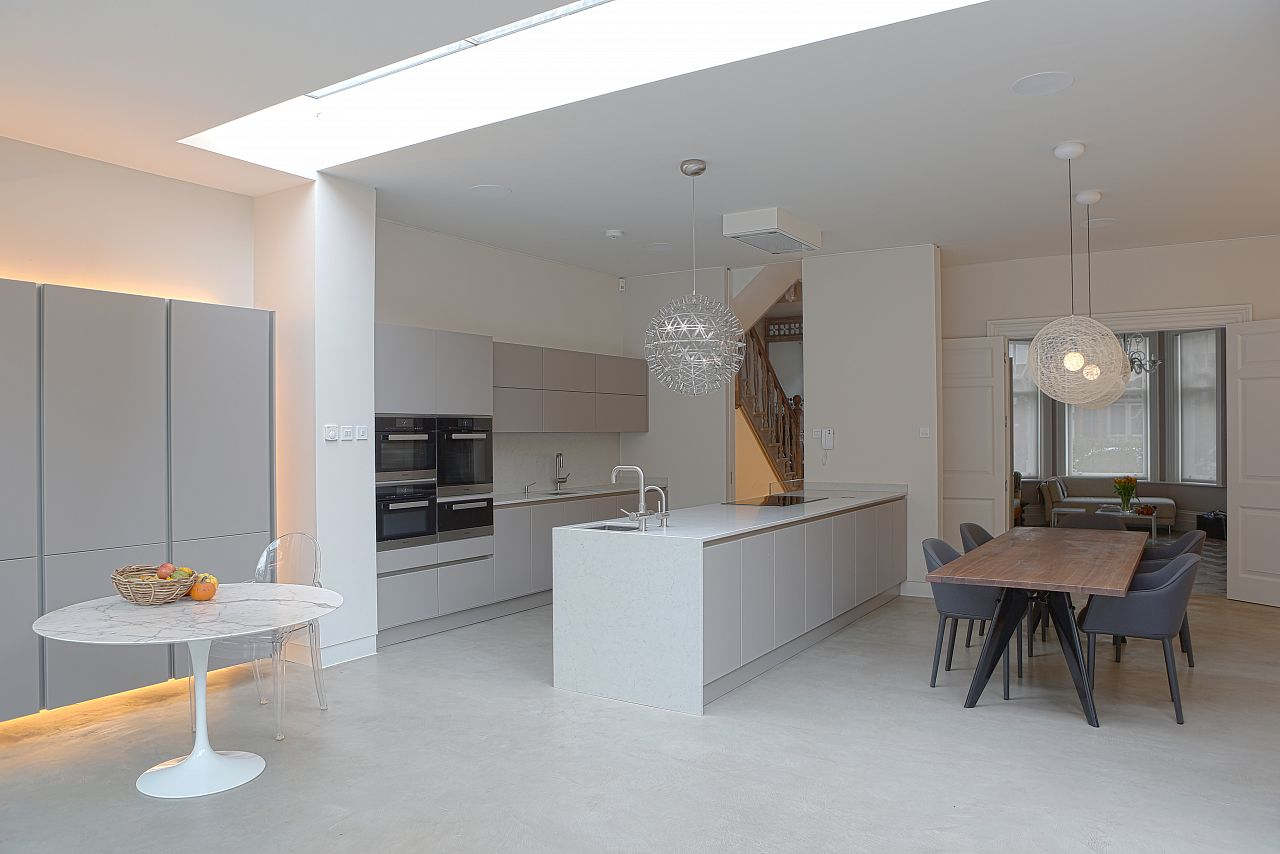 Microcement on kitchen floors
The particularities of microcement on kitchen floors are not far behind. Similarly, and depending on the composition of the material used as well as its granulometry, all kinds of finishes can be obtained. From floors with a finer, more delicate and smooth appearance; to floors whose roughness is higher because a higher resistance to traffic is sought.
Leaving aside the aesthetic component, which is a determining factor in the choice of microcement for kitchen flooring, it is important to point out its important benefits. Starting with the fact that it is a very durable flooring, which does not crack and requires practically no maintenance to remain as good as the first day.
Microcement flooring in the kitchen is one of the smartest options for renovating the flooring due to the high resistance it offers to wear and tear, abrasion, impact and traffic. Moreover, as it is applied in a minimum layer of between 2 and 3 mm, it does not excessively raise the level of the original floor and therefore the new substrate does not need to be levelled.
Microdeck and Industtrial, the hardest microcements for kitchen floors
Microdeck is one of the most popular coverings in kitchen floor renovations. This microcement finish provides magnificent resistance to traffic, impact and abrasion wear. In addition, it offers a non-slip finish without added treatments and can be applied with the "fresco on fresco" technique, thus extending its already extensive decorative possibilities. M and L are its two granulometries, and in terms of composition, it is a product available as a monocomponent and bicomponent microcement.
We have a more industrial and waterproof alternative to Microdeck: Industtrial. A microcement with epoxy resin that is much harder and even more resistant to high traffic and abrasive wear. Unlike the rest of the products on the market, the number of application layers is reduced, requiring only two coats of microcement for preparation and a single coat for finishing. It is available in 4 granulometries and 16 colours.