Wood-imitation printed concrete: how to make it and its advantages
The common denominator in the construction and decoration sectors is innovation. The constant irruption of new materials that become a trend and that flood both the creation of spaces from scratch and the renovation of existing ones.
Despite this evidence, wood continues to be one of the most demanded and best valued materials among all the alternatives offered by the market. Thanks in part to the fact that it is an element that combines with practically everything and provides a feeling of warmth.
However, in many cases, due to lack of budget or incompatibility, it is not always possible to resort to wood. Hence the importance of having other materials that aesthetically meet the same expectations. This is the case of printed concrete , one of the best alternatives for achieving a wood effect. A finish that, although it has been used for many years, its timelessness keeps it at the top.
In this article we are going to give you all the keys to wood-imitation printed concrete. We will explain what it consists of and how to execute it, its most notable advantages, the colours available as well as its price.
What is wood-imitation printed concrete?
Wood-imitation printed concrete is a decorative finish that is acquired after carrying out a special stamping and texturing process. A technique used mainly in flooring that results from applying a mould that imitates the appearance, texture and colour of wood on the surface on which it is printed.
A decorative technique that replaces wood, providing the same elegance and aesthetics as wood, but more economical and executed in less time. In addition, printed concrete is much more durable and resistant, especially in damp areas where wood is not suitable.
The origin of printed concrete imitating wood is due to the need for builders to replace wood with a material that offers the same finish without compromising the felling of trees. Beyond the perceived purely ecological benefit, this decorative technique has supplanted wood for many more reasons.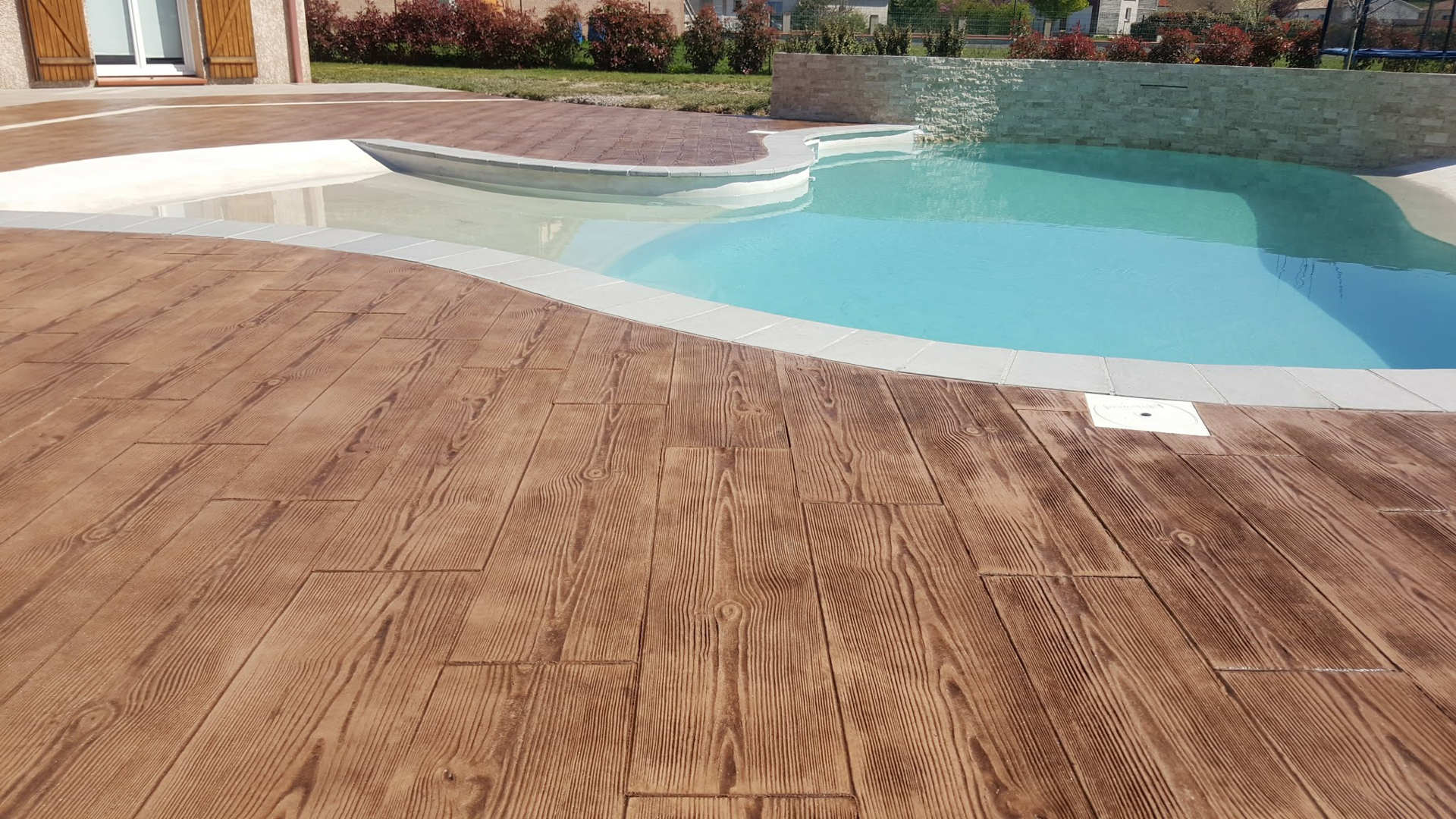 Why use printed concrete to imitate wood
The following are the main reasons why the use of printed concrete to emulate wood is on the rise. A material that causes a real sensation and that can also be installed on vertical surfaces.
1. Printed concrete is more affordable than wood
To renovate a space with wood, the previously built-up surface has to be reconstructed. A restructuring that involves labour in addition to the cost of the material itself. This is not the case with printed concrete, the cost of which is reduced as it can be applied to any surface, even if it has already been built on.
Imitation printed concrete is also more economical because it requires much less maintenance. It should not be forgotten that wood is a noble material that needs varnishes and other protectors to be applied frequently. If this is not done, the wear and tear over time will become more and more pronounced. A constant demand and care that influences the final price.
2. Wood-imitation printed concrete is more ecological
Although wood is one of the most beautiful materials, it is also one of the most harmful to the environment. It is undeniable that there is a directly proportional relationship between the felling of trees and climate change. In this respect, wood-grain concrete is much more environmentally friendly, as only a mould has to be printed on the still fresh concrete surface. It's all advantages.
3. Printed concrete is more resistant than wood
As previously mentioned, the need to apply varnish every so often to wood is an indicator that its resistance is lower compared to printed concrete. And it is precisely durability that is one of the most outstanding benefits of printed concrete compared to other materials.
But not only that. But also because wood is a more fragile material and is not recommended in some places, especially if they are exposed to a significant moisture load. Wood is not resistant to humidity and therefore deteriorates and rots.
Wood is very sensitive and therefore easily damaged. Especially if it comes into contact with moisture, because it can end up lifting the substrate completely. This is not the case with wood-imitation printed concrete, whose mould and varnish automatically give the surface a waterproof finish. This is why it can be applied, and indeed is often applied, outdoors. Spaces where the use of wood is not usually seen.
Termites are the great enemies of wood. On many occasions, no matter how much is done to prevent their appearance, it is inevitable that they end up feeding on the cellulose present in the wood, weakening it completely. In the meantime, printed concrete imitating wood guarantees firmness and the ability to withstand heavy loads and unfavourable weather conditions.
Wood is also more prone to scratches and knocks. Printed concrete, on the other hand, has good impact resistance and is not damaged by the sun's rays.
4. The maintenance of wood-imitation printed concrete is less
As with varnishes, the cleaning and maintenance of wood is more exhaustive and demanding. On the other hand, wood-imitation printed concrete does not require more than a superficial cleaning with water. If desired, a cleaning agent can be used.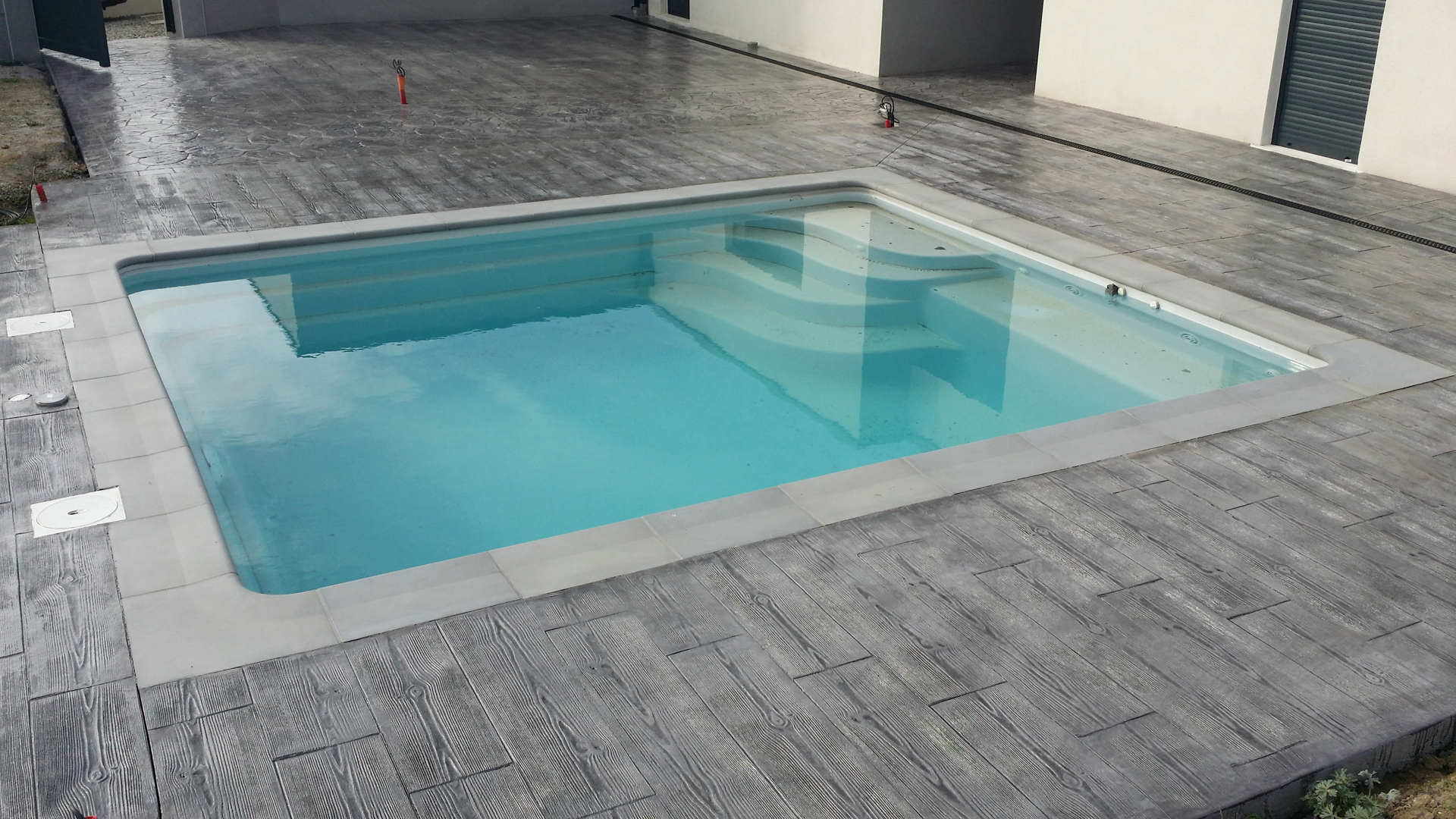 Advantages of using wood-imitation printed concrete
Printed concrete imitates all types of wood with a high degree of realism: pine, walnut, oak, maple, etc. In addition to the benefits described above, this material prevents the growth of weeds or mould. Two elements that can often cause real headaches. A decorative technique that for these and many other reasons has displaced not only wood, but also other materials.
A decorative and functional covering that can be used to decorate all kinds of environments. Among its most important advantages are:
Wood-look printed concrete does not lose its shape or wear out over time.
It does not discolor due to the effects of sun or rain. It is therefore perfect for outdoor spaces.
Highly resistant to high traffic and impacts, as well as to humidity, sun and other climatic factors.
It offers anti-slip and waterproof finishes.
Can be applied on horizontal and vertical surfaces. Indoors and outdoors.
Long service life and virtually maintenance-free.
Quick installation and much cheaper than other materials.
A wide variety of finishes thanks to its extensive catalogue of moulds, designs and colours.
How to make printed concrete imitating wood? Step-by-step application
The application of printed concrete imitating wood is quite simple, although it is always necessary to hire the services of an expert to guarantee a professional and optimal result. Below, we present the step-by-step to build a printed concrete surface that simulates the finish of wood.
Step 1: Choose the mould and surface.
Decide what type of wood you want to imitate with printed concrete: pine, oak, etc. And where the chosen mould is to be stamped: floor, wall, indoors or outdoors.
Step 2: Delimit the surface.
Define the work area and prepare the surface before applying the concrete. Clean the surface and check that it is level. If this is not the case, proceed to level the ground. Compact and form.
Step 3: Spread and smooth the concrete.
Pour the concrete evenly over the pavement. We recommend the use of a mesh to reinforce the new coating. Then smooth the surface with the help of a trowel or trowel.
Step 4: Trowelling the concrete
When the concrete is still fresh but has already begun to cure, trowel the surface.
Step 5: Colour the concrete.
Add the wearing course or printed mortar on top of the concrete to give it colour. Sprinkle with the proportions indicated by the manufacturer. Trowel so that the product is correctly introduced. Then smooth the pavement.
Step 6: Apply the release agent.
It can be in powder or liquid form. It prevents the concrete from becoming encrusted inside the printed mould. It can be used with the same colour as, or different from, the coloured hardener.
Step 7: Stamping the printed concrete moulds.
The moulds are what define the final finish and the shape the surface will take on. In this case, printed concrete moulds imitating wood. Tread on the mould with your feet or with the help of a rammer.
Step 8: Cut concrete joints
Use an electric cutter to make the lines straight.
Step 9: Remove release agent and clean
Remove the release agent from the surface. After about 72 hours, wash the surface to remove any residue that may have soaked in.
Step 10: Protect the printed concrete imitating wood
Apply the protective varnish or resin to guarantee the durability of the finish. Check that the concrete is completely dry.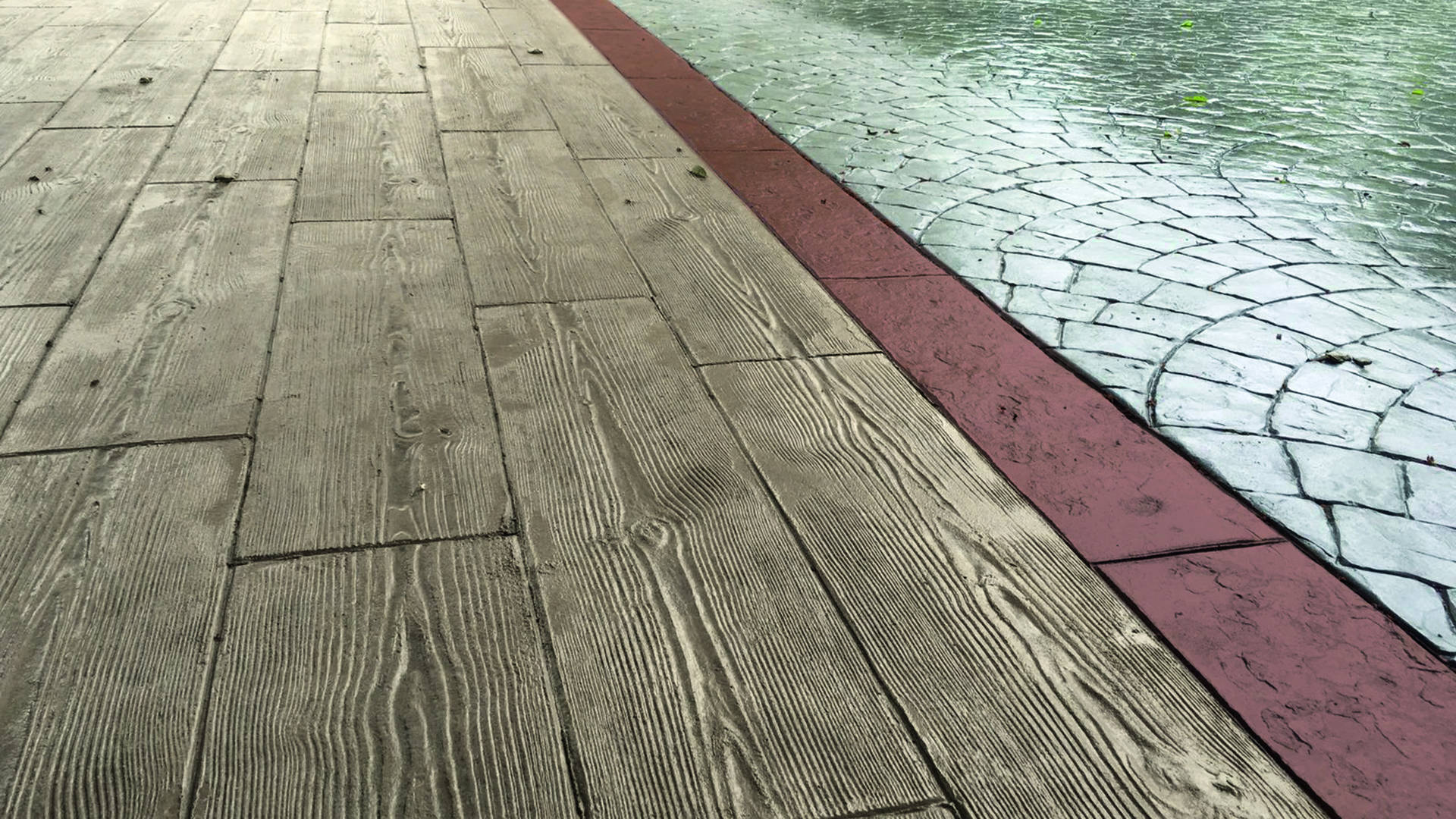 Printed concrete wood swimming pool: one of the most demanded pavements
The anti-slip properties, the superior mechanical resistance and the variability of aesthetic finishes have made printed concrete one of the most suitable pavements to cover the area around the swimming pool. In addition, the low maintenance required and the elegance it brings to the space are other factors that explain its success.
A decorative cladding that represents a considerable economic saving, that is highly resistant to different weather conditions and that offers a wide range of possibilities thanks to the moulds available for its stamping.
In this sense, one of the most widely used printed concrete moulds for swimming pools, both for its aesthetics and the relief it provides, is wood. Infinite versatility, that is what a wooden printed concrete floor for the swimming pool offers.
Moulds for printed concrete with a wood effect
To obtain a finish that imitates wood to perfection, a specific printed concrete mould must be used. In fact, to achieve a more natural and realistic texture, several moulds can be printed to obtain different patterns on each floor. An effect typical of natural wood.
Generally, printed concrete imitating wood is used for the construction of floors and other horizontal surfaces. A very unique aesthetic that floods patios, terraces, houses, garages, swimming pools, etc. A versatility that is also transferred to walls and façades to create a rustic atmosphere that never goes out of fashion.
At Topciment we have special printed concrete moulds to imitate a natural wood finish. Moulds with exquisite adherence, very comfortable to use and extraordinarily durable.
Colours of printed concrete wood
Printed concrete imitating wood offers a wide variety of colours to decorate spaces. Depending on the environment to be renovated, one shade or another will combine better. Renovating a terrace, for example, is not the same as renovating a swimming pool or a shopping centre.
At Topciment, we have four lines of pigments so that you can choose the one you like best. Light and dark shades that reflect the colours most in demand by users and that can be combined with each other to achieve a more original wood finish.
Price of printed concrete wood
If this decorative finish has won you over with its infinite possibilities and you are seriously considering using it, you should know that there is no predetermined cost. Although it is a fairly inexpensive material compared to natural wood, there are several factors that can increase the cost of this type of printed concrete.
Generally speaking, the main factors that affect the price of wood-grain concrete are:
The cost of wood-grain concrete can be affected by the following factors
The price of labour stipulated by the construction company, as well as the machinery used for the renovation of the floor or wall.
The quantity of material required and the quality of the moulds also determine the price per square metre of this decorative technique. Also the varnishes with which the floor or vertical wall is protected.
The geographical area plays an important role in the price of printed wood-concrete. In cities with a high degree of humidity, this material has to be installed beforehand, which makes it more expensive than in drier places.
The decorative finish chosen determines the price of printed concrete. Going for a single decorative pattern is cheaper than combining different colours, patterns and textures. It all depends on the particular project.
In general, the cost does not vary much whether the printed concrete is applied on a horizontal or vertical substrate. However, a smaller surface is more economical. The square metres count for the price, as does the thickness of the concrete slab.
In short, all these factors have to be evaluated in order to determine the cost. But given the advantages of printed wood concrete, it is a more than recommendable material for paving all kinds of spaces. A finish that combines aesthetics and functionality.
In the case of Spain, for example, the price of wood-imitation printed concrete is around 15-30 euros per square metre. But we must not forget that this is only an estimate, as the elements previously developed must be analysed.
Subscribe to our newsletter
Receive in your email tips for the application and care of microcement, the latest trends and news about Topciment products.